Wednesday, January 17, 2018
Happy Wednesday, crafty peeps! If you joined me yesterday, you know that this week I am sharing some fun ideas for giving Valentine's treats for all the "geeks" in your life. Though, the projects created by our fabulous Creative Team would be terrific for just about anyone! Today, I'm featuring an absolutely darling way to give sweet treats to your geeky sweetie by Shannon White, who may be the queen of giving treats. She used our Tagging Along die set to create this adorable treat sack (and a matching card!) Check it out…
To get that 'geek' look, Shannon stamped our Graphic Greetings – Valentine a la carte stamp in Sugar Cube on our Oreo Premium Matched Cardstock, sponging along the edges to get a chalkboard effect. I love the little Heart Stacklets embellishment in the corner! Shannon's use of our Toffee cardstock alongside the traditional red is pretty inspired for something a little different and I think I may just do this scheme for all my own V-Day cards this year. She filled this with chocolate Kisses, but of course any sweet will do.
Shannon's matching card is perfect and she used all the same ingredients, including our Brushed Hearts Background stamp, which goes so well with the Graphic Greetings. L-O-V-E how the Sugar Cube Ink looks on that Cherry Pop Matched Cardstock!
Thanks for stopping by today, friends! Come back tomorrow for more Love Day joy!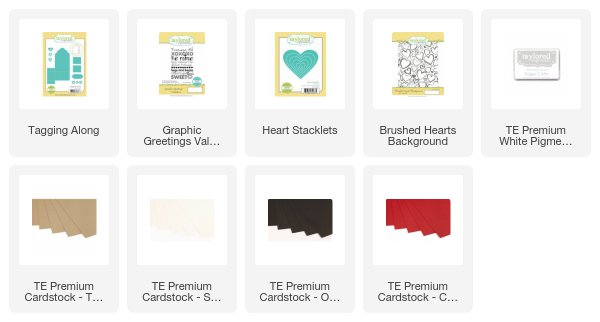 ---