Thursday, August 01, 2019
Hey, crafty friends! There's nothing better than sharing the joy of crafting with someone, right? I have a very special someone helping me out today with a crafty project using the new 2019-2020 Academic Mini Tear-Off Calendars!
My daughter Hana is sixteen and will be a junior in high school this fall. I am so lucky that she enjoys getting crafty with me. Hana even has her very own crafty stash of supplies – although she "borrows" many supplies and tools from me pretty often!
Hana and I used the new calendars to make locker caddies for her and some of her friends. Watch the video below to see how we created them:
It was so much fun doing this project with Hana. We spent lots of time choosing supplies and this was Hana's first time playing with the new Blender Brushes! I don't think it will be her last… *wink!*
Here's a closer look at the project that we created:
The locker caddies are something we picked up at Target in the school supply section. We added a panel to the front of the caddies using a piece of Sugar Cube cardstock that is stamped and embossed with the Create in Color Background stamp. We added color to the embossed image using Blender Brushes and Blue Raspberry, Blue Corn, and Plum Punch inks.
We attached the calendars to the panel with Sticky Tape and attached the panels to the front of the caddies with some adhesive and a clip. Hana can't wait to give the locker caddies to her friends!
Check out the supply list below for everything that you need to create this project: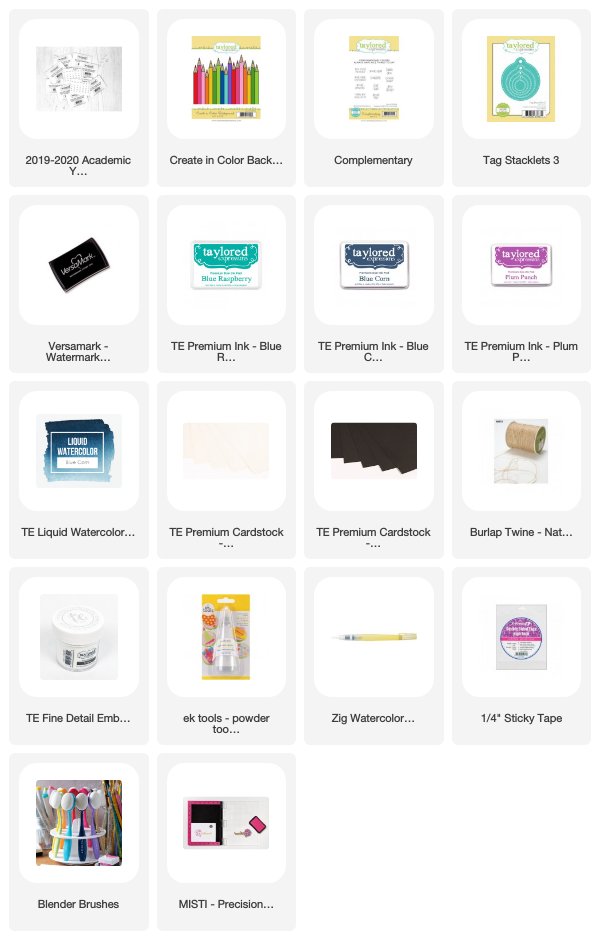 The 2019-2020 Academic Mini Tear-Off Calendars are available now in the Taylored Expressions webstore. Click the graphic above to shop!
Thank you so much for stopping by today. The August release sneak peeks start this next Monday, so mark your calendars and set your alarms so you don't miss any of the new products and inspiration that will be coming your way this next week!
Did you know that you can subscribe to our blog and get our posts right in your inbox? Just sign up right HERE – that's all there is to it to make sure you don't miss any of our crafty inspiration!

---