Mar 31, 2020
Hey, crafty friends! April 2nd is Autism Awareness Day and April is Autism Awareness month. I think it's probably pretty common that every one of us knows someone who is diagnosed with autism. My oldest daughter, Tacy, has a rare genetic condition and Autism is a part of her diagnosis.
Tacy is 19 and currently is participating in a transition program through our school district to learn and work on job, functional, academic, and social skills. Our family would not be where we are today without all of the support and services that we have received over the years.
Sometimes it can be hard to know what to do to raise awareness and support people with Autism. I always say, do something related to what you love. All of us who are crafters can create! We can share handmade cards to send to people we love who are affected by Autism, help or teach those with Autism, and more. I know I am speaking about Autism specifically, but all of this can relate to other disabilities too. There are a couple special products in the Taylored Expressions webstore for just this purpose: the Look With Your Heart stamp set, Little Bits – Puzzle Piece die, and the Puzzled Cutting Plate die.
There's a special promotion for Autism Awareness in the Taylored Expressions webstore:
The Look With Your Heart bundle includes the Look With Your Heart stamp set and Little Bits – Puzzle Piece die. Purchase the bundle for $17 (15% off the retail price) now through Sunday, April 5th. For each bundle sold, we are donating $2 to the Autism Society of America. Click below to shop now!
Let me show you how I created my card using the Look With Your Heart stamp set and Little Bits – Puzzle Piece die for Autism Awareness:
In the video, I show you how I stamped a whole garden of flowers using the Spring Stems stamp set by inking the flowers with multiple colors of ink. I also show you how I cut out and popped up the puzzle pieces across the stamped flowers.
For a color combination on this project I turned to the Quad Colors and picked the Quad Colors – Carnival combination. I love having these combinations to turn to and I am so happy with how perfect the Carnival combo was for this card.
For a bit of sparkle and shine I scattered a few Snow Flurries sequins across the flowers, attaching them with Multi Medium Matte.
The sentiment I used on this card is so true. It takes so many different kinds of people to make up our world and all together we make a beautiful garden. The puzzle pieces help fit us all together to build our communities of people, our villages, to help support each other and raise each other up. My family is grateful for our whole community of people who have held us up through everything we have gone through (and will continue to go through) with my daughter, Tacy.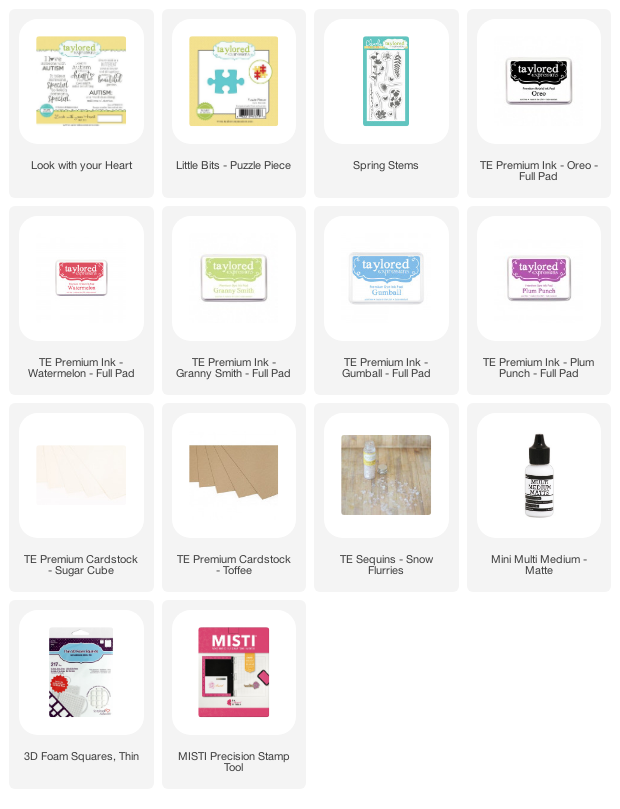 If you haven't checked this out yet, we have a bit of fun going on on the TE Facebook Page:
Very few of us at Taylored Expressions are die-hard basketball fans, so we weren't completely heartbroken when the tournament was cancelled. However, we feel like we are missing some of the excitement that it brings, so we decided to put together a different type of bracket this March. You can vote on a selection of throwback TE stamp sets and you all get a chance to vote to what we will actually bring back for a limited time! Stop by the TE Facebook Page and check it out and get all the details!
Taylor is getting crafty with her girls tomorrow for "T Time":
We would love to connect with you online for "T Time" with Taylor on Facebook Live! Go to our Fans of Taylored Expressions Facebook page to join us today at 1PM CDT. See you there!
Thank you for stopping by the TE blog today. There's more crafty inspiration coming your way for Autism Awareness this Thursday from Taylor. See you then!
Did you know that you can subscribe to our blog and get our posts right in your inbox? Just sign up right HERE – that's all there is to it to make sure you don't miss any of our crafty inspiration!