Apr 14, 2020
Hey, crafty friends! It's Heather here today – happy release day! I hope you enjoyed all of the inspiration that was shared yesterday on the blog. It was great to scroll through your comments to see what your favorites are and what you're excited to do with the new products! All of the products are available RIGHT NOW to purchase!
Before you head over to the store, I want to remind you about the special, limited time offer for this release:
Purchase the Beautiful Blossoms bundle and receive 15% off the three items included. The Beautiful Blossoms bundle includes: Beautiful Blossoms stamp set, coordinating dies, and Just Vine Background stamp. This offer is only available Tuesday, April 14th – Sunday, April 19th.
Keep scrolling for today's video and more project inspiration, or click below to head over to the TE webstore to shop!
Also, if you haven't heard the news, we lowered our FREE shipping threshold for U.S. orders.
Even though the release of products happens today, we'll continue sharing daily videos and project inspiration throughout the week! Here's an 'at-a-glance' look at the this release:
Receive FREE shipping on orders of $50 or more in the United States!
Earn a free, exclusive stamp set with purchases of $100 or more. Check out the "Big Thanks" set here!
All 15 new products are available at the TE webstore RIGHT NOW! This week, we are shipping orders on Monday, Wednesday, and Thursday. We're working hard to get your orders out to you as fast as we can while keeping our staff safe and healthy. Thank you so much for your patience and understanding.
Alright, are you ready for today's inspiration? I am excited to share projects with you using the new Beautiful Blossoms stamp set and coordinating dies, Just Vine Background stamp, and Inside Scoop – For Her stamp set.
The Beautiful Blossoms stamp set is perfect for your favorite coloring techniques. Watch the video below as I walk you through how I created the 'Celebrating You!' card:
Here's a closer look at the products that I used in the video:
The Beautiful Blossoms stamp set features delicately drawn flowers and foliage that are perfect for coloring with your favorite medium. Cut out the flowers and leaves with the coordinating dies and arrange them into pretty bouquets for your projects!
The Just Vine Background stamp features a coordinating delicately drawn leafy vine throughout. Simply stamp in one color or tone on tone to subtly fill the background of your card, or add color to the leafy design and make it the focal point!
The Inside Scoop – For Her stamp set continues our series of sentiments designed to be stamped on the inside of the card. Perfect for Mother's Day and celebrations beyond!
In the video, I show you how I use Copic markers and Prismacolor pencils to color the flowers and leaves from the Beautiful Blossoms stamp set. To blend the colored pencils, I use Gamsol on a paper stump. I have used Gamsol in the past with colored pencils, but this was my first time pairing this coloring medium with Copic markers. I absolutely loved the results!
To create floral bouquets and sprays, I typically start with the largest elements; for example, the yellow flower on this card. Then I move to the next largest and finish by accenting with the smallest flowers. Starting with the largest flower makes it easier to place the elements where they make the most visual sense.
The Just Vine Background is stamped with Sugar Cube ink onto Toffee cardstock. Pairing white ink with a neutral (like Toffee cardstock) is a tried and true method that I often use to create a coordinating background pattern for my cards.
The 'Celebrating you!' sentiment on this card is from the Inside Scoop – For Her stamp set. The set includes a great collection of sentiments perfect for the special women in your life. Several of the sentiments are designed to work well on the inside of your projects, but there are many that work for the front too.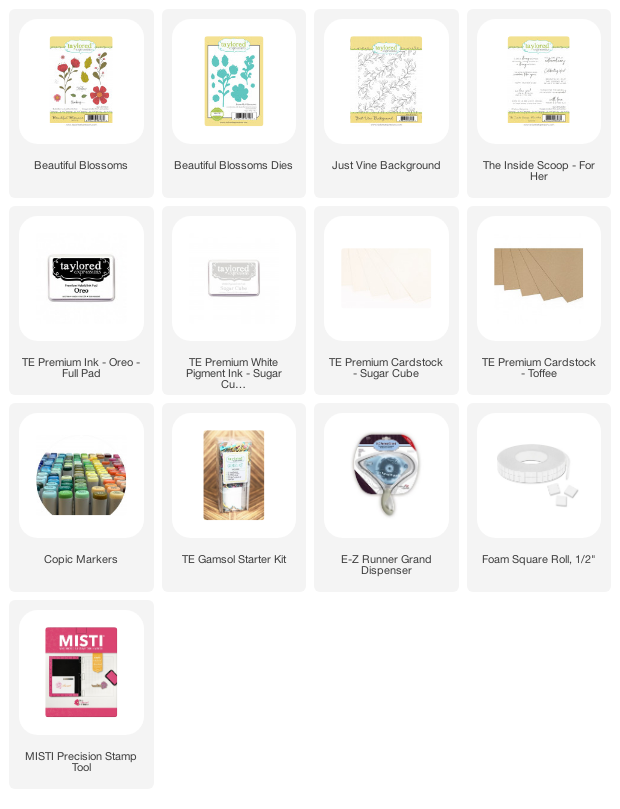 How about a few more pieces of inspiration from our talented Creative Team?
Jill Hawkins used the Just Vine Background stamp as the main image on her card. She inked the background with several shades of ink: Granny Smith, Cilantro, and Pineapple! I love how she sprinkled a few pink flowers and polka dots throughout the image. Did you read the sentiment she used from the Inside Scoop – For Her stamp set? This card is so pretty and delicate… until you read what it says…! It made me laugh out loud!
Step up the elegance on your projects when you use the new Baroque Pocket and Baroque Overlay dies. Each die features a pretty lace design with scored edges designed to easily attach to your card. Create a lacy flap on one or both sides with the Baroque Overlay while the Baroque Pocket can be used on the inside or outside of your card to hold a photo, an invitation, or a gift card.
I have all the heart eyes for Noriko Fairchild's project that she created with both the Baroque Overlay die and the Baroque Pocket die. She really stepped up this card into a beautiful gift! Opening the gatefold card created with the Baroque Overlay die reveals a Mother's Day card that is stamped with images and a sentiment from the Beautiful Blossoms stamp set.
Opening up the Mother's Day card reveals the pocket where Noriko tucked in a special photo. This card is going to make a very special mother feel extra loved this Mother's Day!
And now it's time to check in with the lucky winners! If you find your name and comment listed below, please contact us with your mailing address and your selected 'favorite product' (must be one product, sorry… not a bundle) and we'll get your prize in the mail right away! Congrats to all the prize winners!
One last thing before I go today…
Taylor would love to connect with you online for "T Time" at 1pm Central today on the Taylored Expressions Facebook Page! She'll be going through the new release products, talking about favorites, sharing samples, and doing a little chitty chat. Hope to see you there!
I hope you enjoyed today's inspiration! Make plans to join Taylor back here tomorrow for another video and more inspiration using products from this release. Thank you for stopping by today!