Sep 07, 2020
Hey, crafty friends! It's Taylor here today and it's time to start sneaking a peek at another fun release! If you're new to Taylored Expressions then you might not be familiar that September marks our birthday and this year we're celebrating TWELVE amazing years! I feel so blessed by each one of you who have played a part in making this dream come true. Without you and your creative spirit, our mission to share joy with those around us through handmade creations would never be realized. So thank you for the many ways you've supported us throughout the years and here's to many more!
And while we're celebrating our birthday, we've got some special gifts for you! Here's how you can jump in on the celebration this week:
Tune in for new product inspiration: the Creative Team and I have been busy creating with this release which includes 18 new products covering all of our product lines, expanding on popular collections, and introducing new and innovative ideas! Our TE blog posts this week (Monday – Thursday) will feature a new how-to tip, technique, or process video.
Get a chance to win it before you can buy it by commenting with your answer to my Question of the Day today only (located at the bottom of this blog post)
Receive a BONUS I (heart) TE enamel pin FREE with your order!
Last, but certainly not least – take advantage of our special bundle offer for this release (details below).
Tomorrow through Sunday, September 13th you can also get our 12th Birthday Bundle for only $62. The 12th Birthday Bundle includes:
Bokeh Layering Stencil
Building Blocks – Happy Additions
On the Block – Happy
On the Block – Happy Shadow
On Repeat – Birthday
On Repeat Die
Everything we're sharing today will be available at the TE webstore on Tuesday, September 8th at 9am Central Time (Yep, that's TOMORROW!).
We also want to see YOUR favorite handmade birthday cards. Post them on the Fans of Taylored Expressions Facebook Page now through Sunday, September 13th for a chance to win one of 12 – $50 prizes (awarded as store credit)! Winners will be announced on September 14!
So should we get to some project inspiration!? I'll be using the products from our 12th Birthday Bundle to create these 8 birthday themed cards in today's video. There are always lots of birthdays to celebrate so I'll be sharing simple tips for mass-producing using the new products.
By doing the same step over until completed for all the cards, you'll save time cleaning your stamps/stencils between layers and be able to move through each of the steps more quickly.
Another thing that saved a ton of time with this project are the Grid Paper Placements and the 'hinge' I created with each layer of the stencil. Being able to easily line up the layers using the placemat and then quickly slip new panels underneath the hinge on the stencil were huge time-savers!
I finished up with four cards in a girly combo and four in a boyish combo and I love how they turned out! This Bokeh stencil is going to be so much fun to play with using different color combos for all the occasions.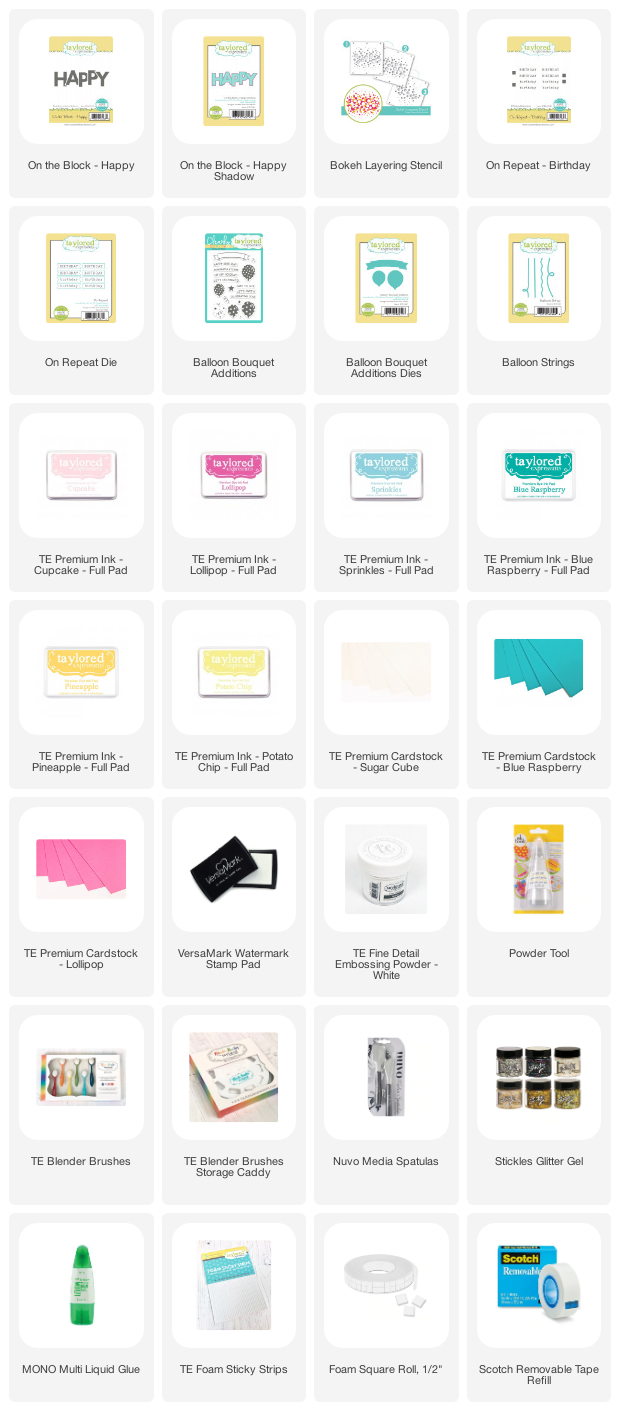 Now that I've shared my project, let's take a look at all of the new products for our birthday release along with inspiration from the TE Creative Team!
First up is a collection of products that will take the sentiments you use on your projects up to the next level:
The new On the Block – Happy stamp (+ the coordinating die) features the word 'happy' in a block style font with overlapping letters for a bold and graphic look on your projects. Pair the large 'happy' word with other words and sentiments to build your message!
The On Repeat stamp sets (notice the plural… there are more coming!) will feature one word repeated eight times. This will help with mass producing for those holidays and occasions where you're often making multiple cards. Cut out the eight words from the On Repeat stamps in one pass through your die cut machine using the coordinating On Repeat die and our innovative alignment guides. The On Repeat die cuts out four rectangle shapes and four flagged banners.
We've also included a whole bunch of words and phrases to pair with the On the Block – Happy set in the new Building Blocks – Happy Additions stamp. 22 words and phrases are included and can be cut in one pass through your die cut machine using the coordinating Building Blocks die. You can also pair the words and phrases from the Building Blocks – Happy Additions stamp with other 'happy' dies in our collection (Caps Lock Happy & Happy Script)!
Kavya used the On Repeat – Birthday stamp to build a bold and colorful design on the bottom of this birthday card. She embossed the 'birthday' words in white on several bright colors of cardstock, cut them out with the On Repeat die and stacked the pieces at different angles. She embossed the On the Block – Happy stamp in white on Earl Grey cardstock, cut out the word with the coordinating die, and added it her card to match the angled background.
Jen Shults paired the On the Block – Happy stamp with the Building Blocks – Happy Additions to put together the 'so very happy for you' sentiment. She embossed all of the words for her sentiment in white on Oreo cardstock so they pop on the pretty bokeh background. She created the background with Cookie Monster and Blue Raspberry inks along with a glitter paste layer for a touch of sparkle – keep scrolling for more about the new Bokeh Layered Stencil set.
It wouldn't be a birthday party without BALLOONS!
Introducing the new Balloon Bouquet Cling & Clear Combo. The set includes a cling-mounted red rubber stamp featuring a bouquet of balloons, The balloon bouquet set comes with a small set of clear stamps featuring two solid balloons to easily fill the bouquet of balloons with color.
The Clearly Crafty Balloon Bouquet Additions stamp set (+ coordinating dies) includes patterned balloon fill options to fit within the Balloon Bouquet set. Add a sentiment banner to your project to send congratulations or birthday wishes and don't forget the confetti!
Who wouldn't love a rainbow bouquet of balloons like Gayatri Murali created on this card? Gayatri stamped the balloons using the Balloon Bouquet stamp and added the solid fills from the Cling & Clear set. She sprinkled the background with stars and confetti in matching rainbow colors using the Balloon Bouquet Additions stamp set. She finished off her design with the banner stamped with the 'happy birthday' sentiment and a few Bits & Pieces – White Rhinestones scattered around her design for extra bling!
Natasha Valkovskaya created a birthday card in the Mini Slim size. She filled the balloons with the patterned fills from the Balloon Bouquet Additions stamp set and I love how she created a clear section of the card front that is stamped with confetti in white – such a fun and creative design element!
We love all things cute and whimsical at TE so we're bringing you a fun collection of birthday critters that are up for a celebration!
The new Life of the Party stamp set (+ coordinating dies) includes four cute critters ready to celebrate, six birthday themed sentiments, and a bit of confetti. This set is designed to work perfectly with our Mini Slim Trifold cards, but as you'll see from all the samples, they work great on projects of any kind and size.
We all fell in love with Max & Millie earlier this spring and Millie is returning to help celebrate our birthday in the new Millie's Birthday Bash stamp set (+ coordinating dies)! The set includes four Millie images and four birthday treat themed sentiments.
Jill Hawkins created cute windows using the Stitched Circle Stacklets dies for the giraffe and lion to peek through on this birthday card. The background of her card is stamped using birthday sentiments from the new Tag Team – Birthday stamp set (coming up soon!). I love how Jill added vellum to back the windows on her project and stenciled them with the Mini Slim – On the Dot stencil!
Heather Nichols used the monkey from the Life of the Party stamp set on a Toffee Mini Slim Trifold Card. The monkey is peeking through the window created with the Mini Slim Trifold Template + Dies – Square set and as you open the card, more festive birthday balloons and confetti, stamped with the new Balloon Bouquet Additions stamp set, are revealed!
Gayatri Murali let her coloring skills shine on this adorable birthday card created with the Millie's Birthday Bash stamp set. She used three of the images from the set and created landing spots on her card with a bit of coloring blending and confetti stamping. The sentiments and tiny birthday images are from the new All Tucked In – Birthday stamp set.
Did someone say stencils? We have two new layered stencil sets to introduce to you today:
The new Bokeh Layered Stencil set includes three stencils with alignment guides, designed to layer together to create a gorgeous bokeh dot effect. Create colorful card backgrounds with inks, glitter pastes, foils and more to celebrate birthdays and so many other occasions!
Use your Blender Brushes to create a lineup of colorful candles with the Candles Layered Stencil set – the alignment guides on the four stencils make everything quick and easy! Add stamped details and sentiments with the coordinating Counting Candles Add-Ons stamp set.
Arjita Sepaha Singh went pink and purple for her birthday card created with the Bokeh Layered Stencil set! She layered two shades of pink and Lavender Glaze inks using the stencils and added a sentiment to the bottom of her card with the On the Block – Happy stamp (+ coordinating die) and On Repeat – Birthday stamp (+ coordinating On Repeat die). I love the sequins that she scattered through the bokeh background to coordinate with her ink colors and add a subtle shimmer!
While the bokeh design works wonderfully for a full background, you can shift the image on your card front like Natasha Valkovskaya did here to create a fun border look! She used Mulled Wine, Pink Champagne, and Lemon Meringue inks to blend the background and featured those same three colors on the On the Block – Happy stamp.
Latisha Yoast used her Blender Brushes to create candles in a rainbow of colors on her card created with the Candles Layered Stencil set. I love how Latisha kept the rainbow going on the stars stamped above the candles, using the coordinating Counting Candles stamp set. The Counting Candles set also includes the 'celebrating you' sentiment and detail images for the candle wicks and flames.
And finally for this release, we have a new die collection perfect for giving gift cards along with additions to a few well-loved TE collections.
I'm always trying to think of creative ideas for packaging a gift card so the recipient has something fun to open! Well, now you can "wrap up" your gift cards using the new Pretty Package die collection. The "wrapping" features a pocket and pocket insert to attach the gift card to. When it's all put together it looks like a gift topped with a tag and bow!
We're also excited to introduce the newest addition to the Tag Team collection: Tag Team – Birthday! Create adorable tags to celebrate all things birthday with this Cleary Crafty stamp set and the coordinating Tag Team dies. The set includes birthday sentiments along with cute birthday themed images and three pattern blocks designed to embellish the end of the tags.
It's not a party without favors and you can whip up a few treat boxes using the All Tucked In die and the new Clearly Crafty All Tucked In – Birthday stamp set. The birthday sentiments from the set are designed to fit on the bar in the center of the All Tucked In Windows dies and you can accent the sentiments and/or decorate your treat boxes with the cute birthday images. Use the All Tucked In – Birthday stamp set on other types of birthday projects too!
Melody Rupple wrapped up a gift card with cute polka dot patterned paper and a Confetti Cake cardstock bow. She also created a pile of tags using the Tag Team – Birthday stamp set and dies to coordinate with her gift card package and tied one on with black and white twine.
Laurie Willison kept things clean and simple with the birthday tags that she created with the Tag Team – Birthday stamp set and coordinating Tag Team dies. She used just the pattern block along with a sentiment stamped in Oreo ink. I love how she also created coordinating tags featuring a single candle from the Candles Layered Stencil set! These are going to be super cute layered on a birthday gift!
Heather Nichols used the All Tucked In – Birthday stamp set to create cute party favor boxes! The boxes are made with the All Tucked In and All Tucked In Windows dies. Before assembling the boxes, Heather added the polka dot design to them with the Bokeh Layered Stencil set. The tags on the tops of the boxes are stamped with sentiments and images from the All Tucked In – Birthday stamp set and cut out with the smallest Stitched Banner Stacklets die. Fill the boxes with treats or small gifts!
So there you have it! Our new birthday products will be available for purchase starting tomorrow at 9am Central Time, but before I head out for today, you have a chance to win it before you can buy it! Just comment below and let me know:
What's your favorite kind of cake (or cupcake)? AND bonus points for telling me your favorite product from this release!
I'll choose three lucky winners to receive their favorite from this release!
Simply leave your comment by TONIGHT, Monday, September 7th at 10PM Central Time. One comment per person. Winners are chosen at random and will be announced on the TE blog on release day, tomorrow, September 8th!
Thank you for stopping by for our new birthday release sneak peeks! Stop back tomorrow for more inspiration from the TE Creative Team and a video from Heather! See you then!
Posted by Taylor at 9:00 am
|
|
|