Oct 29, 2020
Hey, crafty friends! It's Heather today! How excited did you get when you found out we re-released the Field Notes Kit? This kit sold out quickly the first time and we have had so many requests to bring it back – and so we did for a limited time! This kit is also a great gift idea.. even just as a gift for yourself! *wink!* I have a few projects to share with you today that we are revisiting from the original release of the kit.
CLICK HERE to learn more about what's included in the Field Notes Kit and click below for your last chance to purchase the products as an exclusive kit:
Don't forget that the Harvest Sale is also happening in the TE webstore:
Right now through Sunday, November 1st, you can save 30% off select fall and autumn themed products for our Harvest Sale. If you have had your eye on any of these products, this is a great time to pick them up at a discount and add them to your crafty supplies. Click below to check out the savings!
Today, I am revisiting two projects created with the Field Notes Kit. The first one is from me and my project features watercoloring a flower image from the kit using Karin Brushmarkers. The second project is from Taylor showing how to put together a clever card kit using the Field Notes Kit. Maybe you missed seeing the videos for these projects before or maybe revisiting them will re-inspire you to try out the ideas that we shared!
First up is the watercolored card featuring one of the floral images from the Sketchbook Floral stamp set. Watch the video below to see how this card came together from start to finish:
In the video, I share how I stamped and embossed the images onto watercolor paper and added color with Karin Brushmarkers using a wet on wet watercolor technique.
After coloring the main image, I added a little distressing and texture using the Rough Draft Background stamp and splattering onto the colored image with color from the Plum Brushmarker and Opaque White Copic Ink. I die cut the floral piece with a Stitched Circle Stacklets die and added it to a Toffee cardstock background stamped with the Rough Draft Background in Sugar Cube ink.
Check out the list below for the supplies that I used on this card: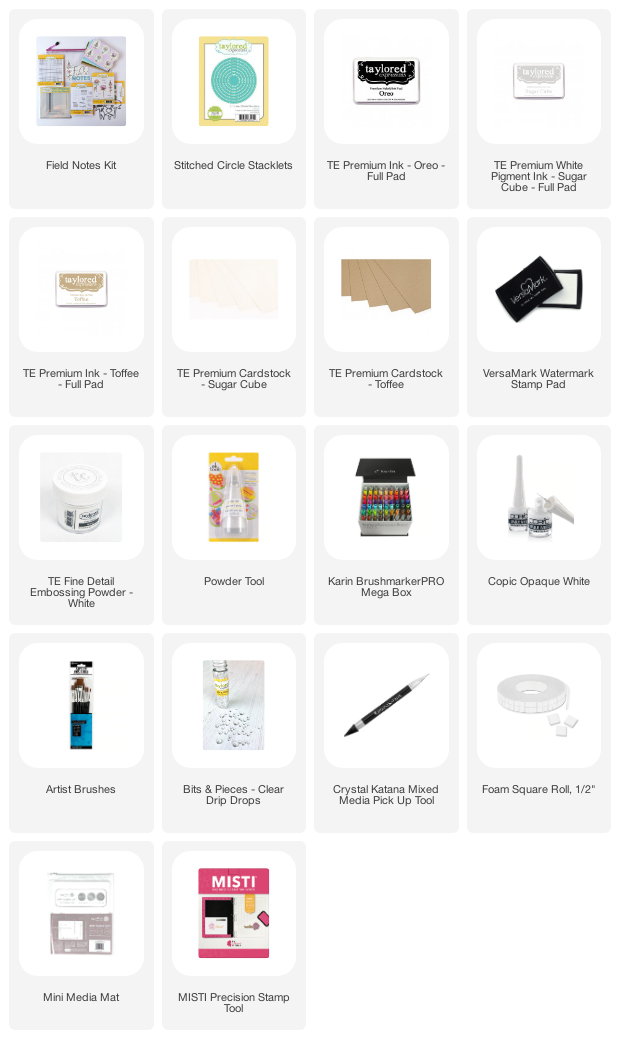 Taylor created the cutest card kit to gift to a friend using the Field Notes Kit! Isn't this a great gift idea for the upcoming holiday season? Watch the video below to see how Taylor put this card kit together:
In the video, Taylor shares all of the elements included in her card kit: main images stamped in Oreo ink using the Sketchbook Florals and Field Notes stamp sets, card bases stamped with the Rough Draft Background stamp, envelopes, envelope seals, card embellishments, and even postage!
Taylor packaged up the card kit in one of our Clear Card Boxes and added a belly band that she created with the Noteworthystamp set and Noteworthy Belly Band die collection. Packing up the card kit like this and adding the bely band detail really gives this gift a polished look.
All of the supplies that you need to create these cute card kits are listed below: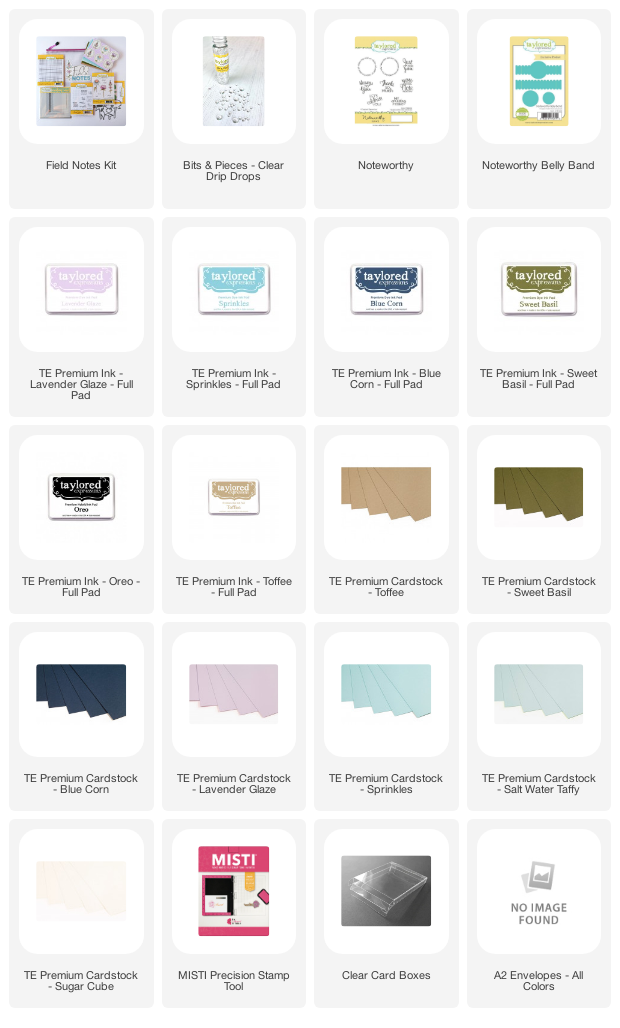 Join Taylor live for "T Time" at 1pm Central today on the Taylored Expressions Facebook Page. Taylor always has something crafty and fun to share. We hope to see you there – come join in on the fun!
I hope you enjoyed revisiting the projects created with the Field Notes Kit today. If today's inspiration has you wishing for more, check out the posts we shared when the kit was released. CLICK HERE for release day and CLICK HERE for additional inspiration!
Thank you so much for stopping by the TE Blog today. I have more inspiration with NEW products coming your way next week. Stop by the blog this weekend for a sneak peek!
Did you know that you can subscribe to our blog and get our posts right in your inbox? Just sign up right HERE – that's all there is to it to make sure you don't miss any of our crafty inspiration!