Jan 12, 2021
Hey, crafty friends! It's Taylor here! Each year for Valentine's Day we put together a Kid's Valentine kit and I had so much fun putting together all the elements for this kit and even more fun watching my girls create their Valentine's! They're so excited about their YouTube video so I hope you'll check it out below and let them know what you think!
Just a note that we have 2 blog posts today featuring each of the new kits. To see the Happy Hex Kit, CLICK HERE.
Here's everything in the Kid's Valentine Card Kit that retails for $28:
25 Pre-cut Tuck & Fold Notecards – 5 each of Watermelon, Lemon Meringue, Candy Corn, Peapod, Cookie Monster
25 Pre-printed Coloring Cards (sized to fit on the inside or outside of the notecard)
1 3/4″ Acrylic Block
Mini Watermelon ink cube
25 vinyl stickers that coordinate with the Coloring Cards – use these to seal your Valentines or include them as the small "treat/gift" with each Valentine
Small clear stamp set that includes a 'Happy Valentine's Day' sentiment, 'to:' and 'from:' words, and several small hearts
Everything is packaged in our Tag Along Tote to make our tiny crafters feel super special!
For multiple children or larger classrooms, the Valentine Card Kit Add-on that includes just the Coloring Cards, Pre-cut Tuck & Fold Notecards, and stickers (25 each) is also available to purchase.
We have a limited amount of the Kid's Valentine Card Kit available. Click below to shop and then keep scrolling for inspiration!
Madi and Charlee had so much fun choosing the colors to use for their Valentines AND I let them color with my Copic markers so they were pretty excited about that! In our schools, the kids are not allowed to give food or candy to their friends for holiday parties. I feel like I'm always searching for that little trinket that's not too expensive, still semi-useful, and can't be eaten! So that's where the coordinating stickers come in! The girls adhered them inside each valentine using a glue dot so their recipient can remove the sticker and use it how they choose. Of course, the stickers can also be used to seal the Tuck & Close notecards.
The girls are super excited about their projects and video so if you'd like to leave them a comment below I know it will make them smile! I'll be reading them all the comments when they get home from school today.
To finish off the Valentines, they got to use the MISTI to stamp the To/From on the front of the card and then they just closed them up by inserting the flap into the small notch cut into the front of the notecard. Madi and Charlee wish happy stamping to all of our crafty kids (and kids at heart)!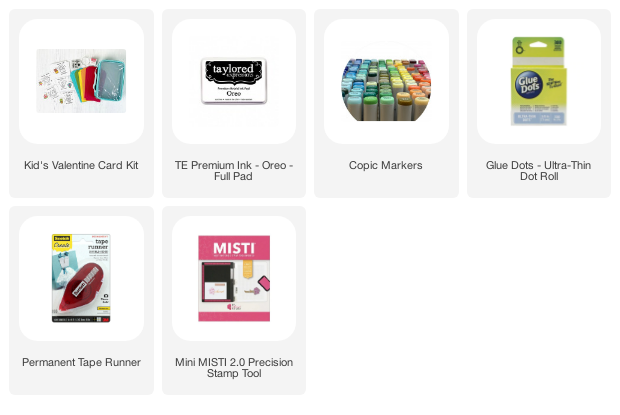 In addition to Madi and Charlee, we had a few other special guests join us to craft with the Kid's Valentine Card Kit. We love what they created!
Emily Mydlowski's daughter did an awesome job coloring all of the images on the Coloring Cards to match the stickers in the Kid's Valentine Card Kit. She became a pro at stamping with the MISTI and we think friends will have all the heart eyes for her cute Valentines! (Do I spy CHOCOLATE peeking out of one of those Valentines?)
Jill Hawkin's son is super excited to give these Valentines that he created with the Kid's Valentine Card Kit to his friends – especially the stickers! He excelled at coloring every last bit of those Coloring Cards with Copic markers and I think they turned out awesome!
Laurie Willison's daughter created a whole classroom set of Valentines to color using the Kid's Valentine Card Kit! Instead of passing these out to her friends, she is donating them to a local teacher to give out to her class. She attached the Coloring Cards to the outside of the Tuck & Fold Notecards and tucked a pack of crayons into the Valentines so that the kids can color the cute images for a fun activity – what a great idea!
Heather Nichols' daughter, Hana, got a new set of Prismacolor pencils for Christmas and used them to color up a cute set of Valentines for her friends. Hana used the Karin Metallic Markers to hand letter her friends names on the outside of the Valentines and stamped the hearts from the mini stamp set in the kit to match the different cardstock colors of the Tuck & Fold Notecards.
Today, I'll be unboxing the new kits during "T Time" at 1PM Central Time on the Taylored Expressions Facebook Page and would love to have you join me! If you miss the live broadcast, it will be available to view afterward. I hope to see you there!
To get a close look at the projects from our young guest artists with the Kid's Valentine Card Kit, visit the blogs below. We want to thank Jill, Emily, Heather, and Laurie for sharing their talented kiddos with us today! They did a fantastic job!

Posted by Taylor at 8:59 am
|
|
|