Mar 03, 2022
Hey, crafty friends! It's Heather here today! If you haven't heard, 2023 calendar products are here! It's never too early to start your calendar crafting, whether it be for yourself or for a gift. I love the new offerings this year and especially love that you can incorporate a few of the new products into your card making as well! There is nothing better than versatility when it comes to your crafty supplies. A few card ideas were shared on Tuesday's post and I have a few more to share with you today using the new Floral Vines Layering Stencils set and the Clipboard Calendar Cards – In the Word set.
Before I get to today's inspiration, here's a reminder about the FREE virtual class that you can get when you purchase the Perpetual Occasions Calendar Craft-Along Class Collection: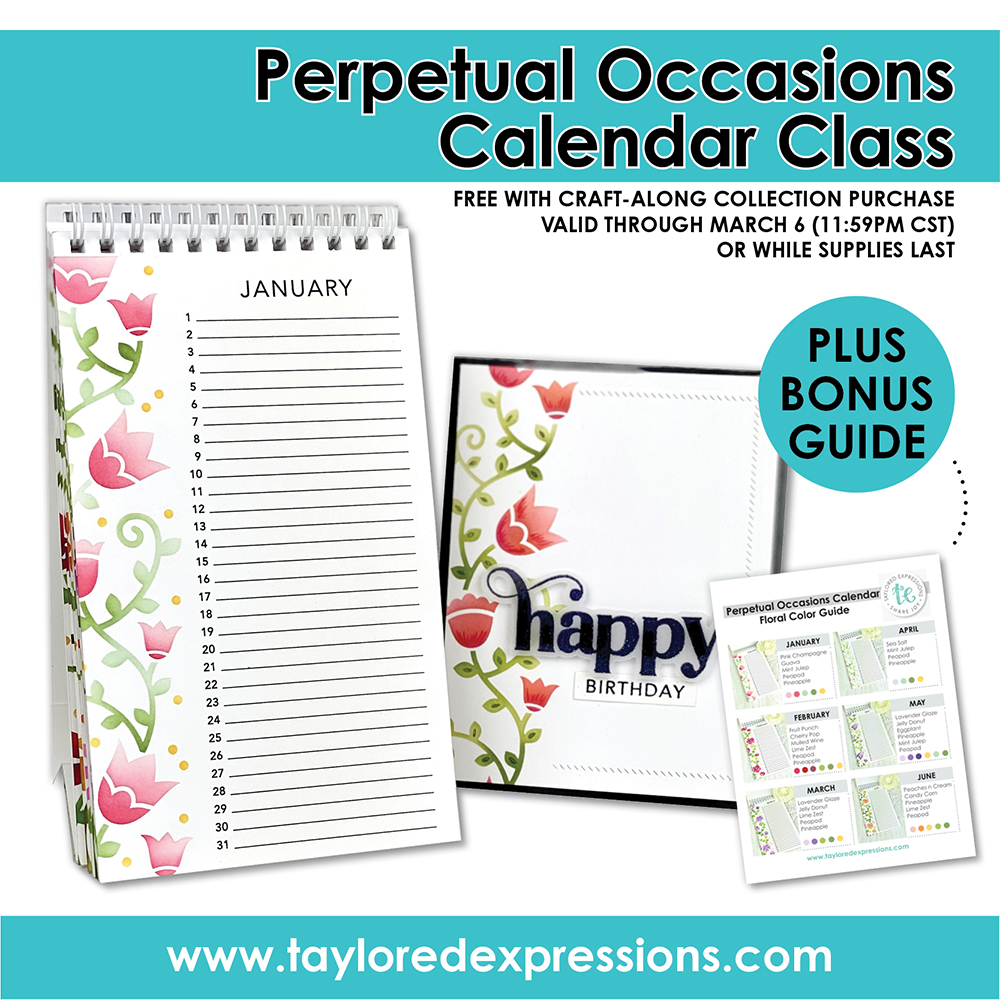 When you purchase the Perpetual Occasions Calendar Craft-Along Class Collection for $39 (Perpetual Occasions Calendar, Floral Vines Layering Stencil set, and Calendar Coil) through Sunday, March 6th, you will get a FREE exclusive video craft along class with Taylor!
This mini version of our Online Crafty Classes is a great way for you to put your new goodies to use right away your own custom perpetual calendar at your own pace! Watch the video as often as you like and learn some new crafty tips and tricks!
Once you complete your purchase, you will receive an email (separate from your order confirmation email) with links to the class video on YouTube.
Although Taylor will recommend extra supplies (ink, cardstock, embellishments, etc.), you can use anything you have to make these projects uniquely yours!
Hurry! This offer is only valid through 11:59 pm (CT) on Sunday, March 6th, or while supplies last. After the promotion has ended, the class will become available to purchase.
Click below to visit the new 2023 calendar release products in the TE webstore and then keep scrolling for today's inspiration!
All of the cards below were created by members of the TE Creative Team with a few of the new calendar products that we released earlier this week:
Jill Hawkins used the Floral Vines Layering Stencils set create a floral background on this Mini Slim thank you card. She stenciled the vines across a piece of Sugar Cube cardstock, alternating the direction of the vines as she went. The vines are stenciled with Granny Smith and Cilantro inks, the flowers are stenciled with Sprinkles and Lavender Glaze inks, and the polka dot details are stenciled with Plum Punch ink. Jill added an extra pop of color with the Plum Punch stripe on the edge of the card, the cilantro strip of cardstock cut out with the Easy Strips – 1/8″ die, and the 'thanks' sentiment cut out from Plum Punch cardstock using the Signature Thanks die.
Kavya always adds so many great details and extras to her card designs and this card is no exception! The 'Mom' is from the Dear Mom stamp and Kavya stamped it in Sea Salt ink and added color over the top with various shades of brown Copic markers, using the stamped image as a guide. She used the Floral Vines Layering Stencils set to add borders of flowers above and below the word and added extra single stenciled flowers to fill in empty spaces. Highlights and extra details are added with a white gel pen and Copic markers.
This inspirational card by Noriko Fairchild features a card from the Clipboard Calendar Cards – In the Word set. It's difficult to tell in the photo, but the card is foiled with Gold Deco Foil using a Minc machine (you can also use a heat laminator to foil) and color is added with Copic markers. Noriko added the card to a Stitched Rectangle Stacklets die cut, and then adhered it to a Watermelon card base stamped with a tone on tone design using Watermelon ink.
Today, join me (Heather Nichols) live for "T Time" at 10AM Central on the Taylored Expressions Facebook Page. I'll be sharing how you can use your alcohol inks and Gel Printing Kit together – come join in the fun! (Don't worry, if you miss the live you can always watch the saved broadcast afterward!)
That wraps up the inspiration for our 2023 Calendar product release! Share your calendar creations with us on the Fans of Taylored Expressions Facebook Page – if you aren't a member of the group, come join us to see all of the crafty TE inspiration that is shared by your fellow TE fans. Next week on the blog brings new crafty inspiration and the release of new crafty supplies! Stop by this weekend for a sneak peek!
Did you know that you can subscribe to our blog and get our posts right in your inbox? Just sign up right HERE – that's all there is to it to make sure you don't miss any of our crafty inspiration!