Jul 19, 2022
Hey, crafty friends! It's Taylor here! Did you know that we sell personalized stamps that you can order 24/7 365 days a year? Visit our TE Made for Me webstore and explore the possibilities! Plus, we are excited to launch 15 new designs today. There are options for making your mark on your crafty cards, sharing your social media, and more! We sent the TE Creative Team new stamp designs (handpicked for each of them!) and they created cards to share incorporating their new personalized stamps to 'sign' their designs – keep scrolling to check out the inspiration!
We are also having a promotion on all of our personalized stamp designs – even the new ones! Here are the details:
Right now through Sunday, July 24th, get 50% off a personalized stamp design with the purchase of a personalized stamp design at full price. Personalized stamps make great gifts for your crafty friends and family – and for yourself too! Choose from our 15 new designs along with our previously released favorites. Note: Custom stamp designs ship in approximately 6 weeks.
Keep up the scroll to check out the inspiration from the TE Creative Team using their new personalized stamp designs!
Emily Mydlowski's card features the Handcrafted Florals personalized stamp that is a circular floral design which coordinates with the Flower Patch Background stamp and Flower Patch Layering Stencil set. The background design is embossed in gold and Emily added color with the stencils and Blender Brushes using Tropical Punch, Blue Raspberry, Confetti Cake, Blueberry, and Gumball inks. Emily stamped the back of the card with her personalized stamp in Blueberry ink and added color to the design to coordinate with the card front.
When it comes to sweet and snarky cards, Jill Hawkins is your girl! She created a snarky summertime card with the Big Grumpy Stamp & Die Combo set and Summer Vibes Background stamp. It seems that Big Grumpy had a misstep with a popsicle (created with the Anything's Popsicle Stencil & Clear Stamp Combo set) and needs a bit of alone time to work through it! The back of Jill's card is stamped with the Behold personalized stamp that features a cute unicorn image, that you might recognize from our half birthday freebie earlier this year, and a fun and snarky signature sentiment!
Kavya created a stunning birthday card using the Baroque Overlay die. She created a rainbow blend on Sugar Cube cardstock, cut the Baroque Overlay die design from it twice, and layered the die cut pieces to the top and bottom of an Oreo cardstock card base. The 'birthday' word is from the Oh My Word – Happy Birthday stamp set. Kavya inked up just the 'birthday' portion of the 'happy birthday' sentiment and embossed it in white on the card. On the back of the card, the One of a Kind personalized stamp is embossed in gold.
Heather Nichols used the A Little Cat Hair personalized stamp in several different ways on this set of Mini Slim cards – not just on the card backs! She stamped and colored the design both on Sugar Cube cardstock and sticker paper using Copic markers and Prismacolor pencils blended with Gamsol. The cat images that she used on the card fronts are fussy cut out and the ones on sticker paper are cut out with a Stitched Circle Stacklets die so that they can be used as envelope seals! She did also stamp the personalized stamp image on the card backs using Sugar Cube ink.
Join me live for "T Time" at 10AM Central on the Taylored Expressions Facebook Page. I'll be sharing a closer look at the new personalized stamp designs now available in the TE Made for Me webstore. We hope to see you there – come join in the fun! (Don't worry, if you miss the live you can always watch the saved broadcast afterward!)
Thank you so much for stopping by today! Make sure you check out the rest of the TE Creative Team projects and the new personalized stamps that we designed just for them! Just click their faces below to hop to their blogs! Stop back again here on the TE blog on Thursday for more crafty inspiration!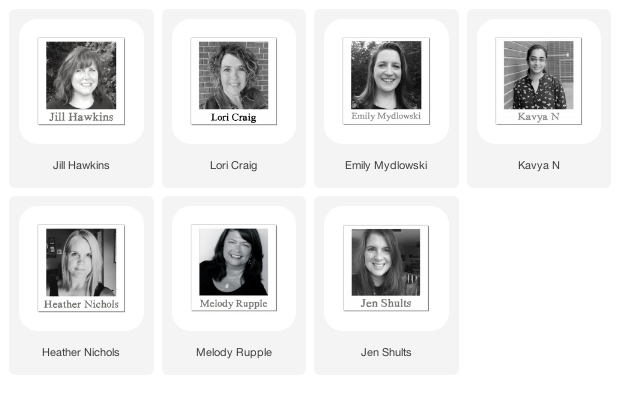 Posted by Taylor at 9:00 am
|
|
|