Aug 09, 2022
Hey, crafty friends! It's Taylor here today and I am so excited because today's release is all about one of my very favorite holidays – Halloween! Although, if I am being honest, it's more about the CANDY than anything else! Halloween gives me the perfect excuse for stock up on sweet treats and ensure there is plenty of extra for myself! *wink!* But let's get back to the crafty part, which I love too! We have a great collection of new Halloween products available today that are perfect for creating Halloween cards, tags, and treats (yay, treats!). There's lots to share today, so let's get started!
First off we have a few promotions happening for this release. Here are the details:
Right now through Sunday, August 14th, when you purchase the Boo Bundle (Boo Script + Backer die collection, G-G-G-Ghost Stamp & Stencil Combo set, and Ghost Gang Die & Clear Combo set), you will get Bits & Pieces – Halloween Stars & Sparkles FREE! It's great bundle to jump start your Halloween crafting! Offer valid while supplies last.
Also, this week only our FREE gift with any $100+ purchase is the Gus & Gertie – Halloween Stamp & Die Combo set! This adorable set features our favorite dog Gus and his buddy Gertie the bird dressed up as a bat for Halloween! The set also includes more bats and three Halloween sentiments along with dies to cut out the images. Offer valid while supplies last.
Click below to visit all of the new items in the TE webstore and then keep scrolling for all of the inspiration.
I created this pair of spooky cards to share with you using the products that are in the Boo Bundle that is a part of our promotion for this release. Watch below to see how I created them:
In the video, I share how I stamped and stenciled the card backgrounds using the G-G-G-Ghost Stamp & Stencil Combo set. I did two different color combinations in an ombre effect with the background stamp and used my Blender Brushes in a different way to create a smooth transition between the colors – make sure to check it out in the video! The ghost faces are added with VersaFine Clair – Nocturne ink and embossed with our new Black Sparkle embossing powder.
The 'boo' sentiment is cut out from Oreo cardstock and I added sparkle to that by inking up the die cut with Versamark ink and also embossing it with the Black Sparkle embossing powder. The sentiment is set onto a frame cut out with the Stitched Frame Stacklets 3 die collection that is backed with vellum. I added a few ghosts around the sentiment cut out and stamped with the Ghost Gang Die & Clear Combo set. The finishing touch is Bits & Pieces – Halloween Stars and Sparkles scattered throughout the background!
Check out the list below for the supplies that I used on my cards: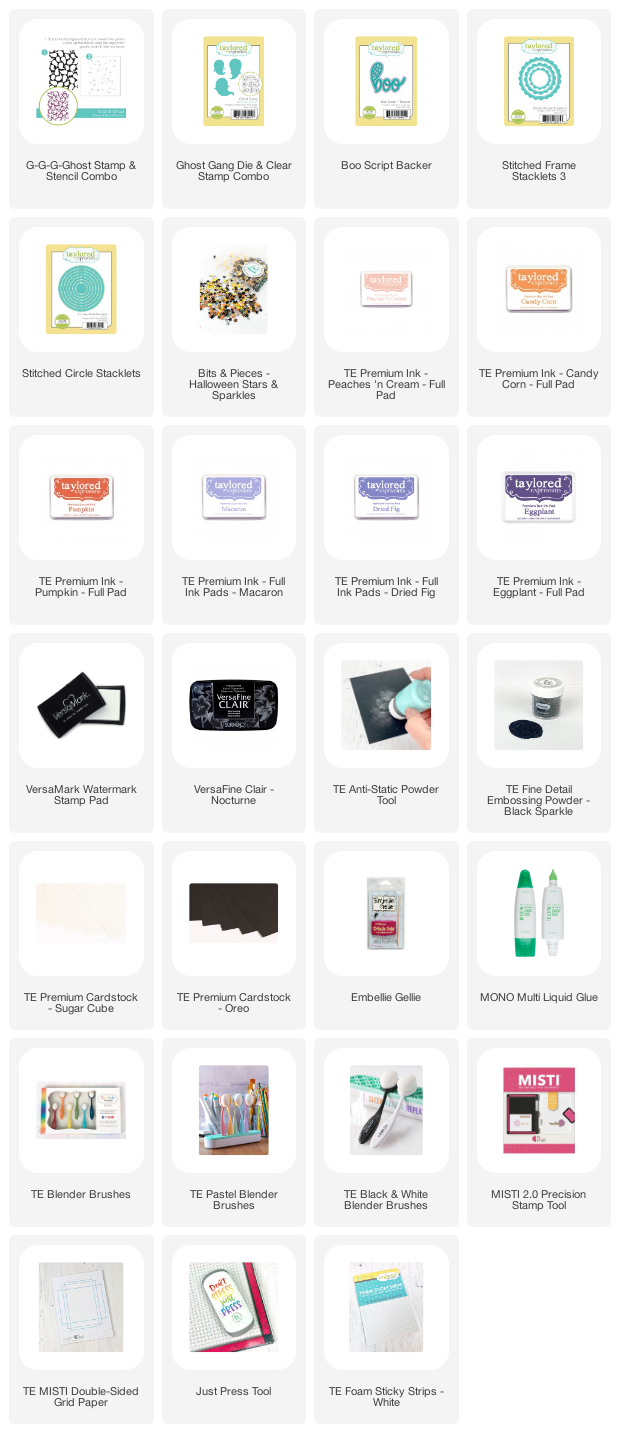 Here's a closer look at the new Halloween products debuting today along with inspiration from the TE Creative Team:
Create amazing Halloween cards in minutes with our G-G-G-Ghost Stamp & Stencil Combo! Simply stamp the image of the ghosts on your card panel, then align the stencil over the top to add the ghost's eyes & mouths in whatever medium you chose! To add more dimension, use coordinating dies from Ghost Gang Die & Clear Combo to pop up or cut out ghosts!
Use the Ghost Gang Die & Clear Combo to add whimsical ghosts to your Halloween cards and crafts. This set includes 3 ghost dies in various sizes (to coordinate with G-G-G-Ghost Stamp & Stencil Combo) as well as a set of clear stamps that have six different facial expressions & three sentiments: 'Boo!', 'Hey Boo!', and 'Eek!'.
Jill Hawkins also did a great color effect on the background of this Halloween card created with the G-G-G-Ghost Stamp & Stencil Combo set. The background is inked with Sweet Potato Pie, Lollipop, Passion Fruit, and Eggplant inks and the faces are added with the stencil using Earl Grey ink. Jill added a few ghosts popped up over the background that she cut out and stamped with the Ghost Gang Die & Clear Combo set. I LOVE how she added google eyes to one of them – so cute! The 'boo to you' sentiment from the Handlettered Halloween stamp set is embossed with Black Sparkle embossing powder and there are Bits & Pieces – Black Drip Drops sprinkled through the background.
Create fun treat wraps for candy, trinkets and other goodies with our cut-for-you Halloween Candy Capsules. These pre-cut capsules come with easy to follow step by step instructions on how to fold & tie them up. Perfect to give Halloween treats to neighbors, kids, or for teachers & classroom treats!
TE's Boo Script + Backer dies are sold together to create a seamless way to make fa-boo-lous cards for Halloween! This boo-tifully scripted "boo" comes designed with a spider web nestled in the lower case 'b' for an extra spooky look. You can also layer it over the boo backer (included) to create more dimension in your cards!
A Simple Strips stamp full of Halloween sentiments? Yes, please! Use the Simple Strips – Halloween stamp with any of our Simple Strips dies (sold separately) to create 18 sentiment strips at once that can be used individually or grouped together for an extra impact.
Heather Nichols has a bundle of Halloween treats all wrapped up and ready to go! She assembled and filled several of the Halloween Candy Capsules, tied the ends with black and white twine to secure them, and dressed them up even more for Halloween! Each capsule features the 'boo' word created with the Boo Script + Backer dies, a sentiment strip from the Simple Strips – Halloween stamp, and a ghost cut out and stamped with the Ghost Gang Die & Clear Combo set.
Our innovative Create-in-Quads Layering Stencils make it easy to create four different A2 cards in minutes! Simply place your 8″ x 10 1/2″ cardstock panel within the etched guidelines on each stencil and apply the medium of your choice using the alignment squares to make sure everything lines up perfectly. When you're done, just cut the finished panel into quarters to reveal a family of A2 card fronts!
Create-in-Quads – Halloween is perfect for mass-producing gorgeous seasonal cards without ever getting bored by making the same card over and over! The four designs can be used on their own, or you can add sentiments and embellishments to make each one extra special! Cut out the large images with the coordinating Create-in-Quads Halloween Cat and Create-in-Quads Halloween Cauldron dies.
Jill Hawkins combined the stenciled panels created with the Create-in-Quads Halloween Layering Stencil set to create two Halloween cards. The panels are stenciled with a variety of inks in yellow, orange, green, purple, and grey tones. She set the Halloween cat over the pumpkin and bat background and added a strips of the herringbone pattern to the background of the card featuring the cauldron. The sentiments on both cards are from the Simple Strips – Halloween stamp that are embossed in white on a Earl Grey and Plum Punch cardstock and cut out with the Simple Strips die.
Add glimmery accents to your cards with our Foil It – Spider panels. Simply top with the foil of your choice, run it through your foiling machine and Voilà! Once foiled, this spooky spider web will make your Halloween cards look like the real thing. Pop on a few Little Bits – Spiders for an eye catching card!
Little Bits – Spiders is a collection of 6 creepy-crawly spiders in various sizes. These are perfect additions to any Halloween card or place on a Foil It- Spider Web panel(sold separately) for an "eek!" worthy reaction!
Check out the sparkly spiderweb on this Halloween card by Lori Craig! The Foil it – Spiderweb panel is foiled with Silver Stars Deco Foil and Lori added lots of little spiders to the web cut out with the Little Bits – Spiders die! The sentiment is also foiled by adding a sticky sheet to the front of a piece of cardstock and cutting out the 'boo' word with the Boo Script + Backer die. Pressing the Deco Foil onto the sticky surface is all you have to do to foil it!
Halloween is the perfect time to make shaker cards and with the Snack-O-Lantern Shaker die you can't go wrong! This die includes a pumpkin with a large mouth(the shaker) and dies for the eyes, nose, and stem so you can create an authentic looking jack-o'lantern.
The sky's the limit with TE's Monster Squad! This set includes 3 different monster bodies, plus coordinating dies for their eyes, mouth, antenna or horns. Monster Squad makes adorable Halloween or Birthday cards for any kid or kid-at-heart! These spooky & silly looking monsters are sure to spread joy!
Our Eat, Drink, and Be Scary Cling & Clear Combo includes everything you need to make a spook-tacular Mini Slim Halloween card! Simply stamp the large font sentiment then add the clear stamp designs to add a scary backdrop. This set includes a red rubber stamp measuring 3" x 4 ½" and a 3"x 3" set of clear stamps including these icons: bat, leaf, spider, spider web, star, crossbones, candies, and potion bottle.
Create an edge-to-edge interactive element in minutes with our Mini Slim Infinity Shaker Panels! These clear, acetate panels are durable enough to hold your shaker filling in place, but lightweight enough to keep your cards from feeling too bulky. Simply apply permanent adhesive to three sides of the panel and adhere it to a mini slim layer panel, then add the sequins, beads or Bits & Pieces of your choice. Seal up the fourth side and shake, shake, shake!
Our Stack-o-Jacks Stamp & Stencil Combo features an adorably spooky stack of pumpkins that is great for making A2, Mini Slim, and Mini Slim Tri-fold Halloween cards! Simply use the stamp to create the outline of the pumpkins, then use the stencil to add color & faces. This set includes three sentiments: Happy Halloween, Trick or Treat, and Boo. Cut out the pumpkin stack using the coordinating Stack-O-Jacks die.
>>>>><<<<<
I know you spied several new embellishments in the TE Creative Team projects, here are the details on those:
The TE Bits & Pieces – Candy Corns look exactly like your favorite fall treat, but don't be tricked these aren't edible! These fun & festive clay embellishments are a way to sprinkle your cards and crafts with happiness! Adhere them as accents, use them as a fun filling with shaker cards or toss them on a table for decoration.
With silver, black, and orange stars & sparkles, our Bits & Pieces – Halloween Stars & Sparkles is a fun and festive way to sprinkle your Halloween or fall cards and crafts with happiness! Adhere them as accents, use them as a fun filling with shaker cards or toss a few inside a card or envelope for a special experience!
TE Fine Detail Embossing Powder comes in a variety of colors to add just the right amount of sparkle, shine or detail to your paper crafting projects. Today we are introducing the new Black Sparkle embossing powder! Our specially formulated powder offers smooth, superior coverage with no stray grains of powder, and crisply heat embosses fine lines and delicate details every time.
TE Happy Medium – Orange Glitter is the perfect way to add texture, sparkle and a very special touch to any papercrafting project! Simply select the stencil of your choice, then apply a thin layer of paste over the top with a media spatula.
Join me live for "T Time" at 10AM Central today on the Taylored Expressions Facebook Page. I'll be sharing a closer look at the new Halloween products that we are releasing today! We hope to see you there – come join in the fun! (Don't worry, if you miss the live you can always watch the saved broadcast afterward!)
Thank you so much for stopping by today! Make sure you check out the rest of the TE Creative Team projects using the new Halloween release products – click their faces below to hop to their blogs! Stop by the TE blog again on Thursday for more spooky crafty inspiration – see you then!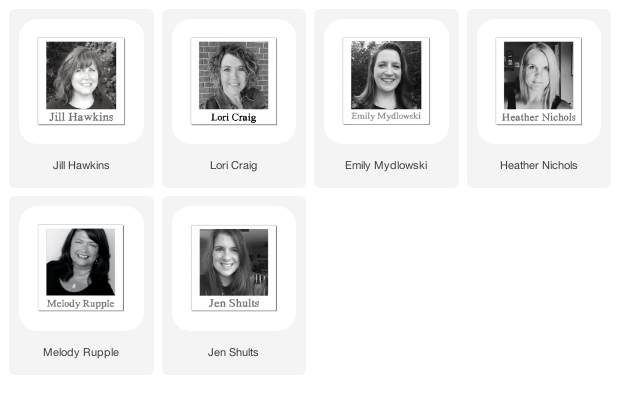 Posted by Taylor at 9:00 am
|
|
|