Monday, October 16, 2017
Hey there and Happy Monday! I hope you all had a fabulous weekend! I had the pleasure of hanging out with over 200 of the most wonderful gals at Stamp Joy 2017 over the weekend! It's hard to believe it's over, but the countdown is on for Stamp Joy 2018… only 362 days!
Today I'm here to join a very special friend in her crafty comeback party! You may remember Lea Lawson as a member of our Blog Team a few years back. Lea stepped down from the Blog Team as she and husband began their journey of starting a family. That journey has brought them unimaginable heartache, but Lea's strong faith has allowed her to be joyful amidst the sadness. You can read more about Lea's two beautiful angels and her hiatus from crafting here.
As I read Lea's email about a crafty comeback party, I had a big smile on my face and I told her, "Of course we want to be a part of it!". I'm so glad she's finding her way back to the craft that she loves so much. And we're also pretty lucky to have her because she provides us all with such amazing inspiration!
Lea and I both used similar products to create two different projects (although we both incorporated the color purple!) Mine is below, and you can check out Lea's gorgeous projects (PLUS a special TE giveaway) on her blog: Lea Lawson Creates. Stop by to welcome her back and tune in there for lots of opportunities to win some amazing giveaways from the awesome companies sponsoring her comeback!
For my card, I started by stencil brushing a piece of Sugar Cube cardstock with Lavender Glaze, Plum Punch, and Blue Corn ink. Then I stamped over the blended background using the Twinkle Twinkle Background with Sugar Cube ink. I added the Nativity Cutting Plate cut from Oreo cardstock and the Little Bits – North Star cut from our new Gold Foil cardstock. The sentiment is from Snowed in Sayings and is embossed onto vellum and popped up with Kool Tak foam squares.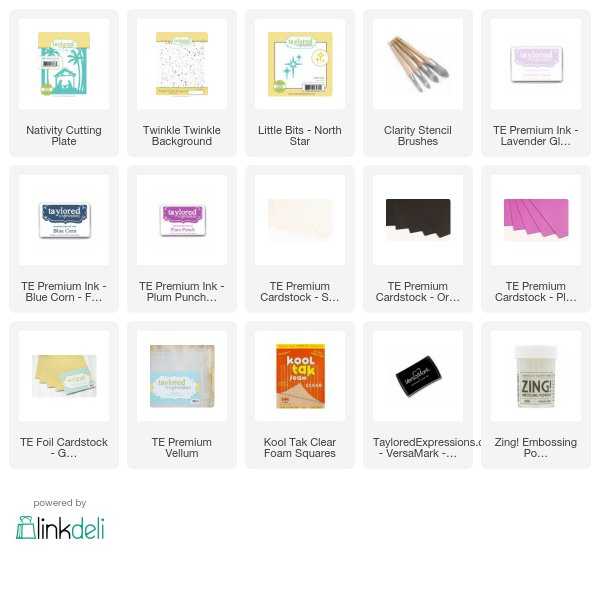 ---