Jan 23, 2019
Hey, crafty friends! As you know, the joy of making handmade cards is multiplied when the cards we make are sent out to encourage, celebrate, or generally brighten the days of others. When I step back and think about it, I am amazed and inspired by the many opportunities I'm given to make a card for someone else. Birthdays, graduations, holidays, get well, even just saying hello – all of these occasions, along with many others, are invitations to share joy with those we love in uniquely handmade ways.
With so many opportunities to share joy I am excited to announce a fun way for you to make your handmade cards even more personal and special. Today we are opening a Personalized Pop-Up Shop in the TE web store with 4 Taylor-made stamp designs! Check them out!
For a limited time, you can select and personalize any of the four stamp options with your name and, in some cases, your website too! These are a wonderful tool to have especially when mass-producing cards as you can load your personalized stamp into your Mini MISTI to quickly and easily add your mark to the back of your handmade cards.
Here's a more detailed look at each personalized stamp option:
To customize, select the style of your choice and enter your name (and website if you choose option C or D) into the provided fields in the Personalized Pop-Up Shop. Add it to your cart and check out. We'll take care of the rest from there! *Please note that option A has a 10 character limit.
Because these stamps must be individually designed and manufactured, Pop-Up Shop orders will ship in approximately 6 weeks. Other products ordered with your personalized stamp will be split-shipped immediately. The Pop-Up Shop Personalized stamps retail for $30.00 each. For orders shipped in the United States, the shipping is included in the price of the personalized stamp. International orders will be charged a normal shipping fee, but will receive a $5 credit towards shipping costs.
Click below to order your personalized stamp from the Pop-Up Shop today and get ready to share joy in a new and exciting way!
Now, let's get on to some card making inspiration!
Taylor created this wonderful card collection to share with you today using the Laurels stamp set. When you are trying to build up your card stash or create a bundle of notecards to give as a gift, choosing a card design that is easy to duplicate will enable you to create many cards quickly! It's also a great idea to choose a design that can be used for a number of occasions. Taylor did that here by swapping out the sentiments on her card design.
For the background on her cards, Taylor used the Subway Tile stencil with Sea Salt ink on Sugar Cube cardstock. She stamped the wreaths and sentiments with Oreo ink and then colored in the wreaths with Copic markers. The card bases and mats are a combination of Mocha, Guava, and Sweet Basil cardstocks and the finishing touch on the wreaths is a tiny bow tied with burlap twine.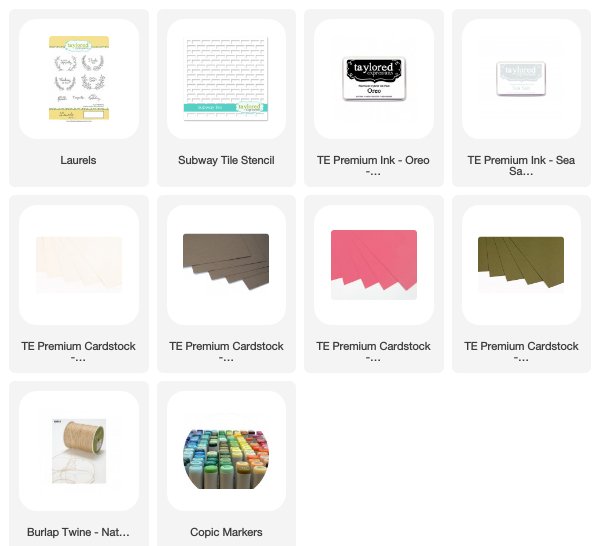 Don't forget to tune into the Facebook Live broadcast over on the Taylored Expressions Facebook page today, January 23, at 1PM CT. Taylor and Noriko are going to be sharing more about the Stamp Joy West Coast event and the classes that they will be teaching. If you have any questions about the event, this is a great time to ask! You can get more information and register for Stamp Joy West Coast HERE.
Thank you so much for joining me today. I am so excited about the new personalized stamps in the Pop-Up Shop! I personally have the "handmade by" style (option A) and I have loved using it to personalize the back of my handmade cards. Stop back again tomorrow for more 'easy to mass-produce' card sets from our creative team – you won't want to miss it!
Did you know that you can subscribe to our blog and get our posts right in your inbox? Just sign up right HERE – that's all there is to it to make sure you don't miss any of our crafty inspiration!