Thursday, January 24, 2019
Hey, crafty friends! A personal goal of mine in 2019 is to send out more cards to my friends and loved ones. Sending a handmade card is like sending a bit of joy out into the world. That means the more cards I send, the more joy that is spread around. There's nothing better than that!
The TE Creative Team has been busy at work creating gorgeous sets of handmade cards to inspire you to get crafty and build your own stash of cards. Having a stash of cards means that you are ready to send out or give a card at a moment's notice or you could create a set of handmade cards to give as a gift.
Are you ready for some card making inspiration? I know you are going to love what TE Creative Team members Noriko Fairchild and Angelica Conrad have in store for you today…
First up, is this bright rainbow card set by Noriko! How much fun are the brightly colored words paired with the different textures that are embossed with embossing folders on the card bases and bold colored envelopes!
Here's a look at all of the cards in this set – there is no stamping at all involved for the main card design! After creating a rainbow blend on Sugar Cube cardstock, Noriko used Script word dies to cut out the words for each card. There are so many options for different word dies in the Taylored Expressions webstore and you could use any of them for this design.
A stack of cards like this is just all sorts of happy! The cards just invite you to pick one out to send to someone. Or you could bundle them all up together for a wonderful gift!
Noriko added her mark to the back of the cards using the "handstamped by" personalized stamp from the Personalized Pop-Up Shop – the perfect finishing touch!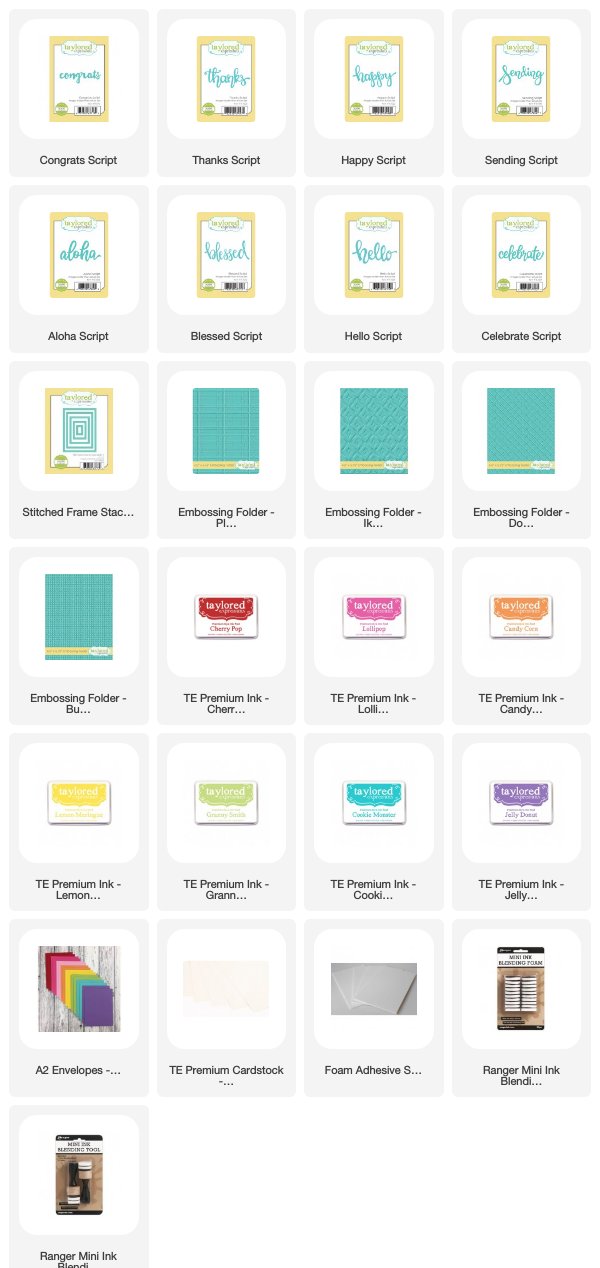 Angelica created this beautiful set of monogrammed cards using the Initially P dies from the Initially collection. What a lovely gift this would make for a loved one or for yourself to use for your own correspondence.
Here's a look at all of the cards in the set. The main design elements are the same using the "P" monogram and the different purple embossed strips created with the Garden Party embossing folder. Angelica created different looks with the elements and colors by moving them around a bit for each card design on the Toffee card bases.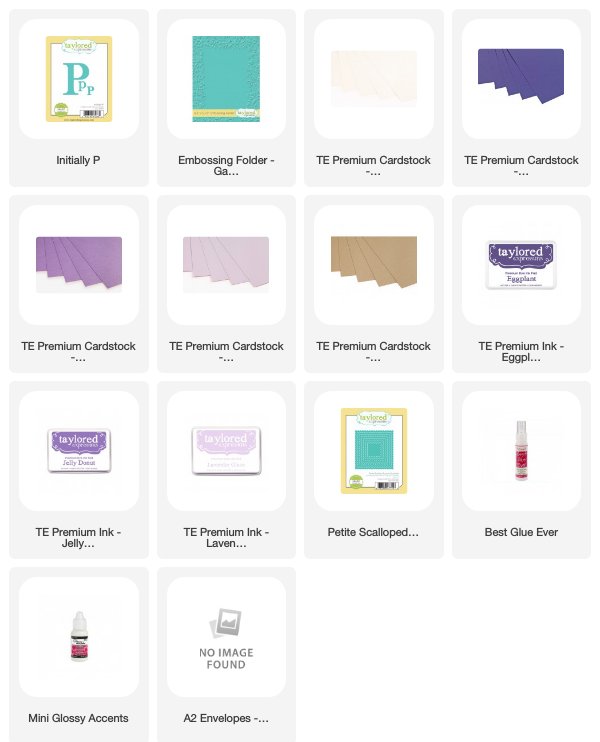 Don't forget about the Personalized Pop-Up Shop to order your own personalized stamp to use on the projects that you create. The personalized stamps are available for a limited time now through February 3rd. Click the link below for more information and to order your personalized stamp today!
Thank you for stopping by today! I will be back again on Saturday with some more card making inspiration to share with you!
Did you know that you can subscribe to our blog and get our posts right in your inbox? Just sign up right HERE – that's all there is to it to make sure you don't miss any of our crafty inspiration!
---