Feb 04, 2019
Hay girl, haaayyy! It's Taylor here today, which means that it's the first day of sneak peeks for our February release! The Creative Team and I have been busy using our new spring-themed products to stamp the winter blues away and we're excited to kick of sneak peeks today with adorable spring and Easter projects. Yes, that means I'm going to make you wait to see the llama and hay girl haaayyy reference featured in the graphic above, but it'll be worth the wait, I promise! Our February Release is always a big one so I have a few things to share before you scroll on to the eye candy!
Over 40 new products including stamps, dies, stencils, THREE new ink/cardstock colors, FOUR new liquid watercolor colors, and TWO new 100% Wool felt colors will be available at the TE webstore on Thursday, February 7th at 9am CST.
Each day will feature a new how-to tip, technique, or process video from me. I love breaking out some of my favorite collections from the release and sharing my process in the daily videos.
Get a chance to win it before you can buy it by commenting with your answer to my Question of the Day (located at the bottom of each sneak peek blog post)
Last, but certainly not least – don't miss the promotion this month that includes a FREE Let's Talk Edger when you purchase the Fiesta Friends Bundle (details below)

The Fiesta Friend Bundle includes 2 die collections along with 2 coordinating stamp sets. When you purchase the Fiesta Friends Bundle between February 7th – February 10th , you'll receive Let's Talk Edger 1 die FREE. Don't forget to mark your calendars for Thursday, February 7th at 9AM CT when all of these new products will be available to purchase at the Taylored Expressions webstore!
My project today features an addition to our Cutting Edge collection; Cutting Edge – Spring Stamp & Die Combo. These adorable critters can stand on their own (or on top of one another!) to make the cutest of cards. In the video, I share my process for creating this card including a use for an item commonly found in my kitchen – that now happens to have its own drawer in my stamp room too!
You can see that the coordinating dies that come with this combo include three individual critter dies, and one die for the lineup of critters. True to the Cutting Edge name, the die for the line of critters only cuts around the top edge of the critters, leaving the bottom intact with the paper which adds to the ease of stacking these little guys up.
Here's a look at all of the supplies I used on this card. I loved finding lots of little details to add like the heart in the bunny's hands and the wobble spring.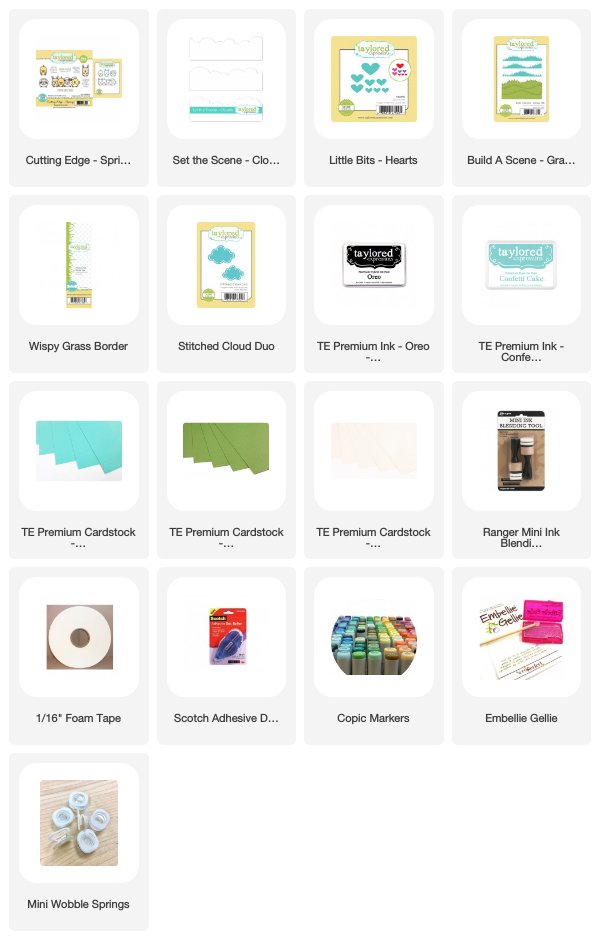 Now let's take a peek at some of the projects that the TE Creative Team designed using more of the cute and whimsical Easter and Spring products making their debut this month!
We're excited to present the next up in the On a Hinge series: On a Hinge – Chick! Melody Rupple created a card featuring the chick with legs that swing back and forth on our unique hinge. So fun! To create this interactive element, you will need to use the On a Hinge die, pop dots, and On the Right Track discs. There is a tutorial on our YouTube channel HERE that walks you through how to assemble the hinge.
In addition to swinging legs, there are other uses for the hinge! Heather Nichols created these adorable tags and set the chick into the broken egg. She also used the On a Hinge die to make the tags interactive – when you move the tag side to side, the chick moves back and forth. These will be so cute adorning Easter baskets!
Angelica Conrad is featuring the new Stacked Seasons – Spring Background stamp on this brightly colored card. All it takes is one impression to fill your card with spring! Angelica colored the letters and images with Copic markers and then layered the colored image panel onto to a scalloped rectangle die cut from the new Petite Scallop Rectangle Stacklets. Tiny scalloped edges are perfect for springtime projects!
Are you ready to get inky? Use your own fingers and thumbs to create lots of fun characters using our new Inky Fingers, Easter stamp set! This set is perfectly suited for stamping with the kids in your life – I'll be sharing my stamping adventures with my own two daughters later this week! Jill Hawkins framed her fingerprints with our Hinged Insta-frames die set and also used the new Backstory – Easter Background stamp.
Noriko Fairchild really made the Backstory – Easter Background shine on her card! She embossed the background, which includes lovely hand-lettered Easter words and sentiments like hello spring, jelly beans, hippity hop, egg hunt, and Easter bunny, and then added a pretty ink blended pastel rainbow. She die cut a bunny shaped window using the new Flip the Script – Bunny Tag die to make a spring filled shaker.
Melody Rupple shares another way to use the Flip the Script – Bunny set by using the bunny stamp to create this pretty Easter card. She embossed the bunny with built in sentiment using white embossing powder onto our new Peaches & Cream cardstock. Her background was watercolored with a few of our newest colors along with a beautiful new background stamp that you'll see more of tomorrow! *wink* My favorite detail is that fuzzy, felt tail!
Up next is this cheeky bunny from the Hip Hop Bunny stamp set! The sentiments in this set take me straight back to the 90s and the bunnies crack me up – especially the meh face! Heather Nichols popped one of the bunnies into the broken egg from the On a Hinge – Chick set and added some glittered sunglasses.
Jill Hawkins created a bunny that is "too legit to quit" by pairing it with the new Triangle Toss Stencil to create a background that screams 90's! I'm pretty positive I had a neon sweater in this same triangle pattern! We also have the Geo Quad Background stamp that has a definite "Saved By The Bell" vibe – you can see it on the card that Heather created above, but keep a lookout throughout release week as it has been used in some clever and unexpected ways! I'm personally excited to ink it in black and white for a bit of a Nordic look!
Last, but certainly not least, let me introduce you to the three trendy pastels we're adding to our collection this month: Raspberry Sorbet, Peaches & Cream, and Spearmint. I hope you love the new foodie names as much as the colors themselves! We're also adding these 3 new colors to our lineup of liquid watercolors, plus an awesome staple color, Toffee. Oh, and if you're a fan of our 100% Wool Felt, don't miss the 2 new felts that coordinate with our new colors: Rosewater and Creamsicle. And we already have a match to the new Spearmint color in the TE webstore: Lagoon.
With new colors, that means new color combinations! Keep your eye out for the new colors mixed into this month's creative team projects and to get you off on the right foot with these trendy pastels, you can download this chart of recommended color combinations. CLICK HERE to download the chart.
That's it for today's new product features, but before I head out, I want to give you an opportunity to win it before you can buy it, by answering my question of the day!
My question of the day is: Which of the three new colors is your favorite and why? Leave your comment before Wednesday, February 6th. One comment per person. Each comment will also be entered into our Grand Prize drawing for a $50 gift certificate! Winners will be chosen at random and announced on the TE blog on Thursday, February 7th.
Today I'm giving away full size ink pads for all 3 of our new colors + a multi-pack of the coordinating cardstock!
Make sure you check out what the rest of the TE Creative Team has been up to with today's featured products and we'll see you back here tomorrow for more sneak peeks!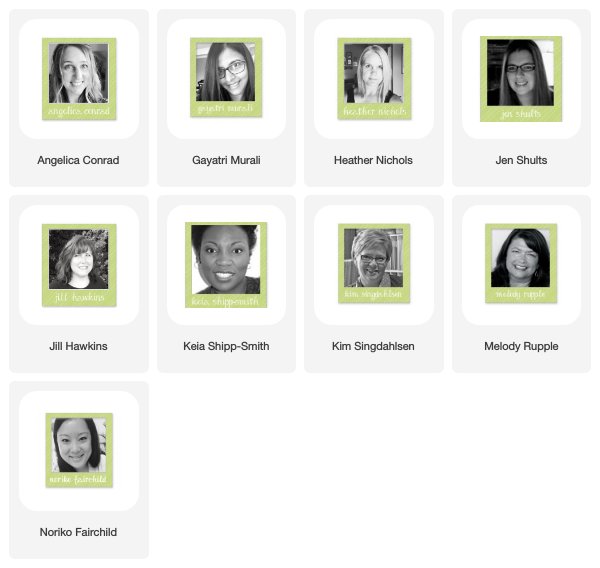 Posted by Taylor at 9:00 am
|
|
|