Tuesday, February 05, 2019
Haaay there, crafty friends! Day 2 of sneak peeks coming right up! But first, what did you think about the goodies I shared yesterday? In case you missed the post, you can find it HERE and leave a comment for your chance to win full-size ink pads + cardstock in all THREE of our new pretty pastels! Yesterday's new goodies were themed around cutesy Easter and Spring, and today I can hardly wait to share projects that will add a touch of elegance to your Easter – including my video with a simple watercolor technique that will make you look like a pro! Here's what you need to know before you scroll:
This release includes over 40 new products including stamps, dies, stencils, THREE new ink/cardstock colors, FOUR new liquid watercolor colors, and TWO new 100% Wool felt colors and everything will be available at the TE webstore on Thursday, February 7th at 9am CST.
Each day will feature a new how-to tip, technique, or process video from me. You won't want to miss today's watercoloring video!
Get a chance to win it before you can buy it by commenting with your answer to my Question of the Day (located at the bottom of each sneak peek blog post)
Last, but certainly not least – don't miss this month's special offer that includes a FREE Let's Talk Edger die when you purchase the Fiesta Friends Bundle (details below)
The Fiesta Friend Bundle includes 2 die collections along with 2 coordinating stamp sets. When you purchase the Fiesta Friends Bundle between February 7th – February 10th , you'll receive Let's Talk Edger 1 die FREE. Don't forget to mark your calendars for Thursday, February 7th at 9AM CT when all of these new products will be available to purchase at the Taylored Expressions webstore!
I'm starting today off with my favorite product of this release – the Pretty Posies Background stamp. There are so many different techniques and mediums to explore with this one beautiful background and I love a stamp with versatility! From watercolor (as I'll show in my video) to colored pencils to emboss resist to tone on tone stamping, there are so many options! The card below might look like it took hours, but prepare to be surprised! It's actually super quick and even a novice watercolorist can succeed with a few tips and tricks!
The card features three of our new liquid watercolors; Peaches & Cream, Raspberry Sorbet, and Spearmint in addition to our previously released Peapod in combination with our Sea Salt Hybrid ink which makes the whole technique possible. You'll also want to tune in to see our amazing Liquid Shimmer in action because #shimmerallthethings, right!?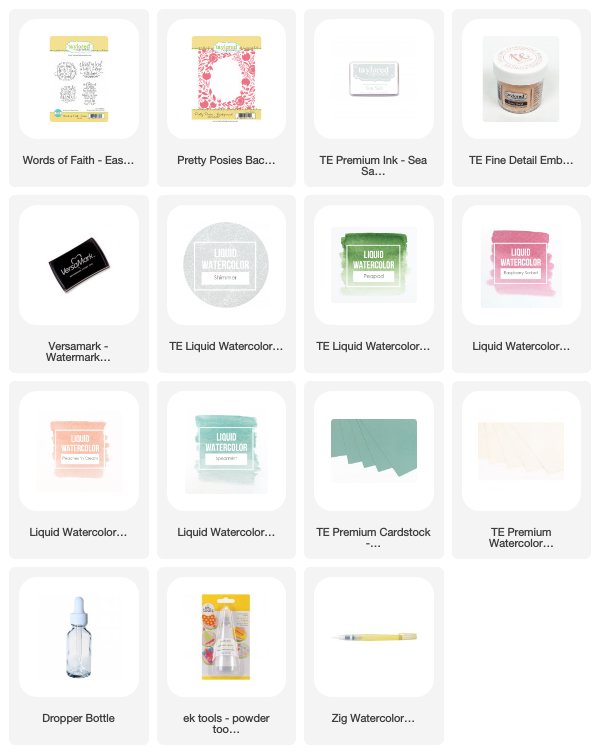 Now let's see what the Creative Team has to share with you today using these elegant Easter and Spring products! I mentioned the versatility of the Pretty Posies Background stamp so I want to start by sharing a few other ideas with you using the same stamp featured in my video. I love that you can get so many different looks just by switching up the coloring medium!
Angelica Conrad also stamped the Pretty Posies Background in Sea Salt ink, but instead of using watercolor, she colored them with Polychromos colored pencils. The bright, fresh colors are gorgeous and the addition of the white detail lines really makes the flowers pop! The sentiment on her card is from the previously released Inside Scoop Birthday stamp set. I can't think of anyone who wouldn't love this for their birthday!
Keia Shipp-Smith used the Pretty Posies Background stamp with white embossing powder over an ombre ink blended background! The sentiment is from the new Handlettered Easter stamp set. I'm loving the hand-lettered look of these sentiments – they're both elegant and playful at the same time.
Next up is a card from Heather Nichols using this gorgeous Big Blooms – Lily stamp. She also used the emboss resist technique on her card, but instead of ink blending she watercolored the lilies with our new liquid watercolor colors: Raspberry Sorbet, Peaches 'n Cream, Spearmint, and Toffee. The sentiment is die cut with the new Rejoice Script die and layered onto a coordinating vellum mat cut using the coordinating Rejoice Script Backer die.
Angelica Conrad also used the new Big Blooms – Lily stamp and coordinating die. She used Copic markers to color the lily for a totally different and equally gorgeous look. The sentiment on the front and inside of her card are from the new Inside Scoop – Easter Blessings stamp set. It's always wonderful to have options to add to the inside of your cards and the Inside Scoop sets are the perfect solution. Angelica also stamped a few tone-on-tone lilies inside her card to continue the design on the front to the inside.
Jill Hawkins also used the new Inside Scoop – Easter Blessings stamp set to add sentiments to the front and inside of her card that features our new Third Day Border die. Don't you think the silhouette of the cross on the hill is beautiful over the ink blended backdrop? I also love how Jill used the Here Comes the Sun stencil on the inside of her card – such a simple and stunning way to express the reason for the Easter season.
Next, is a card created by Keia Shipp-Smith using the new Plant Kindness stamp set along with the coordinating Kindness Script and Kindness Script Backer dies. She added a colorful garden using the Floral Frenzy stamp set to coordinate with the custom sentiment created with the Plant Kindness stamp set and Kindness Script dies. The background on Keia's card is created with the new Geo Quad Background stamp that I introduced to you yesterday. Instead of using the whole stamp, she used just one of the quadrants to add a textured look to the background.
And finally, I want to show you one more idea for the Plant Kindness products. Kim Singdahlsen used the Plant Kindness stamp set, Script die, and coordinating backer to create this adorable card! I love how she tucked the backer behind the hill so that it looks like it's part of the sunshine that Kim created with the Sunshine Cutting Plate!
That's all for today's new product and project features, but before I go, here's another opportunity to win it before you can buy it by answering my Question of the Day…
My question of the day is: How do you know spring has arrived? Is it a specific scent or a sight or perhaps a favorite candy that can now be found on the store shelves? For me, it's the smell of worms…blech… (usually after a bit of rain), a robin in the yard, and SweeTarts Jelly Beans at the store! Leave your comment before Wednesday, February 6th. One comment per person. Each comment will also be entered into our Grand Prize drawing for a $50 gift certificate! Winners will be chosen at random and announced on the TE blog on Thursday, February 7th.
Today I'm giving away the Pretty Posies Background Stamp!
Make sure you check out what the rest of the Creative Team has been up to with today's featured products and we'll see you back here tomorrow for our last day of sneak peeks before all the new products are available!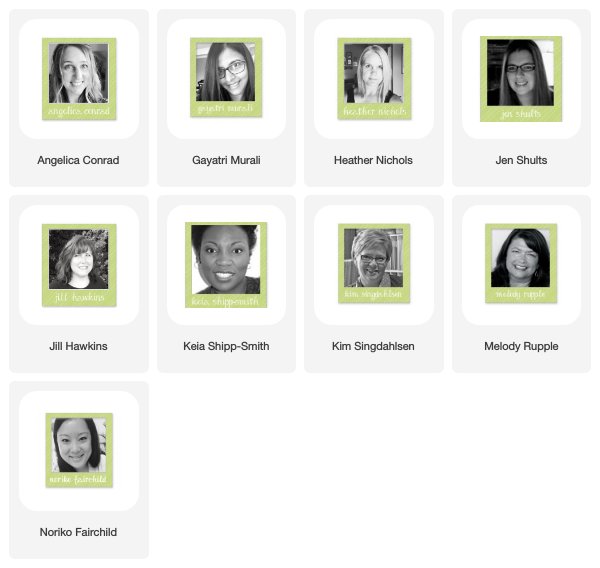 ---