Feb 13, 2019
Hey,  crafty friends! One of the things I love about the Easter season is all of the flowers that start making their appearances with the promise of spring. So many of the elegant Easter cards feature florals and actually elegant themed cards in general feature florals. It's definitely a go to for the elegant theme.
I have two elegant Easter projects to share with you today. Both of them feature florals and watercolor, but with two very different color themes.
The first project I have to share today is by me (Heather Nichols) and features the new Big Blooms – Lily stamp that I embossed with clear embossing powder and then watercolored using liquid watercolors, along with the new Rejoice Script and Rejoice Script Backer dies. This card features very pastel/muted tones and that along with the soft look of watercolor give the card a lovely, elegant feel.
The color combination for this project is Raspberry Sorbet, Peaches 'n Cream, Peapod, Spearmint, and Toffee. All of the colors, except Peapod, are new from this February release and they are a wonderful pastel/soft color combination. The Peapod added a bit of pop and contrast to the Spearmint green on the leaves.
I will have color combination recipe cards to share for all of the main featured projects I am sharing with you this week and when you stop back for the post this Saturday, there will be a PDF that includes the 4 feature project color combinations that you can download and print at home. Or, you can save the color combination graphics individually from each of the posts (just left click with your mouse and you should see an option to save the image.)
A few more elegant details on this project: a few pieces of clear confetti (sequins would work well too) for a bit of shine, some stitching along the bottom of the stamped piece, and the script sentiment layered on a piece of vellum.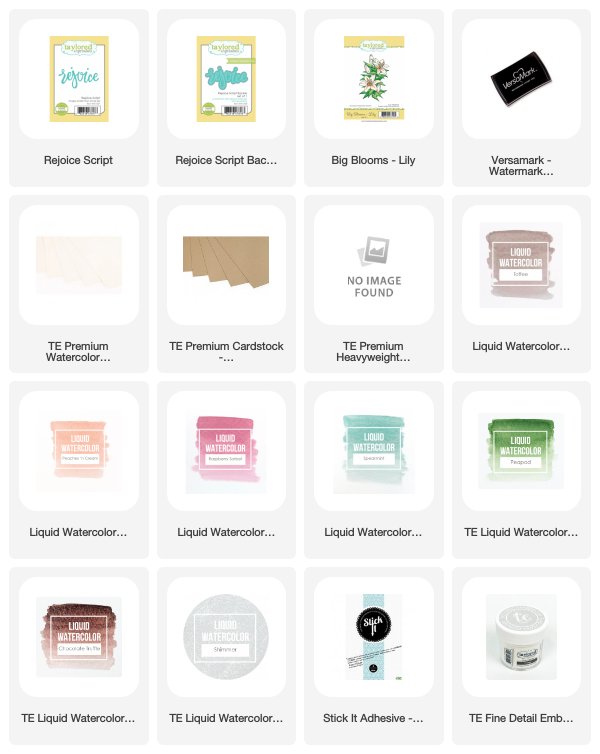 Melody Rupple did both embossing and watercolor on this elegant Easter card that she created using the new Flip the Script – Bunny Tag set and Pretty Posies Background stamp. Here color combination is a bit brighter and includes Guava, Peaches 'n Cream, and Potato Chip. I love how Melody used an oval shape to highlight the focal image of her card and added the tiny scalloped oval for another elegant detail. The oval fits perfectly over the open portion of the Pretty Posies Background image!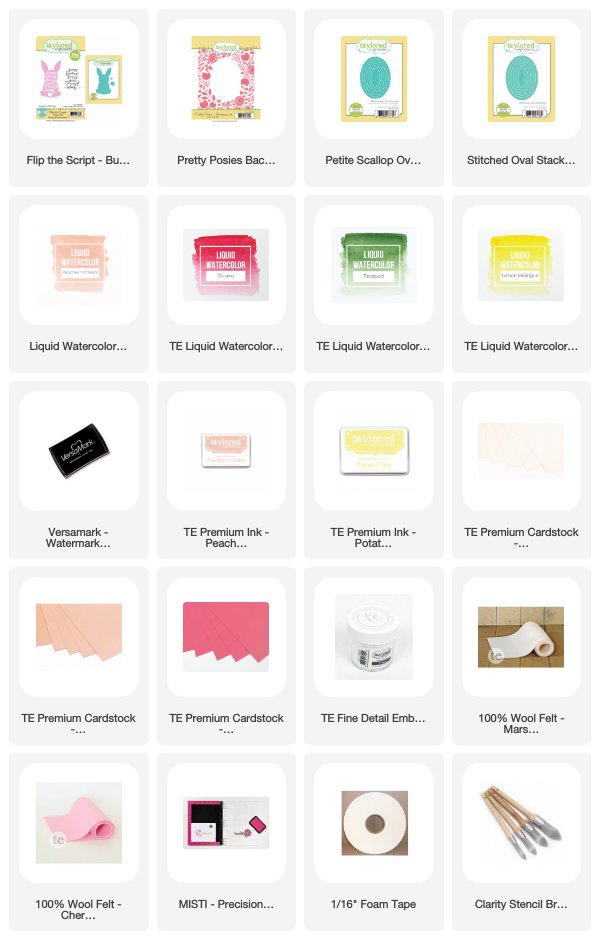 Wasn't it great how using the same techniques, but different color combinations resulted in different, elegant looks? I am making list of the elegant details the the designers have been using on their projects to add to my inspiration file too! Join me back here again tomorrow for more elegant Easter inspiration and thank you so much for stopping by today!
Did you know that you can subscribe to our blog and get our posts right in your inbox? Just sign up right HERE – that's all there is to it to make sure you don't miss any of our crafty inspiration!