Thursday, March 07, 2019
Hey, crafty friends! Doesn't it seem like everything is digital these days? While I like the convenience of having everything in the palm of my hand, I still love having things in my life that are NOT on a screen. Calendars are one of those things are in a digital majority these days, but I still need to have a physical calendar in my home for a place to touch base with things that are happening in my family's life!
Taylored Expressions is known for its calendar products and each year there is new inspiration and ideas to inspire you to craft your own calendars. You know how much friends and family love displaying your handmade cards, right? A calendar gives them a handmade "card" that they can display all year long!
Our 2020 calendars are available in the Taylored Expressions webstore right now! There are several different options to choose from: 3×4 calendars, 5×7 calendars, 6×6 calendar downloads, mini desk calendars, and mini tear-off calendars.
Let's take a look at 3×4 calendars and the mini tear-off calendars, as well as the cute easel that you can make to display your calendars:
Taylor created this cute 3×4 calendar using the Calendar Grumplings stamp set and coordinating dies. Those cute and snarky Grumplings will keep you smiling all year long!
In the video below, Taylor shares more about the 3×4 calendars, mini tear-off calendars, and how to assemble and use the Display Easel die collection for displaying your calendar creations:
How great is that easel for displaying your handmade calendars? It is so easy to assemble and I also love how you can use the easel for displaying other things too!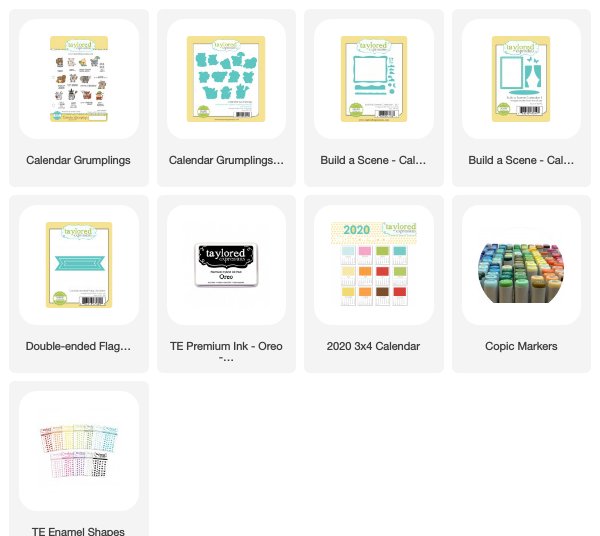 Here's another great 3×4 calendar created by Melody Rupple using the Flowers for a Year stamp set and coordinating dies. The Flowers for a Year set includes a different bouquet for each month! Melody dressed up her easel with the Dotted Lattice embossing folder and a little bit of inking. There are so many options to customize the easel: embossing, stamping, inking, layering on die cut textures, and more!
Here's a closer look at each of Melody's calendar pages. Click on the photos to view them larger.
Each 3×4 calendar pack includes the 12 months printed onto individual sheets of 100 lb. white cardstock. Each month features a colored block appropriately patterned for the holiday or season. The pre-printed block provides the perfect space to decorate and we have 3 different stamp sets and two die sets specifically designed to fit within the blocks: Calendar Grumplings, Flowers for a Year, Calendar Critters, Build a Scene – Calendar, and Build a Scene – Calendar 2.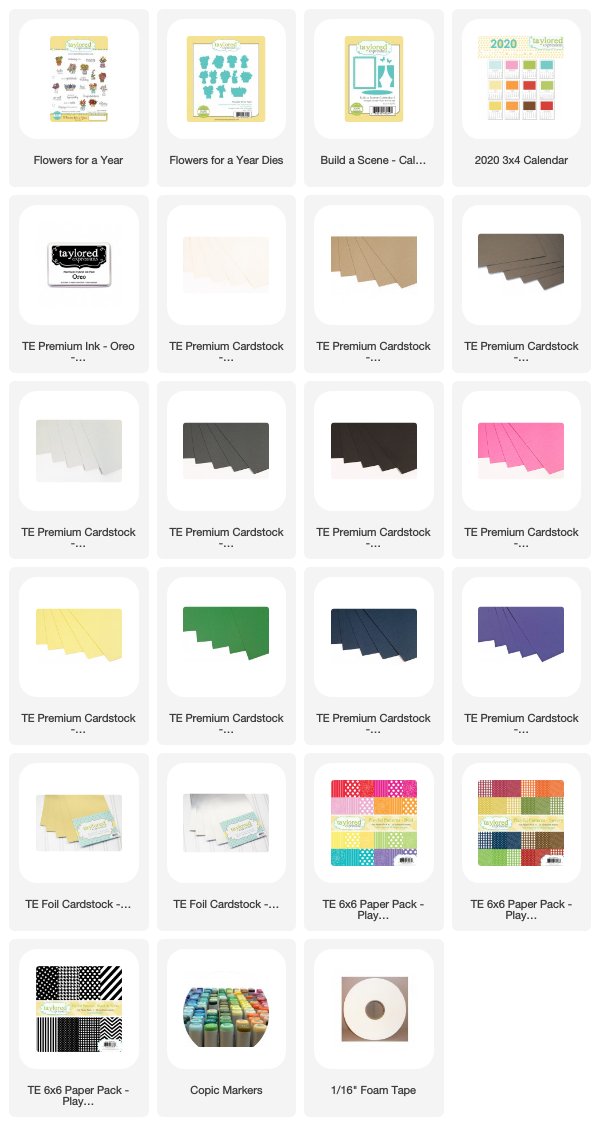 Now let's take look at the mini tear-off calendars:
Jean Manis created this collection of calendars using the Calendar Critters stamp set and coordinating dies with the mini tear-off calendars. Taylor showed a tear-off calendar in the video using the Display Easel that would have the same decoration for the whole year, but Jean made her calendars with the easel ledge moved up above the tear off calendar so the the mini scenes can be swapped out throughout the year – too cute! Click any of the photos above to see them larger.
The mini tear-off calendars include ten 2.25×3″ calendars per package, with pages printed on 20# text weight paper. The entire calendar is backed with a chipboard piece for sturdiness.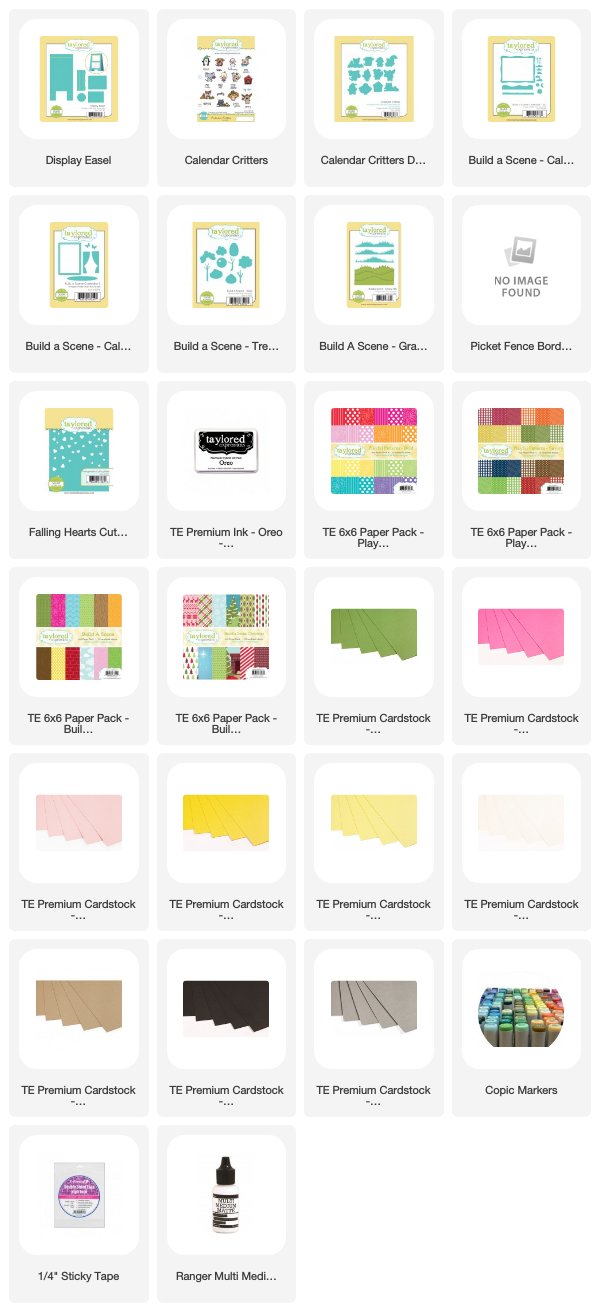 Here's a few more examples of calendar projects using the mini tear-off calendars from Gayatri Murali. She added her calendars to an easel with a beautifully stamped and colored image, to colorfully decorated magnets for the refrigerator, and to an easel created from chipboard coasters. There are so many options for these cute little calendars! Click any of the photos to see them larger.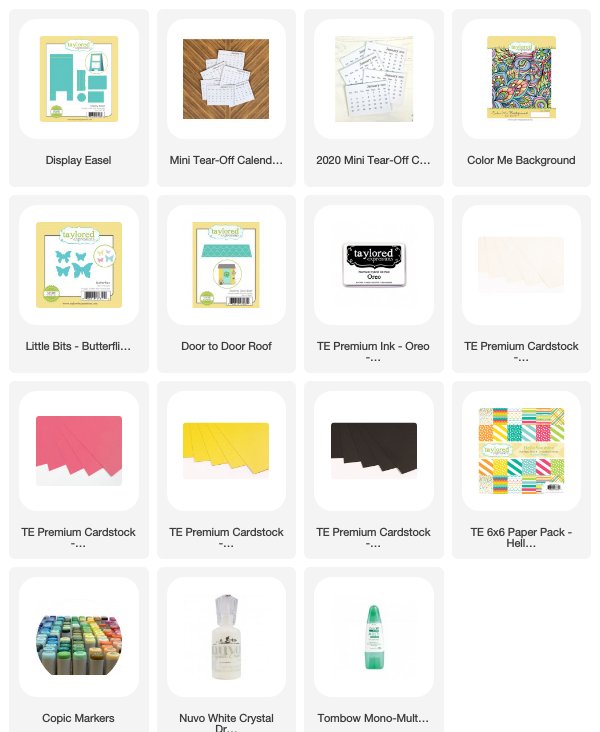 Are you inspired to create some calendars? It's never too early to think about gifts for the holidays, especially when you are a crafter. Click below to shop the 2020 calendar options!
I will be back on Saturday for some more calendar crafting inspiration, so be sure to stop by then. Thank you so much for stopping by today!

Did you know that you can subscribe to our blog and get our posts right in your inbox? Just sign up right HERE – that's all there is to it to make sure you don't miss any of our crafty inspiration!
---