Mar 21, 2019
Hey, crafty friends! Do you have a favorite animal that you associate with Easter? There are so many to pick from: the classic Easter bunny, cute fluffy chicks, soft wooly lambs, and more! Personally, I do love the classic Easter bunny, but the rest are not far behind!
It's so much fun to create cute and fun projects for Easter that feature these cute critters and today we are continuing our Easter treats week with a fun animal theme! I think this project might be my favorite of all of them and these Easter treat boxes are going to look just darling tucked into an Easter basket!
This cute gathering of Easter cuties are all created with different critters from the Sack It die collection that are applied to a clear treat box wrap. You can fill the treat boxes will all sorts of different candies, small presents, or – like in the example above – a colorful Easter egg! In the video tutorial below, Taylor shares how to create the wrap around the clear treat boxes and create these cute Easter friends.
Don't you just want to make a whole bunch of these cute Easter treat critters to tuck into Easter baskets?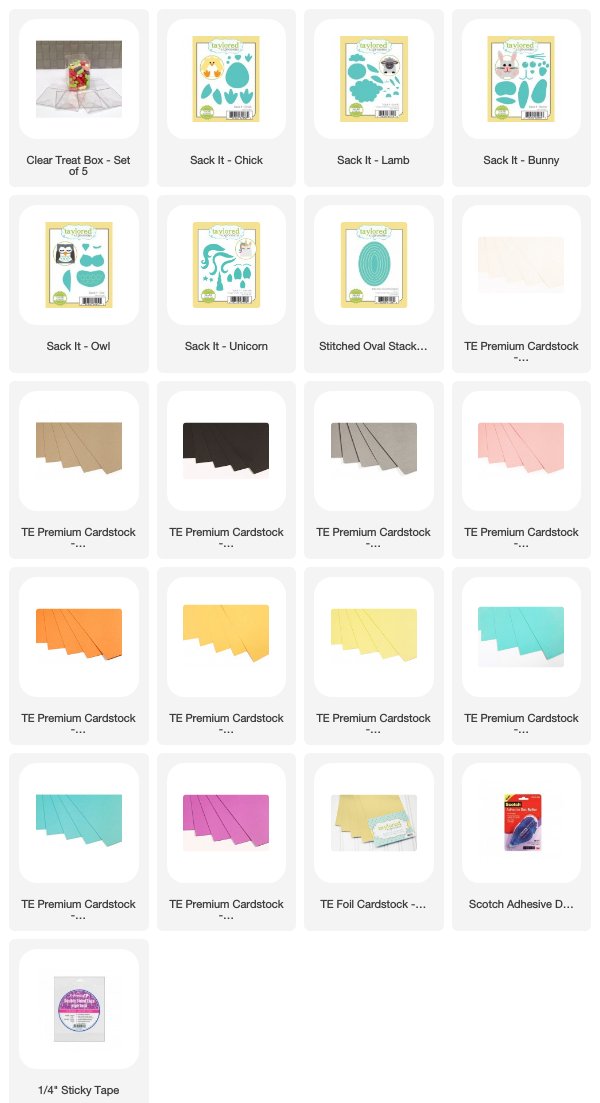 To make putting together this Easter treat even easier, we put together a product bundle for you that includes the supplies that you need, FREE glittery eggs to put into the treat boxes, a FREE project instruction download, and when your order includes this bundle you get FREE shipping in the United States.
The bundle for the Treat Boxes includes the following:
Clear Treat Boxes (set of 5)
Sack It – Chick dies
Sack It – Lamb dies
5 glittery, fillable, plastic Easter eggs
Even if you don't purchase the Treat Box Bundle, you can get the FREE project instruction download. Just fill out the form below and the project instructions will be sent right to your email inbox!
Which animal treat box is your favorite? I love the bunny, of course, but the chick and lamb are pretty perfect for Easter. Thank you so much for stopping by today and make sure to stop back again tomorrow for one more Easter treat project… that just happens to feature a bunny!
Did you know that you can subscribe to our blog and get our posts right in your inbox? Just sign up right HERE – that's all there is to it to make sure you don't miss any of our crafty inspiration!