Tuesday, April 09, 2019
Hey, crafty friends! I hope you enjoyed all of the wonderful new products the we shared last week for the April release. It was so much fun to see all of the Creative Team members projects and it was especially fun to have a few special guests in the mix too!
This week let's keep getting crafty with some fun projects to create with felt. Have you used felt on your paper crafting projects? Or maybe created something else that was fun and felty? If you haven't used the 100% wool felt from Taylored Expressions it really is something that shouldn't be missed. The felt comes in a rainbow of colors and is perfect for crafting, die-cutting, embellishments and applique.
Maybe you consider yourself more of a "non-crafter" or, at the very least, a "non-sewer". The best part is that all of the projects we are sharing this week are pretty quick and easy to do and don't require any sewing!
You can use a craft glue like Aleene's Tacky Glue to put everything together for most of the projects we are sharing this week. Pick up the Aleene's Try Me Size Tacky Pack in the Tayored Expressions webstore to try out for your next felty craft project!
Now, check out the video below to see how Leslie created this cute unicorn coffee cozy!
That coffee cozy went together so quickly! And did you see how easily the 100% wool felt cuts with our dies? Like butter!
Click below to download the FREE Coffee Cozy Template so you can create your own cute, no sew cozy. You can put together the unicorn design using the Sack It – Unicorn die collection or you can use other dies to create your coffee cozy however you want. Cover a cozy with flowers for spring or use letter dies to personalize it!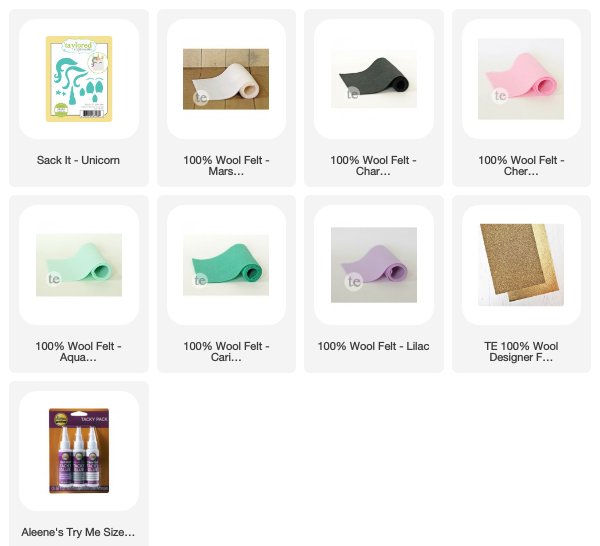 Thanks so much for joining me today! I can see making up lots of cute coffee cozies to give as gifts. You could fill a mug with a coffee cozy with some fun treats too! Leslie has another quick and easy felt project to share with you tomorrow, so make sure that you make plans to stop by! Click below to shop the Fun With Felt collection in the Tayored Expressions webstore.

One more thing before I go, if you haven't heard the news… unrelated to felt crafting, but still super exciting in the crafty supply needs!
The new Water Media Mat from Waffle Flower is now available in the TE webstore! The Water Media Mat by Waffle Flower is perfect for all types of papercrafting! Made of 100% silicone, the mat's smooth white surface is non-stick, waterproof and heat resistant, so it's easy to care for and clean. The large, indented work area can hold paper sized up to 9 x 12″, or can be used as a mixing tray for watercolor, ink or other media. There are also 12 handy palette squares built in that are perfect for creating and mixing colors; guides for framing videos or other social media sharing; and a suction back that sticks to your table and will not rock, move or slide around. CLICK HERE to shop!
Did you know that you can subscribe to our blog and get our posts right in your inbox? Just sign up right HERE – that's all there is to it to make sure you don't miss any of our crafty inspiration!
---