Thursday, August 15, 2019
Hey, crafty friends! There are so many different techniques that you can do with stamping, aren't there? There's always something new to learn! I also LOVE when I rediscover a technique that I learned years ago and it is refreshed and revisited in a new way!
Kissing is a technique that I learned early on in my stamping journey. I remember thinking how cool it was that I could take any of my solid stamps and make them patterned simply by touching "i.e. kissing" the two inked stamps together! Recently, Noriko used the kissing technique with our new Foliage Background stamp (her card is pictured above). My jaw dropped when a quick snapshot of her card appeared on my phone by text and I knew I had to try it myself and share it with all of you!
I set out with a few pointers from Noriko and now you can follow along in the video below:
I simply love this idea and can't wait to try it in other colors and with other stamps! The woodgrain design adds so much texture to the Foliage Background and I love the slight bit of shimmer from the embossing powder selectively applied!
Here's a closer look at the card I created:
I used two tones of green on the stamps: Granny Smith for the lighter ink on the Foliage Background and Cilantro for the darker ink on the Woodgrain Background (note: Noriko used Pink Champagne and Guava on her project). I added rose gold embossing powder (Noriko used regular Gold embossing powder) to add even more texture and shine. I also scattered a few small flowers from the Fresh Picked Florals clear stamp set throughout the design.
The circle in the center of the Foliage Background stamp is the perfect size for framing a sentiment and I used one from the new Handlettered Sentiments stamp set from the August release, die-cut with the coordinating die and popped up over a vellum circle.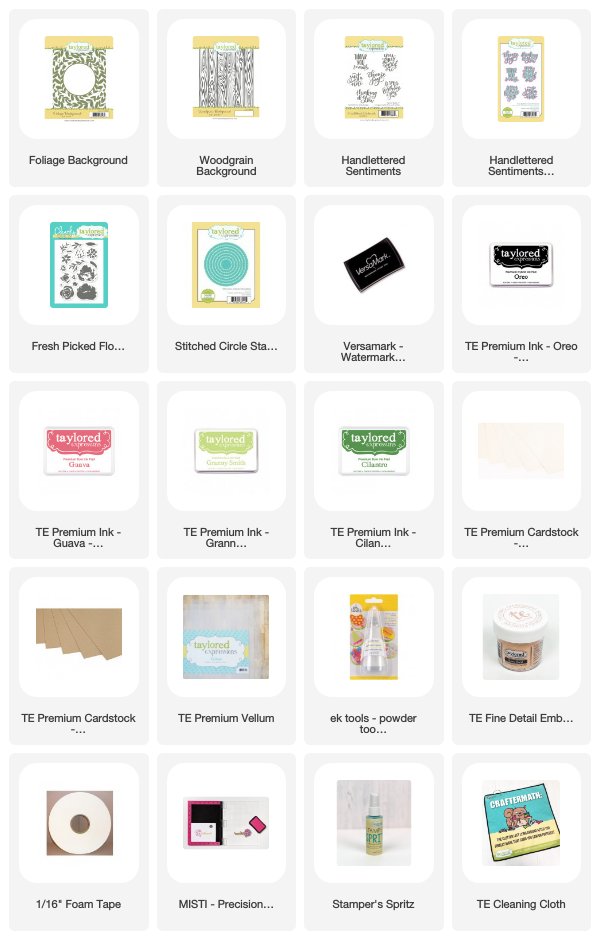 Are you ready to try "kissing" on your next card project? If you do, we would love for you to share your results over on the Fans of Taylored Expressions Facebook page.Thank you so much for stopping by today and make sure to stop by again soon for more crafty inspiration!

Did you know that you can subscribe to our blog and get our posts right in your inbox? Just sign up right HERE – that's all there is to it to make sure you don't miss any of our crafty inspiration!
---