Thursday, September 19, 2019
Hey, crafty friends! It's Taylor here today with a little bit of personal and a little bit of cards! This past weekend we celebrated the 8th birthday of our oldest daughter, Madi, with a llama-themed birthday party. First, can someone help me figure out where these EIGHT years have gone! Just yesterday we were celebrating her 1st birthday and now my girl is all grown up. She's sweet, kind, considerate, and helpful and I have so much fun being her mom!
As my girls have gotten older, they get really excited about choosing their party theme. I must admit I was pretty excited when Madi told me she wanted to do a llama-themed party! We had fun planning all the details for a fun-filled day with lots of cake, cookies, cacti, and a pinata (which I will never do again at another party… someone remind me of this when I forget the terror of watching blind-folded children swing a bat with reckless abandon!)
The llama cake came from a local bakery to match the cute napkins and table runner fabric. The buttercream frosting is always super YUM!
Mini llama pinatas and tiny cactus erasers were table decor along with the extra large cactus pinata filled with candy. My mom mixed up a batch of pink 'llamanade' to drink!
Each of the girls decorated their choice of a llama or cactus sugar cookie with piping bags and buttercream from a local cookie shop.
We also decorated clay pots with paint pens and potted small succulents for each of the girls to take home. They're easy to care for as they only need to be watered once every couple weeks. It was so fun to see the creativity in their pot decorating!
At the end of the party, each little girl also went home with a favor bag including a cactus pen, crayons, llama coloring pages, and a cute llama notepad. I tied each of the favor bags (from Target) with a tag made with the Look Who's Talking set.
Madi received so many wonderful gifts so this week's project was to create llama themed thank you notes for her to send to her friends. Here's the simple design I came up with:
I don't do a lot of mass-producing, but I do have several tips and tricks to share with you in the video below that should help speed the process along the next time you're mass-producing!
My best piece of advice – no matter how much you want to keep adding "just one more thing" – keep it clean and simple! *wink*
Also, on images that require coloring, try something different like the white-washing technique that I shared in the video, paper piecing, or pencil coloring. It will save time in the long run!
To finish these off, I added a 'thanks so much' sentiment to the inside along with a llama in the bottom corner. Now they're just waiting for the birthday girl to write them out!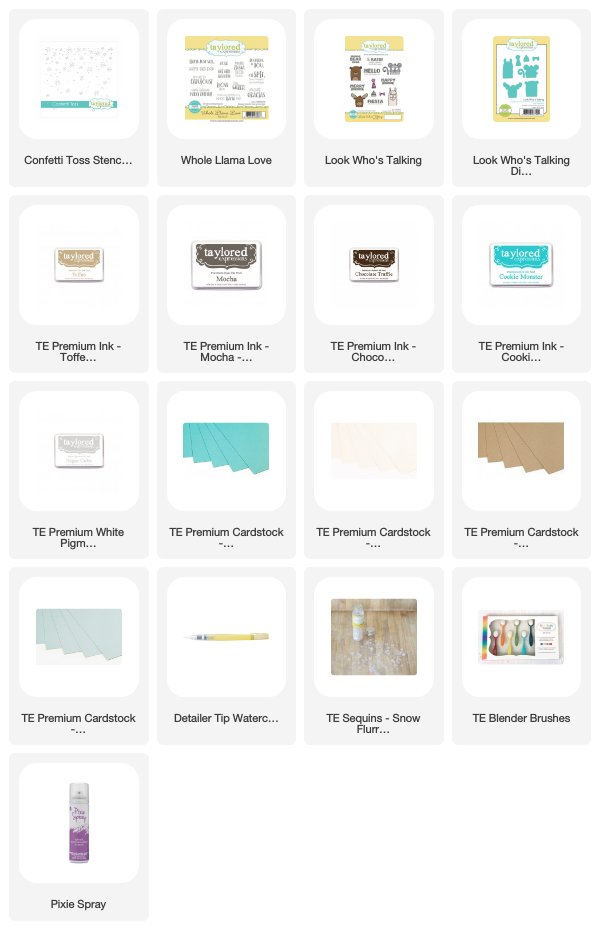 We're continuing to celebrate our 11th birthday through the weekend so there's still time to join the party and take advantage of our special offers:
Receive a free Share Joy enamel pin with every purchase of new release products (while supplies last.)
Free shipping in the United States for orders of $50 or more!
Orders of $75 or more will be entered to win 1 of 11 gift certificates to the TE webstore: ten $50 gift certificates, one $100 gift certificate!
Offers valid 9/10 – 9/22 and while supplies last. Gift certificate winners will be announced on the TE blog on 9/23.
Thanks for stopping by today!
Did you know that you can subscribe to our blog and get our posts right in your inbox? Just sign up right HERE – that's all there is to it to make sure you don't miss any of our crafty inspiration!
---