Tuesday, September 17, 2019
Hey, crafty friends! Did you have blast last week celebrating with us for our 11th birthday at Taylored Expressions? We definitely had fun celebrating with all of you. I am keeping the birthday celebration going with a new project to share using the new Confetti Toss stencil. You probably have heard the phrase "spread kindness like confetti"? That is exactly what I sharing today!
I had playing around and mixing glitter in with a few of the Metallix Gel colors to add a little extra sparkle to my projects. Watch the video below to see more:
I know I heard a few of you shudder as you watched me mix in glitter with the embossing paste! Fear not, once the glitter is mixed with the paste, it stays there and doesn't brush off of your project. You can also experiment with mixing the Glimmer Paste colors together with the Metallix Gels for some super sparkly results. It's all about playing and experimenting with your supplies to see what they can do!
In the video I showed mixing the White Pearl Metallix Gel with some iridescent glitters and that is the card on the left (oh, how I wish photos showed sparkle better!) For the card on the right, I used the Champagne Mist Metallix Gel mixed with some white gold glitter.
I turned to the Simple Strips – Birthday stamp set and coordinating Simple Strips die to add the sentiments to my cards. I seriously just can't get enough of these versatile sentiment strips!
Check out the supply list below for the supplies that you need for this project: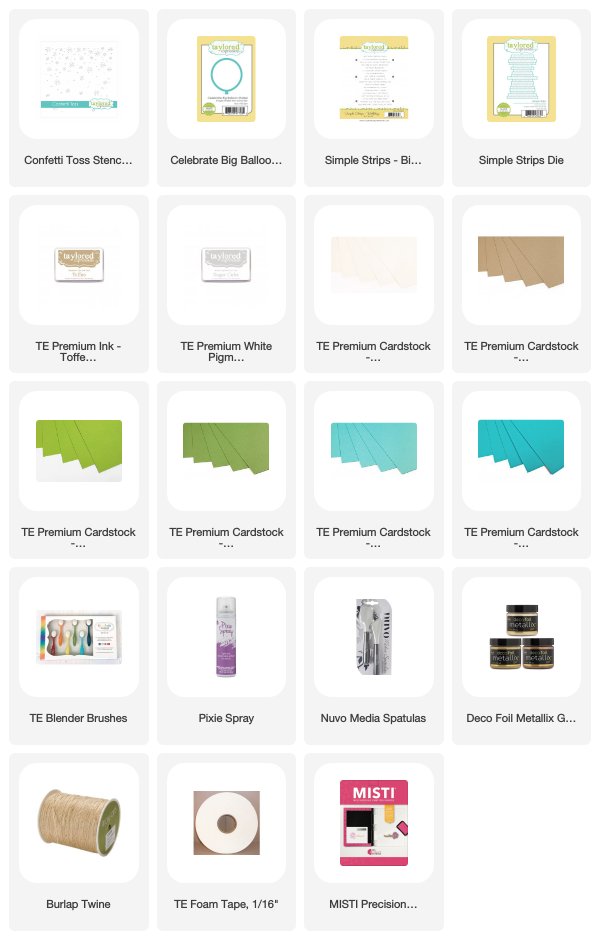 Before I go, I want to remind you about the special promotions going on for the 11th birthday celebration at Taylored Expressions!
Receive a free Share Joy enamel pin with every purchase of new release products (while supplies last.)
Free shipping in the United States for orders of $50 or more!
Orders of $75 or more will be entered to win 1 of 11 gift certificates to the TE webstore: ten $50 gift certificates, one $100 gift certificate!
Offers valid 9/10 – 9/22 and while supplies last. Gift certificate winners will be announced on the TE blog on 9/23.

There's more birthday inspiration coming your way a little later this week from Taylor, so make sure you stop by again to check it out. Thank you so much for stopping by today!
Did you know that you can subscribe to our blog and get our posts right in your inbox? Just sign up right HERE – that's all there is to it to make sure you don't miss any of our crafty inspiration!


---