Monday, September 30, 2019
Hey, crafty friends! It's Taylor here today! It's beginning to look a lot like Christmas here inside TE Central! I'm already dreaming of a white Christmas and starting to plan our trip over the river and through the woods to grandmother's house! What about you? Are you in the mood for Christmas? If so, you're in for a treat this week – and no, it's not a fruit cake! *grin*
The Creative Team and I have been busy getting crafty with the new goodies and we've got lots to share! Here's an 'at-a-glance' look at the October Release and what you can expect from sneak peeks this week:
This release includes over 30 new products including stamps, dies, stencils, and THREE brand new colors. And yes, holiday Simple Strips AND Mini Strips are here too! Everything will be available at the TE webstore on Thursday, October 3rd at 9am CST.
Each day will feature a new how-to tip, technique, or process video from me.
Get a chance to win it before you can buy it by commenting with your answer to my Question of the Day (located at the bottom of each sneak peek blog post)
Last, but certainly not least – don't miss this month's special offer (details below).
Have yourself a merry little Christmas! Every order placed between October 3rd – October 6th will earn DOUBLE crafty points to apply to a future purchase! Plus, receive FREE U.S. shipping on orders over $25 OR $5 off shipping for residents of Canada with the code CANADA5.
Alrighty then – are you ready for the new projects and products that I have to share with you today? Let's get started sloooooowly with our new sloth!
This adorable sloth was 'born to be mild' as he hangs from the jungle treetops. And guess what you can't see in this picture? The branch the sloth is hanging from swings back and forth to make this an interactive card! In the video below, I'll share how I put the interactive element together along with the quick coloring technique I used for the treetops.
If you watched the video, then you got the first peek at our BRAND NEW adhesive! I've been working behind the scenes to bring you these two foam adhesives that are especially useful for the cards we're often creating at TE.
First, the Foam Sticky Circles are used with our On the Right Track Discs and On a Hinge mechanism to create those fun swinging, sliding, and spinning cards! Previously you'd need to stack two dots on top of one another, but I've designed these new foam circles with more thickness so that now you only need one dot making it easier to complete the interactive element.
And the Foam Sticky Strips… so many uses! The 1/8″ width allows you to easily add them all the way around the 1/8″ border of our cutting plate designs (and many other thin spaces!) and the 1/8″ thickness is the perfect thickness for creating shaker elements. No more sticky scissors from trying to cut apart your foam adhesive – just use the Foam Sticky Strips!
The Born to be Mild stamp set includes accessories and sentiments for Christmas, birthday, and just because! Did you catch the play on words? Like born to be wild…but mild? Because SLOTHS?! The sloth is right at home in our It's a Jungle Background with the coordinating die that cuts along the bottom edge of the treetops and also cuts out the curved vine for the sloth to hang on.
I was pretty pleased with the results of blending ink onto colored cardstock to create extra dimension below the treetops without a lot of effort! And I hope you'll try that smooshing technique that I shared in the video for the leaves. I also colored one of the It's a Jungle background with Copic markers which was really fun, but it took quite a bit of time. I wanted to show a faster approach and I love how it turned out!
Here's the supply list for the products that I used to create this project: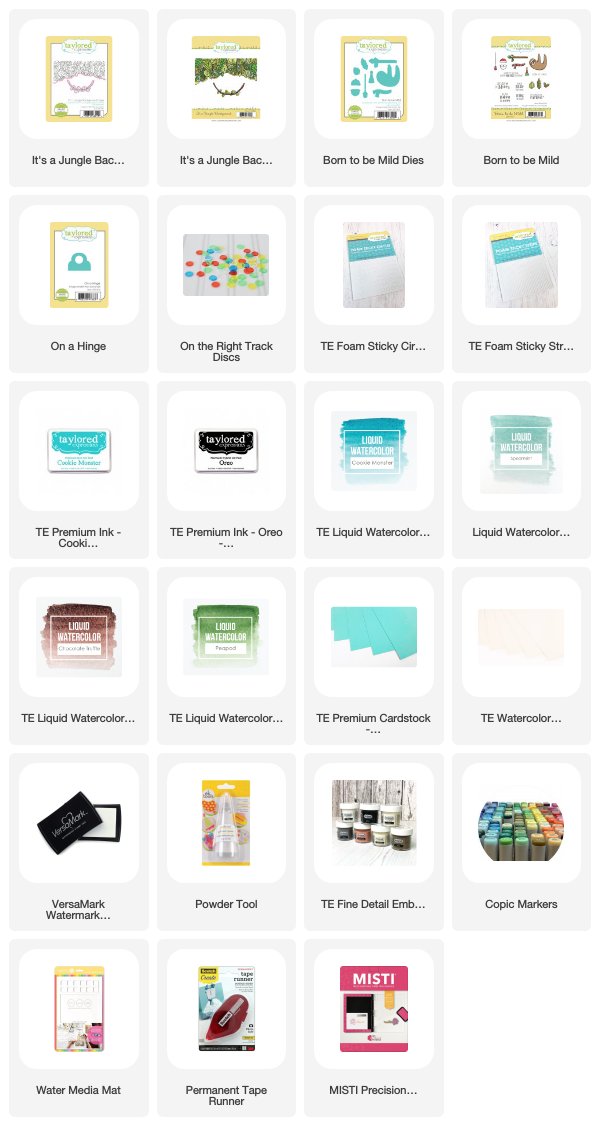 Before we set the sloth aside, I have to share how Gayatri Murali used the sloth for a non-holiday card. Even if you're late getting a card in the mail, I think the recipient would be more forgiving when this sloth arrives in their mailbox! And I must say that I'm loving all of the white accents that Gayatri adds to her coloring. It's really eye-catching, don't you think?
OK – are you ready for more products in our holiday lineup? These next products just might be my favorite from this new release! When it comes to creating holiday cards, quick and cute is right up my alley!
I'm super excited about a new product that we're debuting this month called Cling & Clear Stamp Combos. These sets include the best of both – the crisp, clear image that you get from a rubber stamp and the ease of layering color with a clear stamp. This set features a whimsical twinkle light background in red rubber and includes a small clear acrylic set to add the color fills to the lights! This is quick and easy stamping at its best and I love this new concept for mass producing Christmas cards!
In addition, we have the new Handlettered Holiday 2 set with four handlettered sentiments that can be used within the opening of the background or on countless other holiday cards. So many of you loved Handlettered Holiday last year and so we are thrilled to offer this addition. This time, there are also coordinating dies to cut out the sentiments perfectly.
I created this quick and easy card by stamping the Bright Lights Background in Oreo ink and then using the clear stamps to add the colored fills in red and two shades of green. After stamping , I lightly brushed the coordinating color of ink using a blender brush to create the 'glow'. Of course, I couldn't resist adding a bit of sparkle to the lights! I used a Quickie Glue Pen & loose glitter, but Stickles or liquid shimmer would work too!
Next up, the Jolly Holly Background is another Cling & Clear Stamp Combo set. The oversized holly and berry design stamps beautifully in red rubber and then you can add the colored fills to the holly and berries with the coordinating clear acrylic stamps. Bonus: the fills are not designed to fit exactly within the outline area so you don't have to stress about being slightly off. The open white spaces add to the desired character of the design.
This big, beautiful background also pairs perfectly with the new Simple Strips – Christmas! I know you've all been waiting for this and here it is! You can stamp 18 different Christmas sentiments in one impression and then die cut them all at one time using the previously released Simple Strips die that coordinates with our entire line of Simple Strips stamps.
Keia Shipp-Smith stamped the Jolly Holiday Background onto Sugar Cube cardstock with Oreo ink and then made it bright and festive by stamping the clear fill in red and green. The previously released Door to Door door front and a sentiment from Simple Strips – Christmas finishes the card off perfectly!
Next up is the continuation of the Backstory series with the new Backstory – Christmas Background stamp. Fun and whimsical hand-lettered words, phrases, and doodles fill up this fun background design! Noriko Fairchild added the Backstory – Christmas Background to a colorful and shimmery ink blended background embossed in white. Once again, a Simple Strips sentiment to the rescue to allow the background to sparkle front and center!
Do you remember the Fluffy Friends set that we released last year? These plump lovable critters were initially released with all kinds of funny food images and sentiments. This month we're continuing the series with Fluffy Friends – Holiday stamp set and coordinating dies. The set includes four new critters along with accessories and sentiments perfect for holiday cards, tags, and more!
Angelica Conrad colored up the cutest reindeer from the Fluffy Friends – Holiday set for her adorable Christmas card. I also love how Angelica used the Backstory – Christmas Background stamp on her project. Instead of a whole background, Angelica trimmed it down to a small square and set it off with colorful stripes she created by masking and blending.
Speaking of stripes, Keia Shipp-Smith used the plump penguin with stripes of color that she stamped using an image from the previously released Stroke of Genius stamp set. It's the perfect backdrop for Keia's Christmas tree scene!
Are you (or the kiddos in your life) ready to get your fingers inky for Christmas? I am in love with the adorable images in the Inky Fingers – Christmas stamp set! Stamp any of the eight images in the set and add your fingerprint (or your child, grandchild, friend, spouse, cousin, aunt, uncle… you get the picture!) to finish off the design. This set is perfect for crafting with kids – or kids at heart!
I've already decided this will be our Christmas card this year! The sentiment is pretty appropriate as the word 'herd' is an accurate description of our family… a very noisy, somewhat chaotic, but super lovable "herd". Now, if I can manage to get everyone on board for adding their fingerprints for the occasion I will be #winning! Oh… and every person I've shown this card to asks "Where'd you get that patterned paper?" Well, guess what, I stamped it myself with our Buffalo Plaid Background. It stamps beautifully with the new Watermelon ink over Lollipop cardstock!
Did I say 'new ink'? Yes, I did! Today I am excited to share the three newest additions to the TE color family. Introducing: Watermelon, Poblano Pepper, and Olive. You'll be seeing these colors throughout holiday projects this week! A couple things to note: Watermelon ink is a Hybrid formulation. This means it is Copic compatible and waterproof should you choose to use it in that way. However, the main reason for creating the Watermelon ink in a Hybrid formula was to get the absolute best and brightest red to match the vibrancy of the cardstock. This formula allows for brighter and more intense color. We've had Watermelon cardstock in our collection for years and I'm excited to have finally developed an ink match that I'm proud of!
My question of the day is: Tell me about one of your crafty Christmas traditions! Is there a certain handmade gift that's become your tradition? Do you always put handmade tags on your gifts? Are you a calendar gifter? Or maybe it's not a papercraft… do you sew something, knit something, paint something? I'd love to hear about it!
Today I'm giving away the Bright Lights Cling & Clear Stamp Combo!
Leave your comment before Wednesday, October 2nd at 8PM CST. One comment per person. Each comment will also be entered into our Grand Prize drawing for a $50 gift certificate! Winners are chosen at random and announced on the TE blog on Thursday, October 3rd.
Make sure you check out the rest of the Taylored Expressions Creative Team projects using today's featured products! And then I'll see you back here tomorrow with more new products and inspiration!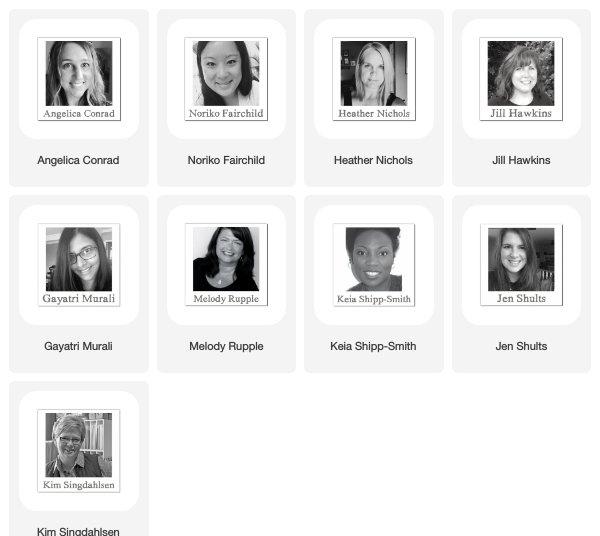 ---