Nov 21, 2019
Hey, crafty friends! The time for crafting holiday gifts is right now! It's always wonderful when you can create something from the heart for the people that you love. How many of you hold your TE Blender Brushes and Masking Stencils close to your heart? Well then, it's time to take them, get crafty, and blend up a wonderful gift!
If you weren't able to pick up the new Masking Stencils when they made their debut, now is your chance! The Masking Stencils are back in stock and when you purchase the complete set, you will get 15% off and get a 1/2″ roll of purple tape FREE now through this Sunday, November 24th. Note: The Masking Stencils will not be a part of our Black Friday sale making this sale the best one you will find this year on the Masking Stencil set. Click below to shop now!
Let's take a look the project that Taylor has blended up to share with you today. She created a colorful rainbow blend of cards and a desk calendar to gift to her sister for the holidays:
Taylor created a set of six rainbow blend cards that are perfectly personalized for her sister using the Noteworthy stamp set and "w" monogram created with the Initially – Letters dies. She packaged them up in a clear card box with coordinating colored envelopes and wrapped up with a colorful band personalized to match the cards. She also created a colorful desk calendar using a clear acrylic frame that she picked up from a local store along with the 2020 Mini Tear-Off Calendars.
For the calendar, Taylor blended a rainbow using the Masking Stencil – Rectangles collection at the top of a piece of Sugar Cube cardstock and then stamped the Big Butterfly onto the masked area using Oreo ink. She slipped it into the clear frame and adhered the Mini Tear-Off Calendar to the front of the frame. Her sister can simply tear off the page to reveal the next month when it's time and enjoy that beautiful rainbow butterfly all year long.
This gift ensemble would be perfect for teachers, coworkers, family and friends. Plus, you get to spend time doing something that you love while creating it and that means this gift shares a bit of your joy with the recipient.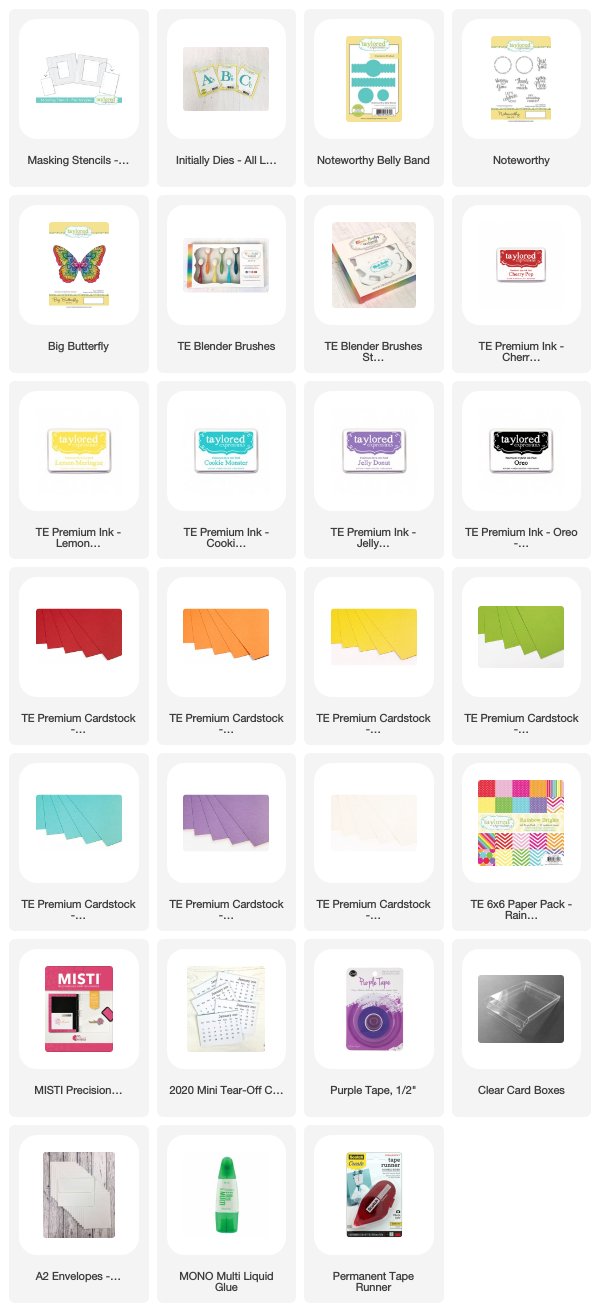 Just a reminder that you still have time to take advantage of the Gift Giving Bundle I shared with you on Tuesday's post now through Sunday, November 24th, so you can get a jump start of packaging up those gift cards and smaller gifts using our hinged tins. Click below to shop!
Thank you so much for stopping by today. I hope we have inspired you this week with packaging up and crafting gifts for the holiday season. Stop back again next week as we get ready for our Black Friday and Cyber Monday sales. We will have all the details so you can make your wish lists and take advantage of the savings that are coming your way!
Did you know that you can subscribe to our blog and get our posts right in your inbox? Just sign up right HERE – that's all there is to it to make sure you don't miss any of our crafty inspiration!