Dec 05, 2019
Hey, crafty friends! I am taking a bit of a break from holiday projects to play around with a foiling technique that I used on this pair of birthday cards. I am pretty new to foiling techniques and have had some fun experimenting with the possibilities!
Watch the video below to see how to add shimmery foil to a stenciled design using Deco Foil Transfer Gel:
Think of the possibilities using the stencils that you already own… plus the all of the different options that are available in the Taylored Expressions webstore! The Deco Foil Transfer Gel is very easy to use with any stencil design and there are so many foil choices to add shimmer and shine to your projects.
For this project, I created shimmery rainbow confetti using the Confetti Toss stencil along with the TE exclusive Rainbow Bright foil. I tried out the rainbow confetti on a few different colors of cardstock. Whenever you have all of your supplies out to do a more involved technique, take the time to make more than one. It saves time, gives you more practice, and then you have items ready to go for a project right now – or later!
The first thing I thought of with all of this shimmery rainbow confetti? How much Big Grumpy would hate it! So, of course I had to create a card that featured him. Big Grumpy and his party accessories are colored with Copic markers and I added even more sparkle with a bit of glitter on his party hat and present.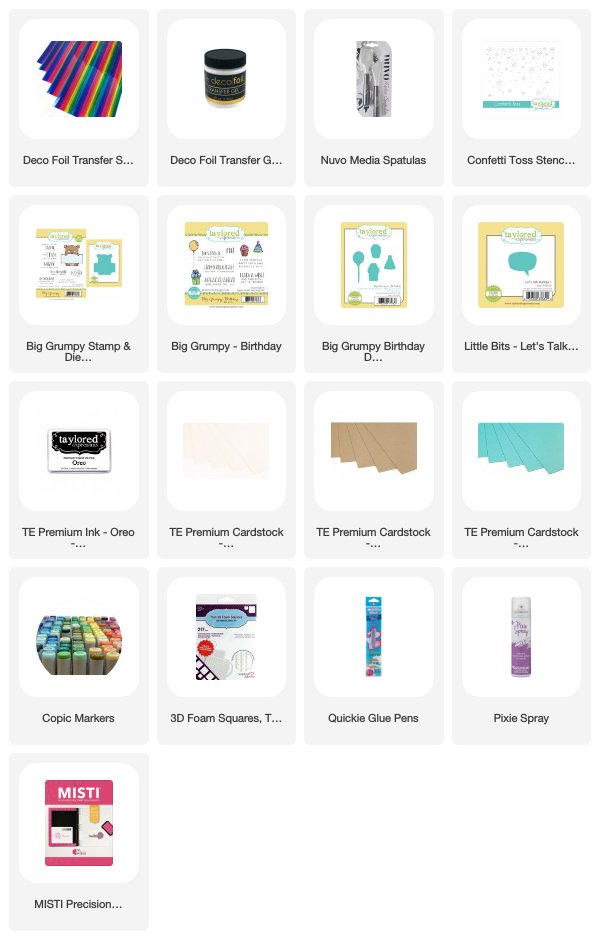 I had so much fun foiling on this project and am inspired to play with more foiling techniques. There are so many options for foil and other foil crafting supplies in the Taylored Expressions webstore. Click below to check them out:
Thank you so much for stopping by today. I hope you are inspired to add some shimmer and shine to your next project using a foil technique? Have you ever foiled before?
Did you know that you can subscribe to our blog and get our posts right in your inbox? Just sign up right HERE – that's all there is to it to make sure you don't miss any of our crafty inspiration!