Tuesday, December 10, 2019
Hey, crafty friends! How many of you have everything all ready Christmas? Your tree is up, the stockings are hung, the presents are wrapped, the cookies are made, and the cards are sent? If you answered yes to all of those things, then I'll give you my address 'cuz I could use your help! *wink* Have you made your crafty wish list yet? Well, today I have some inspiration to share along with a little something to help you pass along your crafty desires as a last-minute reminder to your loved ones. Our 2019 Holiday Gift Guide includes all of our hottest products from 2019 plus a little bit of humor all in one handy, clickable download!
You'll also want to tune in here on the TE Blog as we'll be featuring products from the gift guide over the next few weeks to help you curate the best crafty wish list ever (or snag a few last-minute gifts for yourself!).
Here's a helpful guide to get you started:
There's just nothing better than a hilarious flow chart! Did you follow all of the arrows and read all of the options? Your crafty friends and family are sure to get a chuckle out of this too (and buy you all the TE craft supplies!) so download and pass it on.
Now on to the serious stuff: here is the official Taylored Expressions 2019 Holiday Gift Guide, complete with clickable links to 2019's most popular products!
Are you the proud owner of any of our most popular products!? Perhaps you're ready to add to your collection of Simple Strips or bring another set of Blender Brushes into your craft room! Don't miss this year's snarky favorites either! Click below to explore the 2019 Holiday Gift Guide!
*Once the 2019 Holiday Gift Guide opens up, there is an option to share and/or download in the bottom right corner of your screen.
When you make a purchase of $100 or more now through Thursday, December 19th, you will receive a coupon redeemable for $20 off any order placed in January 2020. *limit one coupon per customer*
'Tis the season for giving, right!? We are also giving away three 2019 Holiday Gift Guide bundles during our "Pick Your Present Giveaway". Click below to check out the special bundles and make your selections. Giveaway runs now through Thursday, December 19th and winners will be announced here on the blog on December 20th!
Now, on to my project for today! We're kicking off the Gift Guide with our most-loved product of 2019; Rainbow Blender Brushes! You can check out the video below to watch the blender brushes in action. Despite the freezing temperatures, I thought we could all enjoy a set of cute cow cards today!
My goal for today's project was to show you how easy it is to create a beautiful cloudy backdrop for any scene. I also used several different blue inks so you can easily compare the colors and find your own favorite!
I started by taping the Sugar Cube cardstock to the smaller of the Rectangle Masking Stencils using the etched alignment guides to center the opening over cardstock. Then I blended the grassy hill at the bottom of the opening with a reverse mask that I die cut from cardstock using the Rolling Hills die.
Next, I was able to blend using the Cloud Stencil Strips by starting at the top of the opening and then pulling the stencil down after blending each layer. You can mix and match the three cloud design options or continue moving down the paper using the same stencil and shifting the design left to right for pattern variation.
After blending the backdrop, I die cut the coordinating fence and adhered it over the hill. I stamped each cow by dropping the die cut into the MISTI, then colored them with Copic, and popped them up on the background. To finish them off I stamped the sentiments in the sky with Oreo ink.
A simple set of cards with sentiments to work for lots of occasions! I've got a thank you, two birthday, and a couple love sentiments. I hope everyone loves a cute cow because I've got five of them to find a home for! *grin*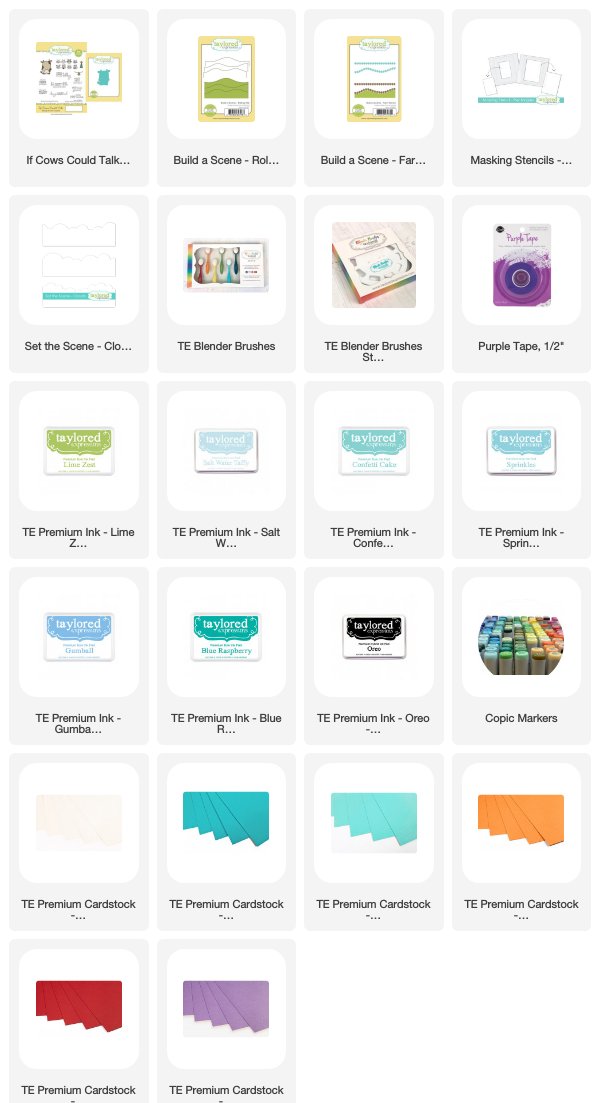 We also have several special guests joining us to share projects they've created with the Blender Brushes. Click their faces below to see more fabulous inspiration and then stop back at the TE blog later this week for more 2019 Holiday Gift Guide inspiration. Thank you so much for stopping by today!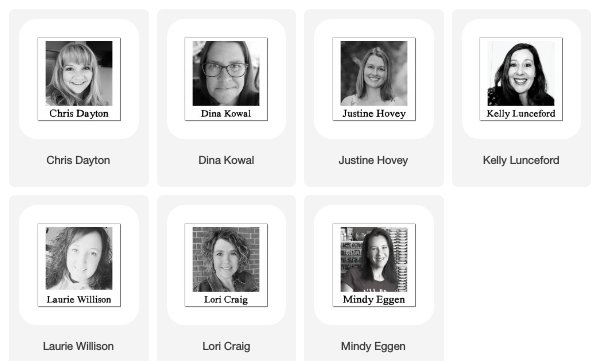 ---