Jan 14, 2020
Hey, crafty friends! We have a very special treat for you today! Taylor's girls, Madi and Charlee, are taking over the Taylored Expressions YouTube channel to do some Valentine crafting! They are using the newly released Inky Fingers – Valentine stamp set and are showing you how perfect and fun they are for creating Valentine cards for friends.
Before we get to the video, I want to let you know about a special promotion that is going on in the Taylored Expressions webstore:
Now through Sunday, January 19th, when you purchase the Inky Fingers – Valentine stamp set, you can get one of our 3×3″ Notecard dies at 15% off. You can choose between the Tuck & Close Notecard die, the Scalloped Notecard die, or the Bracket Notecard die.
*If you purchased Inky Fingers – Valentine last week during release and want to get in on this week's 15% discount on notecard dies, just contact us and we'll set you up with a code you can use at checkout!
Alright, are you ready for some fun with Madi and Charlee? Watch the video below!
Can you even handle how cute that was? Madi and Charlee did a great job creating their Valentines!
This project is one that is great for crafting with the kiddos in your life. Madi and Charlee did all the die cutting for the 3×3″ Notecard bases, stamped the images and sentiments in Oreo ink onto Sugar Cube cardstock, and then added their fingerprints to finish off the cute bugs and critters in the Inky Fingers – Valentine stamp set. Madi and Charlee's Valentines are ready to share with their friends!
If you would like to do this project with the kids in your life, check out the list below for the supplies that you need: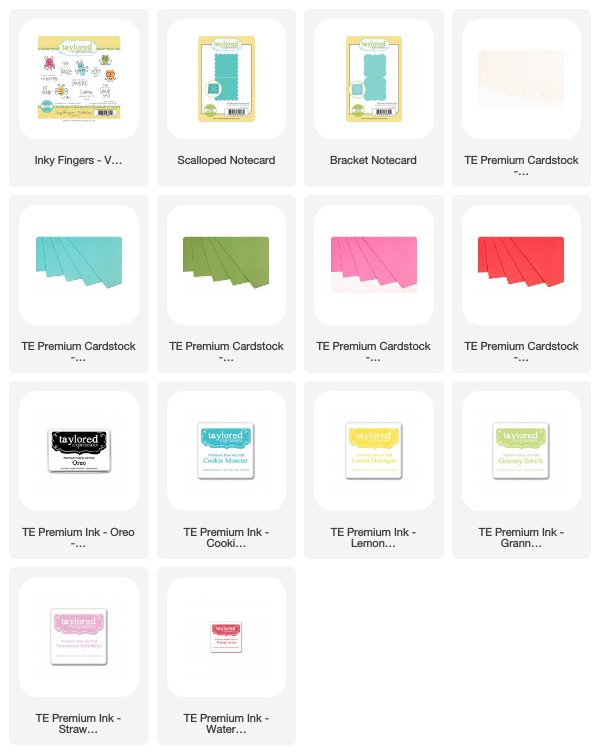 Our mini ink pads are perfect for using with the Inky Fingers stamp sets. Here are a few fun color suggestions for some of the critters from the Inky Fingers – Valentine stamp set: Watermelon for the ladybug, Strawberry Milkshake for the flying bug, Granny Smith for the frog, and Lemon Meringue for the bee. Click below to see all of the mini ink pad color options. To purchase the mini ink palette pictured above, CLICK HERE.
We want to see your Inky Fingers projects! Now through the end of the month (1/31/20), share your photos using any of the Inky Fingers stamp sets using the #TEinkyfingers hashtag and you will automatically be entered to win! We are giving away four $25 gift cards!
I have more Inky Fingers – Valentine crafting inspiration coming your way a little later this week. Make sure to stop by and check it out and thank you so much for stopping by today!
Did you know that you can subscribe to our blog and get our posts right in your inbox? Just sign up right HERE – that's all there is to it to make sure you don't miss any of our crafty inspiration!