Feb 13, 2020
Hey, crafty friends! I have another card mass production project to share with you using a few products that I picked up recently from the Taylored Expressions webstore. I like to keep my card design pretty simple when I am mass producing cards, but I also have a few tips to share that can help step up that card design without taking up a lot of extra time.
Before I get to today's inspiration, there are a few things going on in the Taylored Expressions webstore that you will want to know about:
Right now through Sunday, February 16th, you can get 30% off select Valentine products. It's a great time to pick up a few of those items that you have maybe had your eye on. Click below to shop now!
Also, don't forget about the Personalized Pop-Up Shop that is here for only a few more days!
For a limited time, now through February 16th, you can select and personalize any of the four stamp options with your name and, in some cases, your website too! These are a wonderful tool to have especially when mass-producing cards as you can load your personalized stamp into your MISTI to quickly and easily add your mark to the back of your handmade cards. All of the designs are sized appropriately for an A2 sized card. For more information about the stamps, CLICK HERE. To shop the Personalized Pop-Up Shop, click below!
Are you ready to see how today's project came together? Watch the video below!
I could have easily made this card design without doing any of the blending or ink spattering and the cards would have been just fine! But doing the blending adds so much more dimension and the spatters just play into the rustic feel that I was ultimately going for.
I only stamped this project with Sugar Cube ink. It's one of my favorite inks to create with! In the video, I share one of my biggest tips when using Sugar Cube ink for getting great results. The best way to get used to working with Sugar Cube ink is practice and the more you practice, the better you get to know how the ink works on your projects and you will have more successful results!
The other way to step up a card design is adding the extra touches like the burlap twine tied around the card front and the flowers on the wreath. These small touches really pull everything together.
I added my "signature" to the backs of my cards using one of the new personalized stamps from the Personalized Pop-Up Shop. This is the wreath design option and it's only available for a limited time!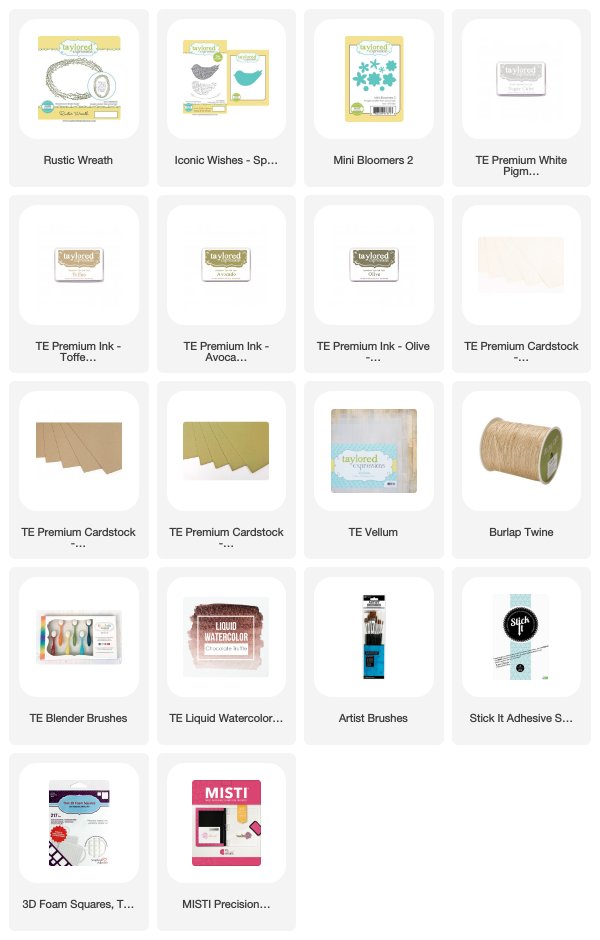 Thank you so much for stopping by the blog today! Are you inspired to grab some of your newest products from your last TE purchase and start creating? Speaking of new products, make sure stop by the blog starting Monday of next week for the February release at Taylored Expressions! You will also want to check back here on the blog this Saturday for a bit of a sneak peek of the goodness coming your way!
Did you know that you can subscribe to our blog and get our posts right in your inbox? Just sign up right HERE – that's all there is to it to make sure you don't miss any of our crafty inspiration!