Feb 11, 2020
Hey, crafty friends! One of my favorite things when I creating handmade cards is mass producing them. There's just nothing better than a whole stack of cards that are ready to go! And since you have all of the supplies out on your desk and ready to go, well, you might as well take advantage of that. Taylor has a pile of cards to share with all of you today that she did a little mass production with.
Whether you are into creating cards one at time or doing a whole pile at once, one important element that you should include is your signature on the back of the card so the recipient knows who created it. You can hand sign your cards or use a personalized stamp to make your mark.
We are excited to announce the return of our Personalized Pop-Up Shop in the Taylored Expressions webstore!
For a limited time, now through February 16th, you can select and personalize any of the four stamp options with your name and, in some cases, your website too! These are a wonderful tool to have especially when mass-producing cards as you can load your personalized stamp into your MISTI to quickly and easily add your mark to the back of your handmade cards. All of the designs are sized appropriately for an A2 sized card.
Here's a closer look at the personalized stamp options:
Note that the sizing of the personalization and font size may vary based on the length of the name on the stamp.
Because these stamps must be individually designed and manufactured, Personalized Pop-Up Shop orders will ship in approximately 4-6 weeks. The personalized stamps retail for $25 each plus standard shipping (FREE shipping on orders of $75 or more in the United States.) Orders in the United Stated that include additional items will be split-shipped. International orders with additional products will be held until the personalized stamp is ready to ship.
Because the personalized stamps are custom made, all sales are final and the stamps cannot be returned for a refund.
Click below to order your personalized stamp! The Personalized Pop-Up Shop is only open through February 16th!
Now, let's take a look at that pile of cards that Taylor created!
This is one of those cards that makes you wonder how it was done. I love the glowing effect of the colored flowers on the Oreo cardstock. In the video, Taylor shares how she created it.
Taylor used the Wildflower Background stamp and embossed it with white embossing powder onto the Oreo cardstock. She added the color to the flowers with Copic markers.
The sentiments are stamped with the Simple Strips – Friendship stamp and die cut with the coordinating Simple Strips die. Taylor trimmed off the notched ends of the sentiment strips for a clean and simple look. She added the different friendship themed sentiments to her cards and in no time at all had a whole pile of cards ready for sending some encouragement to a loved one.
Before sending her cards off, Taylor "signed" the back of her cards using one of the new personalized stamp options that are available now through February 16th in the Personalized Pop-Up Shop.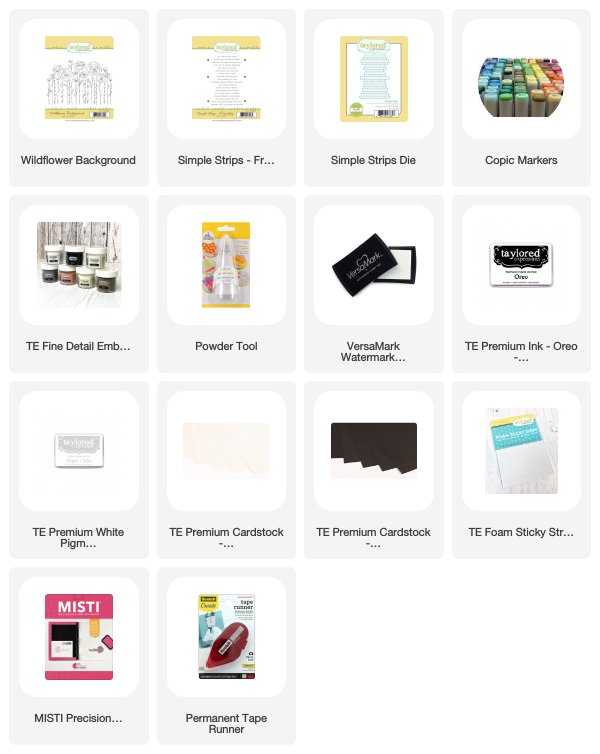 Thank you so much for stopping by today. I have more crafty inspiration coming your way a little later on this week that includes a peek at another one of the new personalized stamp options in action! Which of the new personalized stamp designs in your favorite?
Did you know that you can subscribe to our blog and get our posts right in your inbox? Just sign up right HERE – that's all there is to it to make sure you don't miss any of our crafty inspiration!