Tuesday, March 17, 2020
Hey, crafty friends! It's Taylor here today! We're starting our extended Spring Break here in Iowa as schools have been canceled for the next 4 weeks. While I know our current situation throws a wrench in lots of plans, I've chosen to look at the bright side. We've been given the gift of time I'm excited to find creative ways to spend this time together. One of those ways includes getting my craft room all cleaned up and creating cards with my girls that we can send to friends and family across the country. There's no better time to Share Joy than right now!
Today I am also excited to finally share something I've been working on for the last several months! Sometimes putting together color combinations can be a challenge, right? It's easy to get stuck in a rut – reaching for the same colors over and over. And while there's nothing wrong with your favorite color combination, we thought we'd take some of the guesswork out of the process and help you think outside the box with our new Quad Colors! And if you're new to Taylored Expressions ink & cardstock, this is a great way to start your collection. You can be confident that with each Quad Color combo you'll have four colors that will look great together!
Here are the 12 Quad Color combinations that we've put together. These 12 combos include all of the TE ink colors except Sugar Cube, Sea Salt, and Oreo.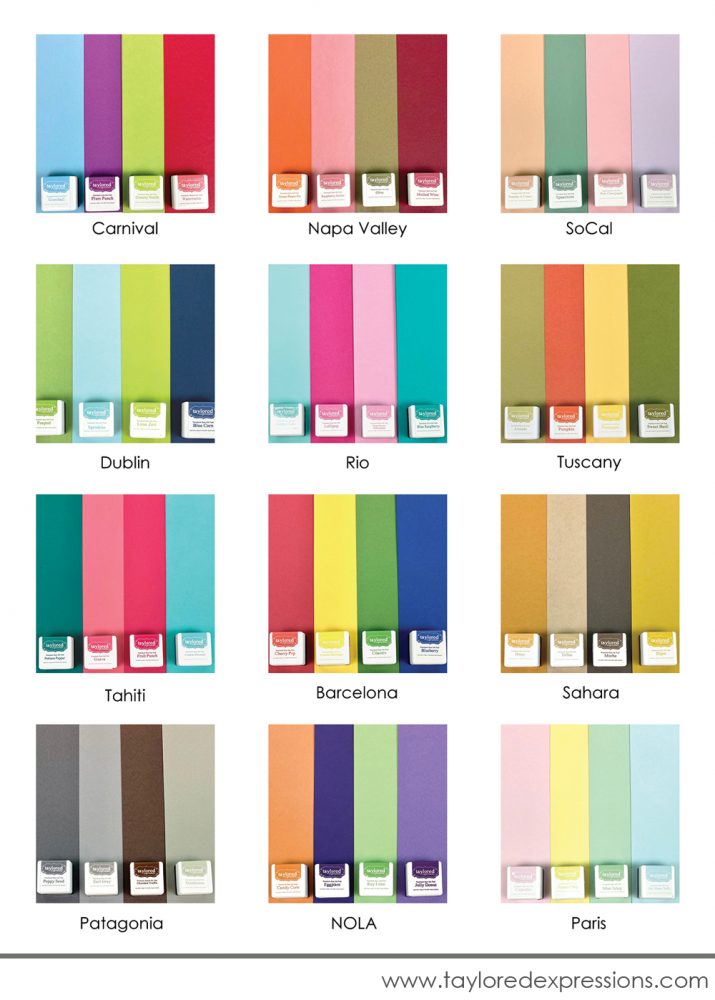 Each Quad Colors collection features 4 colors and includes 4 mini ink pads (one of each color) and 8 sheets of cardstock (2 of each color). Here is a list of the colors included in each Quad Color combo:
We also have a special offer to get you started! The more Quad Colors collections you purchase, the more you will save! Buy 2+ and get 15% off each, buy 4+ and get 20% off each, or buy 6+ and get 25% off each now through Sunday, March 22nd. Click below to shop the Quad Colors collections!
Are you ready to see the Quad Colors in action? I challenged the Creative Team to use at least three of the four colors from each collection (plus a neutral) to create a card for the occasion of their choice. Of course, some combos lend to particular occasions, but I loved seeing them think outside the box!
This first Quad Colors – Paris collection includes the pretty pastel colors: Cupcake, Potato Chip, Mint Julep, and Salt Water Taffy. This palette is perfect for projects that call for a softer look.
The card I created uses three of the colors from the Paris collection: Potato Chip, Mint Julep, and Salt Water Taffy. Check out the video to see how I combined the colors to create a pretty plaid for the background of this baby card:
I created the background of this card using the Buffalo Plaid Background and Grid Background stamps. These two backgrounds were designed to work perfectly together to create multi-colored plaid designs. In the video, I shared my tip for aligning them using a piece of acetate in my MISTI.
Once the background was complete, I added a shaker element to the card front using the Welcome Little One die. I used Potato Chip, Mint Julep, and Salt Water Taffy cardstock to die cut the baby confetti pieces and add them to the shaker along with Bits & Pieces – Sparkly Stars and Bits & Pieces – White Rhinestones.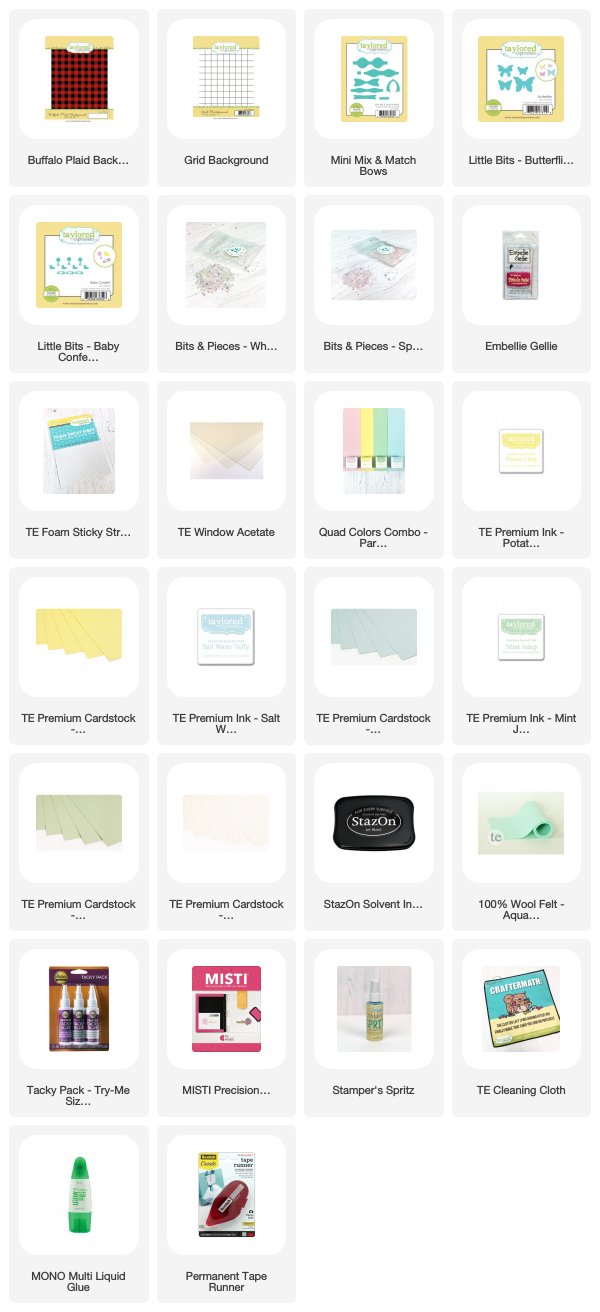 Here is more inspiration from the TE Creative Team using several of the Quad Color combos. We'll be sharing more inspiration with the remaining Quad Colors a little later this week.
Jill Hawkins created quite the magical card with the Quad Colors – Dublin collection. She used the Masking Stencils – Square Windows stencil paired with the Here Comes the Sun stencil to create the background and then added a matching unicorn and pegasus from the Dreamer set floating on teeny die cut clouds.
Melody Rupple dressed up the No Drama Llama for a fiesta using the Quad Colors – Tahiti collection. She even created a Guava sun in the background using the Here Comes the Sun stencil and has the llama standing on grass die cut from Poblano Pepper cardstock. A few Bits & Pieces – White Rhinestones add just the right amount of sparkle to this festive birthday card.
The Quad Colors – Patagonia collection might not be a typical choice for a card, but Jill Hawkins expertly combined these neutral necessities on this humorous card. This critter from the Fluffy Friends set has quite the conundrum on its hands from trying to set up the On the Road – Camper on a hill! Jill used Toffee cardstock as her card base and background and added the other elements in the scene using cardstock, ink, and marker colors.
Jen Shults grabbed her Blender Brushes to combine the four colors from Quad Colors – Carinval on a beautiful background. She added confetti to her colorful background using the Sweet Sprinkles Background stamp with white embossing powder.
Heather Nichols created a floral meadow on her card pairing colors from the Tuscany combo with florals from the Spring Stems set. She stamped the flowers in multiple colors, die-cut with the coordinating dies, and arranged with greenery to create this beautiful floral scene.
One last reminder before I head out… it's National Craft Month and we've lowered our free shipping threshold – all U.S. orders over $50 SHIP FREE:
Thank you for stopping by today and I hope you're feeling inspired to try the Quad Colors! Stop by the TE blog a little later this week for more Quad Colors inspiration from Heather and the TE Creative Team!
Did you know that you can subscribe to our blog and get our posts right in your inbox? Just sign up right HERE – that's all there is to it to make sure you don't miss any of our crafty inspiration!
---