Thursday, March 19, 2020
Hey, crafty friends! It's Heather here today with more projects to share using the new Quad Colors collections that are available now at Taylored Expressions. Sitting down and working with the different color combinations was really fun to do. There are color combinations that I tend to reach for repeatedly when I create, so using the Quad Colors made me reach outside of my box and try something new. I definitely surprised myself with what I was able to come up with and create and I heard similar feedback from the TE Creative Team members!
Here's a quick run down of the Quad Colors if you missed Tuesday's post: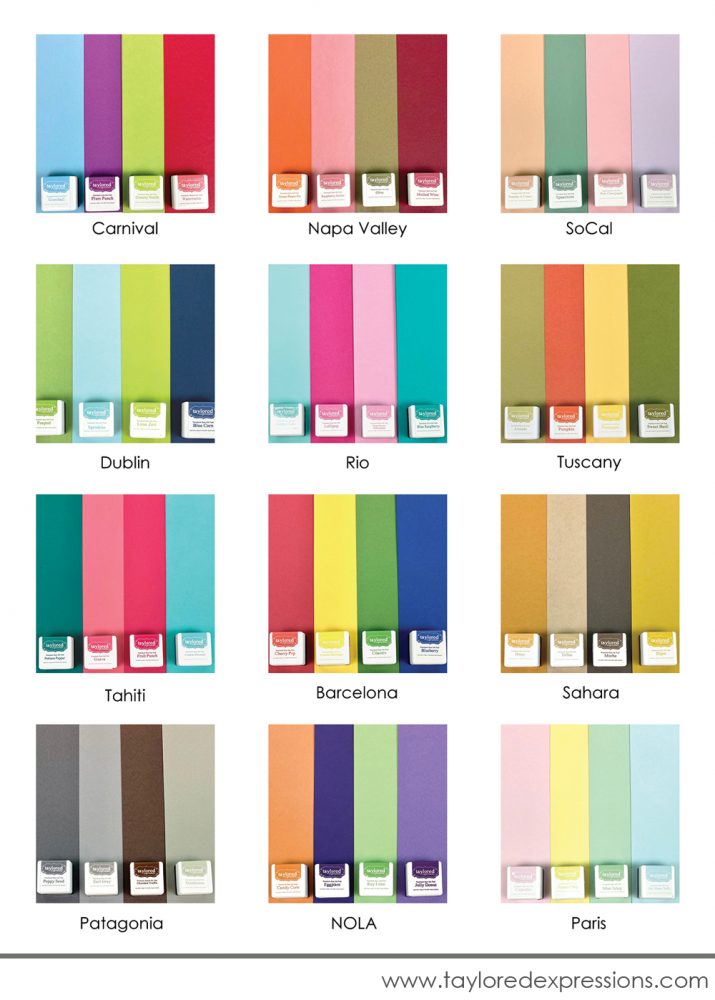 We put together 12 different color combinations for you and are offering bundles of cardstock and mini ink pads of each combination so it's easy to pick and try out the different options. Each Quad Colors collection features 4 colors and includes 4 mini ink pads (one of each color) and 8 sheets of cardstock (2 of each color.) Here is a rundown of all of the Quad Colors combinations that we are offering:
There's a special promotion going on in the Taylored Expressions webstore for the Quad Colors collections:
The more Quad Colors collections you purchase, the more you will save! Buy 2+ and get 15% off each, buy 4+ and get 20% off each, or buy 6+ and get 25% off each now through Sunday, March 22nd. Click below to shop the Quad Colors collections!
I have more projects to share with you today from me and some of the TE Creative Team so you can see more of the Quad Colors collections in action.
I will start things off with a project that uses the Quad Colors – Napa Valley collection.
Quad Colors – Napa Valley is a richer color palette that includes: Sweet Potato Pie, Raspberry Sorbet, Olive, and Mulled Wine. This color combination would be wonderful for autumn themed projects and works beautifully with florals like in the project I created to share today.
Watch the video to see how I created my project with the Quad Colors – Napa Valley collection:
When I first took a look at the Quad Color – Napa Valley collection, I wasn't sure that I was going to use the Sweet Potato Pie color. It seemed bright and out of place, but as I played around with the arranging the die cut flowers, the Sweet Potato Pie color was essential to pull everything together and now I can't imagine this card without it!
The other thing I have liked about using the Quad Colors collections is that it forces you to work with limited supplies and instead of reaching for more colors, you need to use what you have to solve problems in front of you. Typically, I would cut the pieces of the Layer It – Rustic Floral dies from several different colors of cardstock to create the flowers. Instead, I used the same color and added shading with the coordinating ink and my Blender Brushes. The ink darkened the cardstock color just perfectly to layer the pieces together and create the finished flower.
I added some stamped stems behind my floral arrangement using Sugar Cube ink with the Spring Stems stamp set and then added the 'with love' sentiment from the Aflutter stamp set in black ink.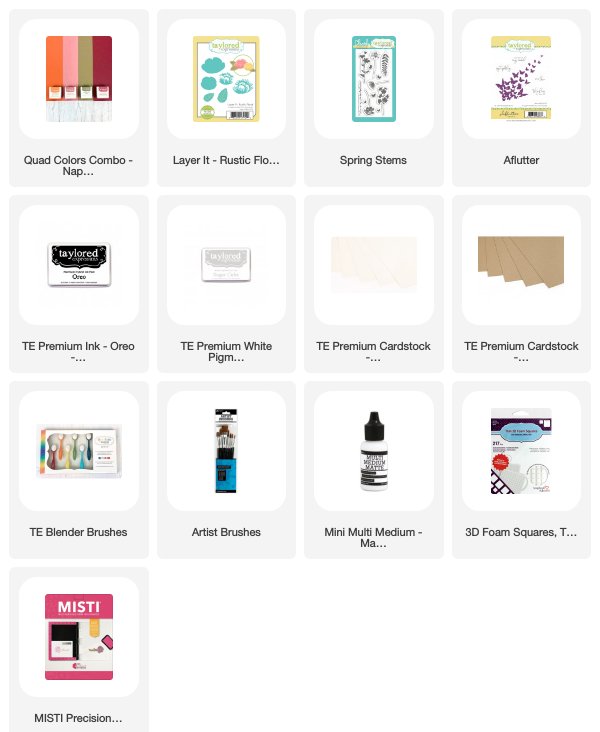 Here is more inspiration from the TE Creative Team using a few more of our Quad Color combinations.
Melody Rupple used this darker pastel palette to create an adorable baby card. She used the 1/2″ Stripe Stencil Set to create the pretty plaid background using all four colors from the Quad Colors – SoCal collection and then cut out a circle from it to frame the 'hello little one' sentiment from the Handlettered Baby stamp set. The rocking horse, flowers, and rhinestone embellishments around the frame are the perfect finishing touch to Melody's baby card.
Gayatri Murali created a whole card set using the earth toned Quad Colors – Sahara collection. She stamped shaped from the Simply Stamped – Feathers stamp set to create backgrounds on her projects and then added sentiments with several of the Cap Lock dies and Simple Strips sets. This card design would work really well with any other of the Quad Colors collections too!
Noriko Fairchild created a magical birthday card that is also a shaker using the fresh and fun colorist the Quad Colors – Rio collection! Noriko blended the colors with her Blender Brushes to create a background and then added the shaker element right over the top. She stamped the Color Me Background stamp onto the acetate on the front of the shaker with black Stazon ink.
Jill Hawkins created a background using strips of cardstock cut from the bright rainbow Quad Colors – Barcelona colors. She layered the Alphabet Soup Cutting Plate over the top along with a sentiment to congratulate a graduate from the Simple Strips Background stamp. With this card design you could match the color strips to the graduates school colors (maybe another Quad Colors collection would work for this) or swap out the sentiment on this card to create a card to thank a teacher!
Melody Rupple was thinking about Halloween when she created her project with the whimsical Quad Colors – NOLA collection. She created the cutest spooky town with the Ghost Town Border die. I love how she created the spooky sky with her Blender Brushes and added different colors peeking through the windows!
Before I go, here's a reminder about the March FREE SHIPPING promotion in the Taylored Expressions webstore:
There is FREE SHIPPING on orders in the United States when you spend $50 or more in the Taylored Expression webstore during the month of March to celebrate National Craft Month! Isn't that a great way to celebrate?
Thank you so much for stopping by today and we hope you are inspired by the new Quad Colors collections! I can definitely see myself using these color combinations for future projects. Stop by again next week for more crafty inspiration on the TE blog!
Did you know that you can subscribe to our blog and get our posts right in your inbox? Just sign up right HERE – that's all there is to it to make sure you don't miss any of our crafty inspiration!

---