Apr 02, 2020
Hey, crafty friends! It's Taylor here today! This week we're kicking off World Autism Awareness month by donating a portion of our proceeds to the Autism Society. If you've been following along here for a while, you may remember that our son, Henry, was diagnosed with a rare genetic condition shortly before his 1st birthday. If you haven't already, you can read about our road to his diagnosis here. While Henry does not have autism, his disabilities have made me even more passionate about using my love of stamping to support families, teachers, and kids with all types of special needs. In addition to sharing about my cards today, I'd also love to give you an update on our sweet boy and all the progress he's made as we come up on his 3rd birthday (more about that below!).
But first, here's a look at our special product bundle that includes the Look With Your Heart stamp set and Little Bits – Puzzle Piece die (the recognized symbol for autism). Purchase the bundle for $17 (15% off the retail price) now through Sunday, April 5th. For each bundle sold, we are donating $2 to the Autism Society of America. Click below to check it out!
My purpose was to create cards that I can give to Henry's daycare teachers and therapists, so this sentiment was especially perfect! Henry is turning 3 soon which means he'll transition out of the birth-3yr home therapies and into therapy through the school system. My little man will be getting on a bus with his tiny little backpack to go to preschool this fall – how is that even possible!? His therapists have been part of our lives since he was 6 months old and have helped us through so much. We've laughed, we've cried (well, mostly I cried), we've accomplished so much – and I will miss them.
If you find shaker cards challenging, I hope you'll watch the video for a few helpful tips. They're really not so bad – I whipped up 12 of these cards in just a couple hours. I hope these cards will show his daycare teachers and therapists just how much we've appreciated them!
And now for a bit more on all that Henry has accomplished lately! When we received his diagnosis there were definitely more questions than answers. Will he walk? Will he talk? Nobody could answer those basic questions for us with certainty because the prognosis of others with his syndrome is so varied. For two parents who thrive on finding answers, we floundered for a while – uncertain how to deal with the uncertainty. We've slowly learned to embrace the unknown and never doubt his abilities! He's developing in his own special way in his own special time and the importance of figuring out all the answers has faded away. Here's a look at Henry recently:
This photo truly sums up the essence of our sweet boy so I had to share it – even though he is missing a shirt. 99% of the time, Henry is smiling, giggling, joyful, and busy! His grin lights up his whole face and you can't help but join his happiness with a smile of your own. Also – he has the best bed-head in the morning!
He loves being tickled, giving kisses, dancing to the Mickey Mouse Clubhouse theme song, and eating string cheese. He learned to walk when he was 2 and we can hardly keep up with him now as he runs down the sidewalk. He loves imitating funny noises and has mastered several signs (more, all done, again, help, please). He's also really good at stacking objects. I think we own almost every stacking toy on the market and when he's bored of those he gets into my spice drawer and stacks the spice jars!
Using gentle hands can be challenging for him. We're also working hard at speech therapy and redirecting him from head-banging when he gets frustrated. Someday I hope he can say "I love you, mommy" – but you know what, even if he never says it, I already know he does.
Thank you to everyone who checks in with me about Henry! I do love sharing about him and hopefully, this gives you a more recent glimpse into our special boy. We feel pretty blessed that he is ours.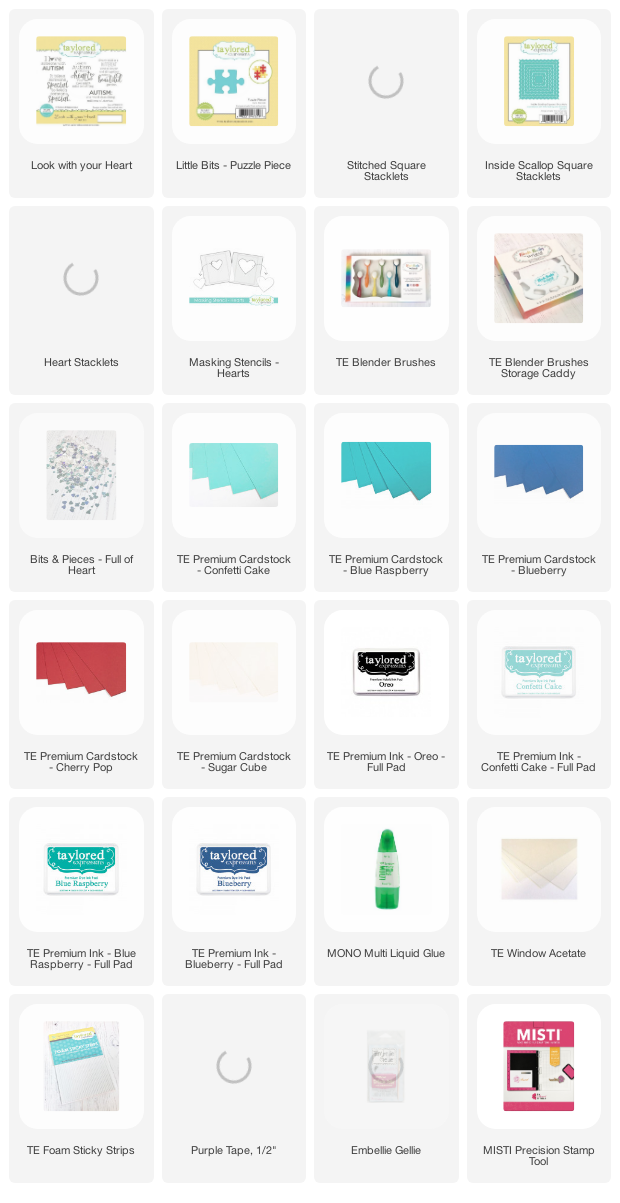 Last, but not least, I'd love to connect with you online for "T Time" on Facebook Live! Today I'll be lightening the mood with some special sentiments that might just elicit a few chuckles. Sometimes humor is the best medicine! So join me on the Taylored Expressions Facebook Page today at 1PM CDT. See you there!
Did you know that you can subscribe to our blog and get our posts right in your inbox? Just sign up right HERE – that's all there is to it to make sure you don't miss any of our crafty inspiration!
Posted by Taylor at 9:00 am
|
|
|