Tuesday, April 07, 2020
Hey, crafty friends! I am back this week with more crafty inspiration to share with you. I am definitely finding comfort in being able to take time and create. When I do take the time to get crafty, the things going on right now in the world disappear… for a little while at least! Today, I have a fun bunch of spring themed cards to share with pretty backgrounds to inspire you that I created with the Stripe Stencil Sets and liquid watercolors.
There is a great stencil promotion happening right now in the Taylored Expressions webstore that includes the Stripe Stencil Sets:
Buy any 3 stencils and get 1 stencil FREE, of equal or lesser value, now through Sunday, April 12th. I bet there are some stencils on your wish list and now is a great time to make them a part of your crafty collection. Click below to shop now!
Watch the video below to see how I used the Stripe Stencil Sets and liquid watercolors to create fun striped and plaid backgrounds for your projects:
In the video, I share how to use liquid watercolors to create stripes, ginghams, and plaids using the 1/2″ Stripe Stencil Set, 3/4″ Stencil Set, and 1″ Stencil Set. Using the stencils to create stripes and plaids guarantees straight lines. I definitely can use all the help I can get with painting a straight line – who is with me on that?!
I wanted the colors to be softer/more pastel than they are right out of the bottle and so I added drops of water to the paint in my palette to achieve the lighter tones. Once my striped and plaid designs were done and dry, I used a Stitched Rectangle Stacklets die to cut out background panels for my cards. The panels are attached to an A1 sized (3 1/2″ x 4 7/8″) card base made from Toffee cardstock. You can mail A1 sized cards with standard postage. It's a good idea to check with your post office if your card is an unusual size or thickness to make sure you have enough postage on it to reach its destination!
The cute critters and sentiments on the cards are created with the Quick Critters – Spring stamp set & die combo set. I attached them to the card front using mini wobble springs so they are popped up a bit from the card front and wobble when you move them!
The sentiments from the Quick Critters – Spring set are perfect for letting my friends and family know how much I am missing time with them and I hope that receiving these cards will bring a little bit of joy to their day!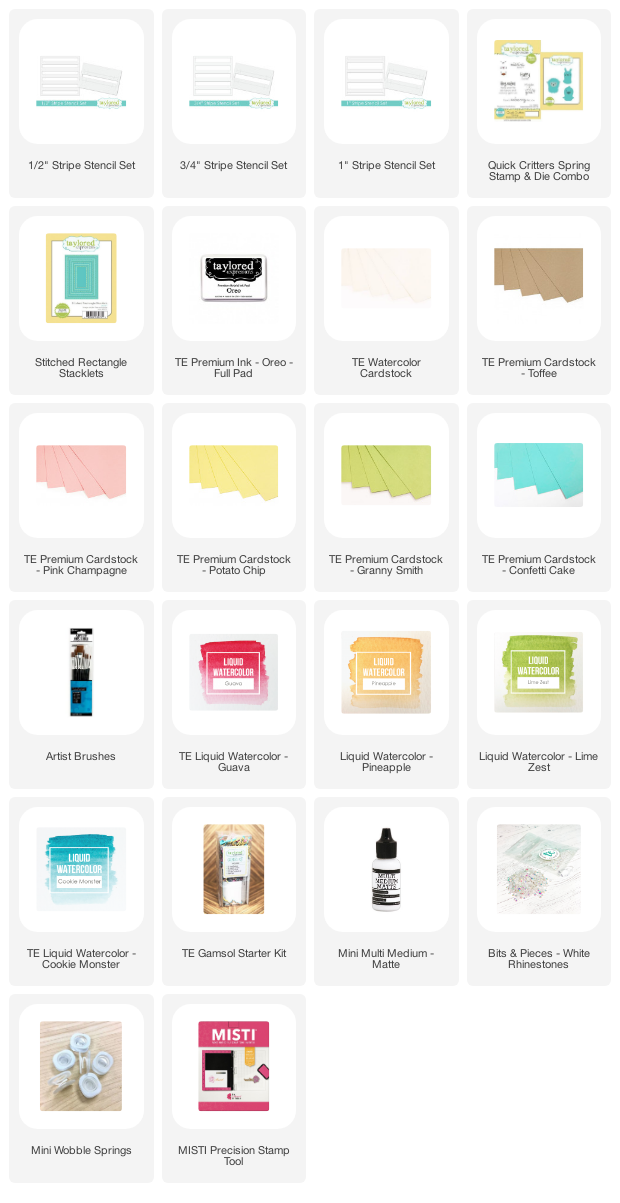 If you were following our March Craftness Bring Back Bracket on the TE Facebook page and TE Instagram…
The winner of our Bring Back Bracket was the Mama & Me stamp set! We decided to bring back the final four choices and those four stamp sets are available to purchase right now through Thursday, April 9th in the Taylored Expressions webstore: Mama & Me, A Life She Loved, The Places You'll Go, and Rock My World.
Buy 1 bring back set and get 10% off, buy 2 bring back sets and get 15% off, buy 3 bring back sets and get 20% off, and buy all 4 bring back sets and get 25% off. Click below to shop now!
Last, but not least, We'd love to connect with you online for "T Time" on Facebook Live! Join Taylor today on the Taylored Expressions Facebook Page for "T Time" today at 1PM CDT. See you there!
I hope you are all able to take some time to get crafty this week. We are excited to continue to bring you fresh inspiration on our blog and social media platforms. Thank you for stopping by the TE blog today and I hope you will stop back again later this week for more crafty inspiration from Taylor. See you then!
Did you know that you can subscribe to our blog and get our posts right in your inbox? Just sign up right HERE – that's all there is to it to make sure you don't miss any of our crafty inspiration!
---