May 02, 2020
Hey, crafty friends! Happy National Scrapbook Day! We are so excited to celebrate the day with all of you. Now, I know most of here are mainly card makers, but scrapbooking definitely can go hand in hand with all of our paper, stamps, and ink! To be honest, it has been quite a while since I sat down and created a scrapbook project, but man was it fun to create and document some memories. I'll share more about my project in this post as well as a scrapbook project from Taylor.
Before I get to the projects, I want to introduce you to the newest addition to our newer Building Blocks collection: Building Blocks – Memories! It's available to purchase right now in the Taylored Expressions webstore!
Similar to our Simple and Mini Strips collections, TE's Building Blocks collection makes it easy and convenient to stamp and die cut a variety of popular words and phrases for a specific category. Building Blocks – Memories includes 22 different ways to document special memories and moments. It's perfect for scrapbook projects and you can use the different words and phrases on other types of projects too! Click below to shop now for the new Building Blocks – Memories stamp!
Watch the video below to see how easy it is to stamp with the Building Blocks – Memories stamp and then cut out the 22 words and phrases using the coordinating Building Blocks die with just one pass through your die cut machine!
If you are into scrapbooking at all, you might know that tiny word and phrase stickers are a well loved supply. The new Building Blocks – Memories stamp enables you to create your own and has common scrapbooking words and phrases that you would use on many different projects and pages. You can customize your project with different colors of cardstock, ink, etc. The possibilities are endless and you will never run out!
For my project, I did a 12″ x 12″pocket scrapbooking layout. If you are new to scrapbooking, pocket scrapbooking uses a divided page protector and you slide photos or journal cards into the different pockets to create your layout. You can keep things simple or get as detailed as you want.
My layout features photos and journaling from recent events. We are living in a time that will be well remembered in history and I love that I have a few memories documented about things happening in our home during this time: distance learning, working from home, things we are doing while at home, etc.
The words and phrases from the Building Blocks – Memories stamp on my page are embossed in white on Honey cardstock and I used them throughout my layout. The words are perfect to add to journaling, use as a title, or add to photos.
Instead of using patterned papers, I stamped my own using the Rainbow Waves Background and Free Fall Background stamps. The color combination I used for my layout is: Honey, Spearmint, Salt Water Taffy, and, of course, some Toffee too!
Most of my scrapbook pages are slid right into my photo albums where they fall in chronological order. Maybe you scrapbook in a dedicated album, traveler's notebook, or mini book. There are so many possibilities!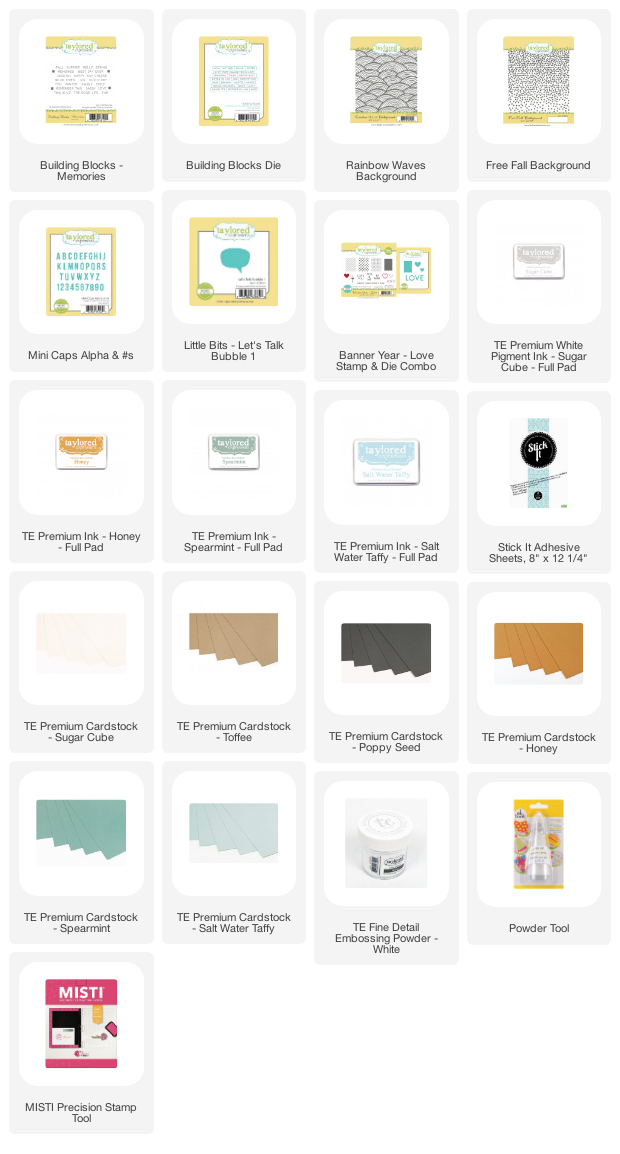 Next up is a scrapbook project from Taylor:
Taylor pulled out some past photos of her girls to scrapbook and created an adorable 6″ x 8″ pocket layout. She stamped the Building Blocks – Memories stamp with Oreo ink onto Sugar Cube cardstock and then added the words and phrases to the photos and her journaling.
The cute patterned papers are created with the Folk Art Tulip stencil. Taylor used her Blender Brushes to stencil the design onto Guava cardstock using Guava ink and also onto Sugar Cube cardstock using Peapod ink. She added some shading detail onto the stenciling with Copic markers that are just a bit darker than the ink colors.
It will be so wonderful for Taylor and her family to look back on these scrapbook pages of when her girls were small and remember their sassy, happy, and fun personalities!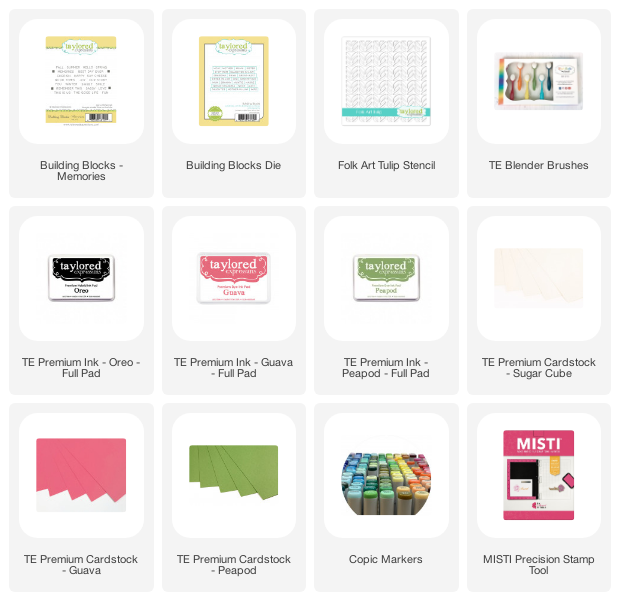 I hope that you get some time to do your own crafting this weekend. Maybe take a moment to journal about how you are weathering our current events or pull out some older photos and reminisce. Add some cardstock, ink, and stamps while you are at it and let the magic happen! Thank you so much for stopping by the TE blog today. Make sure to stop by and check out what's happening next week… it involves new dies, new crafty cuttable materials, and more!
Did you know that you can subscribe to our blog and get our posts right in your inbox? Just sign up right HERE – that's all there is to it to make sure you don't miss any of our crafty inspiration!