May 05, 2020
Hey, crafty friends! It's Taylor here today! I hope your week is off to a great start – and perhaps it will be even better after I tell you more about all of the new Designer Dangles that are available right now! I know many of you have caught the earring bug and you've been whipping up a new pair of earrings to match every shirt in your closet, not to mention, gifting earrings to everyone you know, and even selling them through various outlets!
It has been so much fun to see what everyone is doing with the Designer Dangles and I've been working hard to come up with new products since our last launch. I think you're going to love what's in store for you with not only new dies, but also new craft leather and lots of charms too! As I mentioned above, these products are available RIGHT NOW in the Taylored Expressions webstore.
I'll get to the inspiration soon, but first, you'll definitely want to know about the Designer Dangles promotion before you shop:
Purchase 5 or more items in the Designer Dangles category (which includes everything new and previously released!) and you'll receive 10% off each product OR purchase 10 or more items in the Designer Dangles category and get 20% each product. Click below to snatch up new designs and stock up on craft leather and supplies! This offer is valid through Sunday, May 10th.
In the video below, I'm going to share a bit more about one of the new designs; Designer Dangles Drop In & the coordinating Icons:
I've often wanted to cut a shape or icon within a larger earring shape, however, I've been frustrated with trying to line up the smaller shape in exactly the same spot on both earrings. Inevitably, one would be just slightly higher or lower or farther left or right – and so the idea for Designer Dangles Drop In was born! The large earring shape features an etched opening where the icons are sized to fit within, guaranteeing the perfect placement of the icon each time.
Here's a closer look at the two Designer Dangles Drop In products that I used in the video:
After die-cutting the icon into the earring, you can 'back' the opening with a solid piece to draw out the design or leave it open. So many possibilities (and you can bet there will be more icons to come)!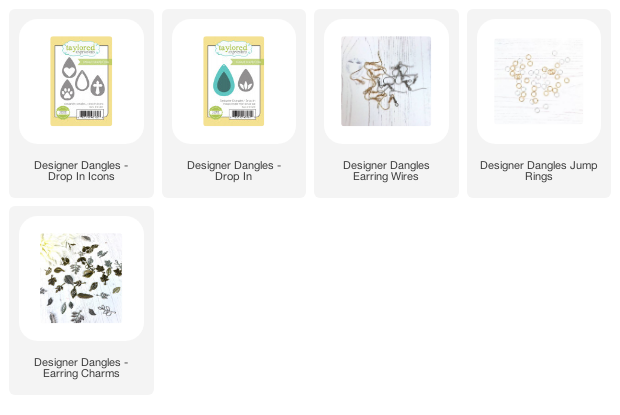 Melody Rupple paired the Designer Dangles – Drop In die collection with the Craft Leather – Black & White pack. She carefully placed her dies on the gingham craft leather so that the petal design would cut on the lighter tones and really pop with the black craft leather layered behind it.
These heart earrings created by Gayatri Murali are all about the sparkle! Gayatri used the heart design from the Designer Dangles – Drop In Icons.
The paw print drop in shape from the Designer Dangles – Drop In Icons die collection is perfect for people who love their furry pets! Or if your school mascot has a paw print signature, die cut the paw print design from your school colors to show your school spirit like Jen Shults did on this pair of earrings.
The Designer Dangles – Fringe collection features two dies to cut out a fringed earring design along with a diamond. Use the die layered together or separately for different earring design options.
The Designer Dangles – Ovals die collection includes three sizes of ovals with an oval opening. Layer them together, add a charm, and more to customize your unique designs.
The rainbow-lover in me is swooning over these fringe earrings that Jen Shults created! She cut the earrings from 100% Wool Designer Felt – Rainbow. I can see a pair of these in my future!
How fun are these leopard patterned earrings created by Susan Block? She used a few of the new craft leathers (scroll down in this post to see all the new options!) paired with the Designer Dangles – Ovals die collection.
The Designer Dangles – Angled die collection features 2 pairs of sizes of a trendy angled design that can be layered together or used individually.
The Designer Dangles – Diamond die collection includes 3 sizes of an elegant diamond shape. These can also be layered together or used individually.
Gayatri Murali created this trendy pair of earrings using the Designer Dangles – Angled collection, buffalo plaid craft leather, and black craft leather. The red and black plaid is so trendy right now and adding these earrings to your outfit will be a perfect finishing touch to your look!
I really love how Jen Shults used the opposite shapes in the different sizes to create this pair of earrings with the Designer Dangles – Angled collection. The colors Jen used are soft and beautiful – just think of all the color combinations you could do with this look!
Melody Rupple layered up all the diamonds for this pair of elegant earrings. She used the Designer Dangles – Diamonds collection paired with black and a few different silver craft leathers.
It's fun to add charms to your earring designs and we have lots of new charms to share!
The new Feathers Charms include a dozen feathers in gold and silver tones. Dangle the feathers layered on top of shapes, within an opening, or hang them from the bottom of your earring designs.
Susan Block just upped the elegance on this pair of earrings with gold feather charms layered on the gold-flecked cork from the Craft Leather – Metallic Basics pack.
There are 5 different Gold Leaves charm sets to choose from. Each charm pack includes 4 each of 3 different designs (enough to make 6 pairs of earrings).
Using metallic craft leather with metallic charms is a perfect recipe for a beautiful pair of earrings like this pair created by Susan Block. The gold leaves really pop on top of the burgundy craft leather!
There are 5 different Silver Leaves charms options for you to choose from . Each charm pack includes 4 each of 3 different designs (enough to make 6 pairs of earrings).
This time, Susan layered a pair of silver leaves onto pretty blue craft leather. This design is casual enough to wear with jeans but elegant enough to pair with something for a night out on the town (when we're able to do that again)!
Finally, we have a fun new item that allows you to build your own bundle of craft leather!
Show your team spirit by creating earrings to match your favorite or organization's logo and colors! Craft Leather – Team Spirit is a mix and match bundle allows you to choose 3 individual sheets (each sheet sized 4″ x 5 1/2″) in the colors of your choice. So who will it be…. Iowa or Iowa State? Bears or Vikings? Duke or UNC?
In addition, we have three new multi-packs of Craft Leathers that include one sheet of each of 4 different varieties in each pack.
Whew! That's a lot of new goodies, but it was SO MUCH FUN to share with all of you! We cannot wait to see what all of you create with these new Designer Dangles products. There will be more inspiration using the Designer Dangles coming your way later this week on the TE blog, so make sure to stop back again!
Did you know that you can subscribe to our blog and get our posts right in your inbox? Just sign up right HERE – that's all there is to it to make sure you don't miss any of our crafty inspiration!
Posted by Taylor at 9:00 am
|
|
|