Jun 11, 2020
Hey, crafty friends! It's Heather here again today and I am back to share more anniversary inspiration with you. Taylor and her husband recently celebrated their 16th wedding anniversary and she created this card to give to him. Isn't is just beautiful? Taylor used the Baroque Overlay and Baroque Pocket dies to to create an especially elegant look.
Before we get into the details of how Taylor created this card, I want to remind you about a few promotions that are happening over in the Taylored Expressions webstore.
Today is the LAST DAY of the FLASH SALE for 30% off of Blender Brushes, caddies, and cleaning tools. If you haven't gotten your own yet, or maybe you have been thinking about needing another set. NOW IS THE TIME! Click below to shop!
It's also time for our End-of-Spring Sale! Right now through Sunday, June 14th you can get 30% off select spring products in the TE collection. Click below to check out what's on the list and get the products you have been eyeing for your own collection!
Are you ready to get all the details on how Taylor created her anniversary card? Watch the video below!
In the video, Taylor takes you step by step on how to create an anniversary card using the Baroque Overlay and Baroque Pocket dies. She added lots of beautiful blending to her project and I love the color combination that she used: Peaches & Cream, Honey, Pink Champagne, and touches of Sweet Potato Pie and Guava to add extra dimension. This is a color combination I am anxious to try out for myself!
The way Taylor added the overlay onto makes this card seem like you are opening a special gift. Taylor used magnetic discs to hold her card closed and tucked it behind the overlay to conceal it on the front over her project. She added a few daisies to the front of her card that are created with the Layer It – Daisy die collection.
Opening up the card reveals a the sentiment and the gorgeous pocket that Taylor tucked a wedding photo into. The pocket is created with the Baroque Pocket die. The sentiments that Taylor added are part of The Inside Scoop – Anniversary stamp set and she added blending to match the front of her card onto the Love Story die cut of the couple on the bench.
See the supply list below to find the things that you need to create this project: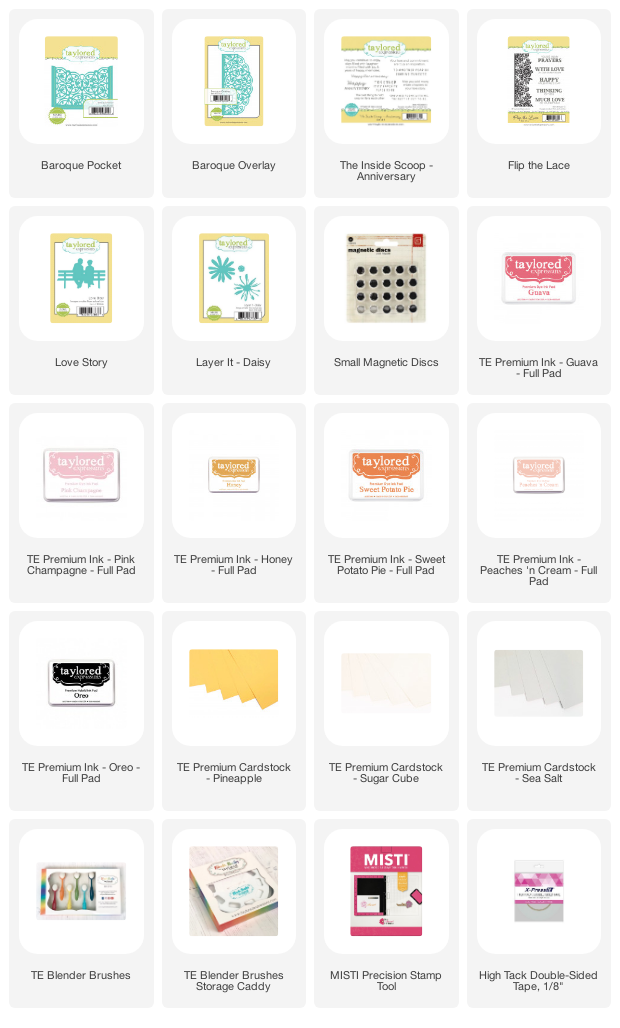 Taylor will be LIVE on the Taylored Expressions Facebook Page today at 1PM Central Time. Being able to connect with all of you is a bright spot in our week. I hope you will join us!
Thank you for joining me today on the TE blog and I hope you enjoyed the anniversary card inspiration that we brought to you this week. We have new products making their debut this next week and if you stop by the TE blog this Saturday I will give you a sneak peek! See you then!
Did you know that you can subscribe to our blog and get our posts right in your inbox? Just sign up right HERE – that's all there is to it to make sure you don't miss any of our crafty inspiration!