Jun 09, 2020
Hey, crafty friends! It's Heather here today. This week I have inspiration coming to from myself and Taylor to inspire you. We both have anniversary cards to share, we both use Blender Brushes, we both use die cuts, but beyond that both of our cards are our own unique styles. I know you are going to love and be inspired in different ways by both of them. I am sharing my project today and then you will want to stop back at the blog on Thursday to see what Taylor created!
Before I get to the project inspiration for today, I need to let you know about a couple of great promotions happening right now in the Taylored Expressions webstore.
Right now through Thursday, June 11th there is a FLASH SALE for 30% off of Blender Brushes, caddies, and cleaning tools. If you haven't gotten your own yet, or maybe you have been thinking about needing another set. NOW IS THE TIME! Click below to shop!
It's also time for our End-of-Spring Sale! Right now through Sunday, June 14th you can get 30% off select spring products in the TE collection. Click below to check out what's on the list and get the products you have been eyeing for your own collection!
Now it's time for inspiration! Watch the video below to see how I created the anniversary card pictured at the top of this post:
In the video, I share how I created an ombre effect on Toffee cardstock using inks and my Blender Brushes. I stamped over the ombre blend with the Botanical Beauty Background stamp using Sugar Cube ink and added a sentiment with the Framed Script – Happy die and Inside Scoop – Anniversary stamp set.
Don't be afraid to blend over other colors of cardstock besides Sugar Cube. I used Toffee cardstock for this project, but experiment with other colors too – especially lighter tones like Salt Water Taffy, Sea Salt, Potato Chip, and more! As long as your ink is dark enough to show up on a color of cardstock it will work to blend on it too. On this project, I used Cookie Monster and Confetti Cake inks to create an ombre blend on the Toffee cardstock.
I added the 'anniversary' word to complete the 'happy anniversary' sentiment with the Framed Script – Happy die. In the video above, I share how I used a piece of acetate to line up and stamp the word exactly where I wanted it as well as stamping just a portion of a stamp. You could swap out the word 'anniversary' with another word like 'birthday' or 'wedding day' to use this card design for another occasion.
Check out the supply list below for the supplies that I used to create this project: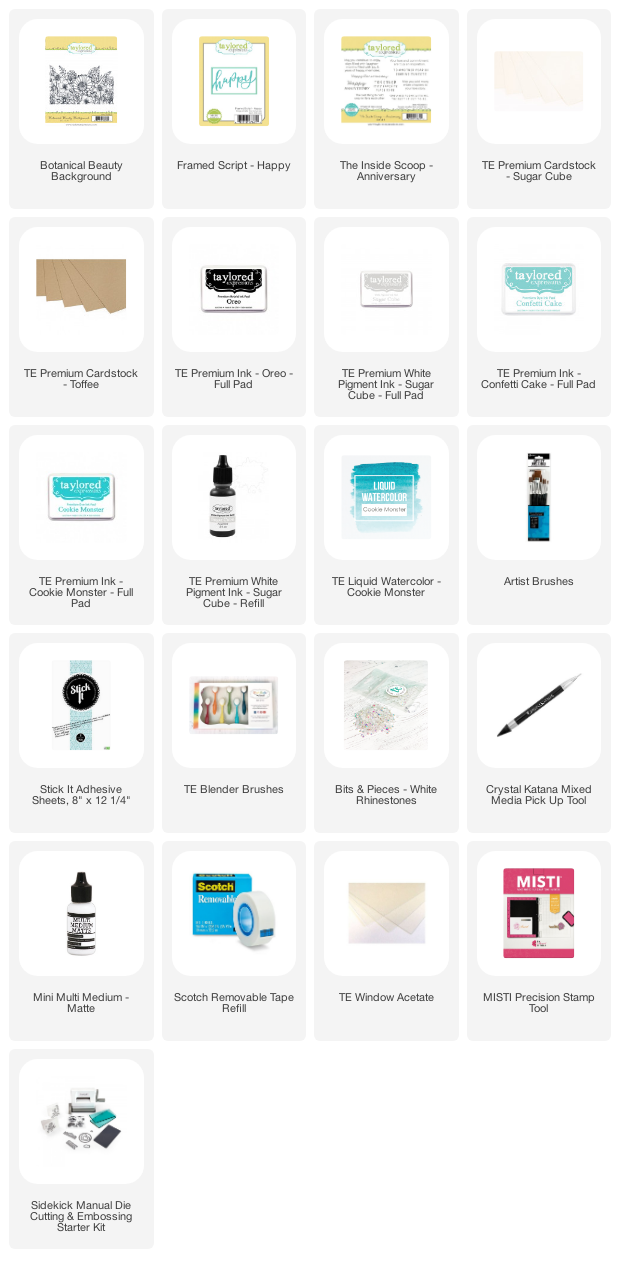 One last thing for today…
Taylor will be LIVE on the Taylored Expressions Facebook Page today at 1PM Central Time. Being able to connect with all of you is a bright spot in our week. I hope you will join us!
I hope you were inspired and learned something new today! Make sure to check out the crafty sales in the Taylored Expressions webstore and stop by the blog later this week to check out the anniversary card inspiration from Taylor. Thank you for stopping by the TE blog today!
Did you know that you can subscribe to our blog and get our posts right in your inbox? Just sign up right HERE – that's all there is to it to make sure you don't miss any of our crafty inspiration!