Jul 28, 2020
Hey, crafty friends! It's Heather here today! Being it's the last week in July, I am sneaking in one more Christmas in July card to inspire your crafting for the upcoming holiday season. This one uses one of the layered stencil sets available in the Taylored Expressions webstore along with a new product that will make lining these stencils up easier than ever!
Before I get to my project that I am sharing today, let me show you our new products that we are calling Desktop Essentials…
Our NEW Grid Paper Placemats are designed just for paper crafters and include all sorts of special features you're going to love! Each 17″ x 11″ placemat is printed on smooth 60 lb. paper that will absorb ink to prevent smearing (under typical crafting circumstances) and includes:
A 16″ x 9″ crafting area with 1/4″ grid lines;
Alignment windows to help you perfectly line up and center an A2 card (either horizontally or vertically);
A 6″ square alignment window that makes working with TE Designer Stencils, Masking Stencils or Layering Stencils a breeze;
Ruled edges on all sides (in inches) – top and left-side rulers are centering rulers;
A dedicated space for notes; and
A fun crafty quote to make you smile and keep you inspired!
The paper pad of 50 placemats is gummed at the top for easy tear-off and use.
Whether you're jotting down a list of things you need, ideas for your next project, to-dos to get to when you're done crafting or just about anything else, our NEW Crafty Checklist Duo will come in handy! Sized to easily fit into a purse or craft tote, each notepad has 50 lined sheets and features one of our exclusive Crafty Grumplings along with checkboxes to keep your lists organized.
This comes in a set of two notepads (each measures 4 1/4″ x 5 1/2″).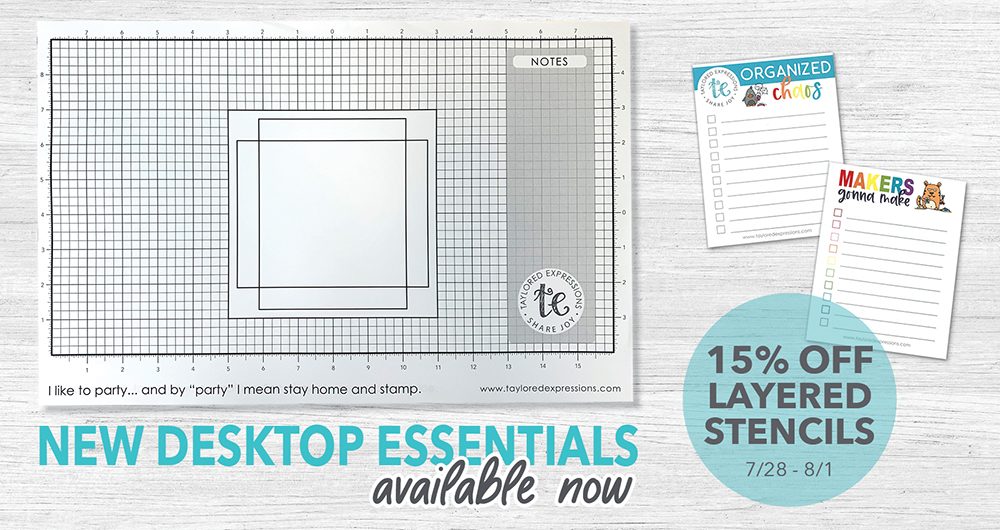 Both of these new Desktop Essentials products are available to purchase right now in the TE webstore. Click below to shop!
Also, right now through Sunday, August 1st our layered stencil sets are 15% off. Now is the time to grab that design that you have had your eye on. Here are the layered stencil sets available in the TE webstore:
Are you ready to see the NEW Grid Paper Placemats and how great they work with our layered stencil sets? Watch the video below to see how I used the Grid Placemat along with the Modern Holly Layered Stencil set to create a Christmas card:
In the video, I share the NEW Grid Paper Placemats and how I used the 6″ square alignment window to line up the different layers of the Modern Holly Layering Stencil on my project. I know you will love how easy this is!
I stamped the "Have yourself a merry…" sentiment from the Handlettered Holiday 2 stamp set directly onto the cardstock that I did my stenciling on and used stamp masking paper along with the coordinating Handlettered Holiday 2 die to cover it up while I added each layer of the stenciled design.
The flower embellishment around the sentiment are die cut from Cranberry and Moss 100% Wool Felts using the Winter Greens die collection. If you don't own this specific die, you could also use another small flower die to create the embellishments. For a touch of sparkle, I added centers to each of the flowers with the Bits & Pieces – White Rhinestones.
Check out the supply list below for all of the supplies that I used to create this Christmas card: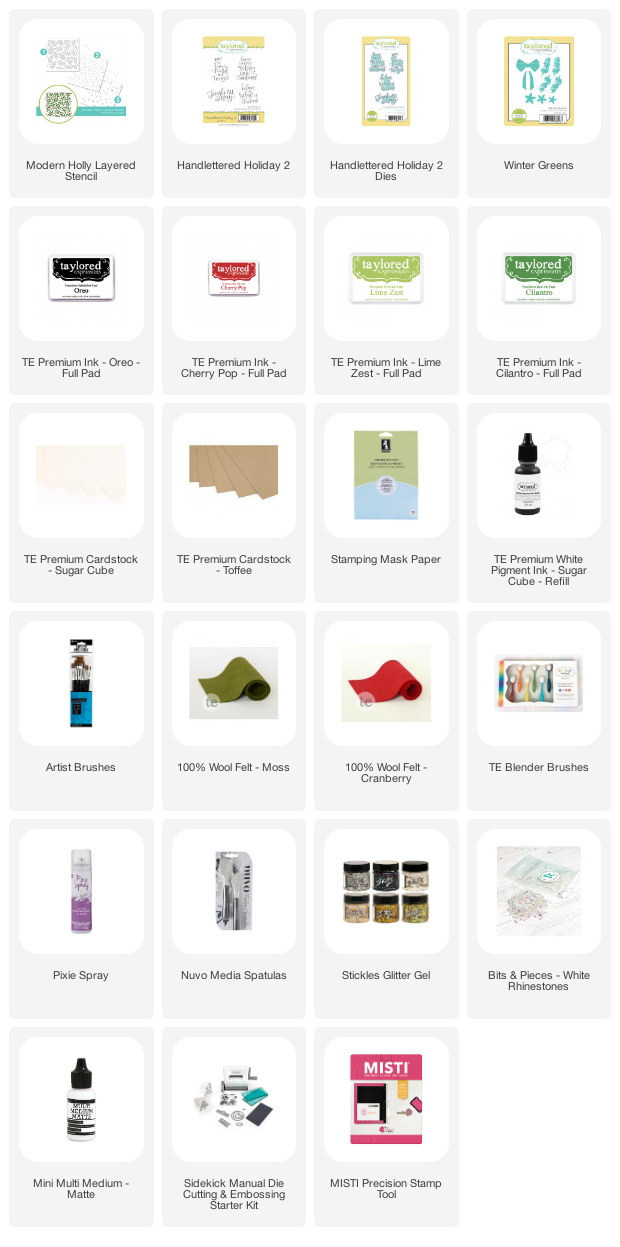 Today, Taylor will be showing you a closer look at the NEW Desktop Essentials products during "T Time" at 1pm Central on the Taylored Expressions Facebook Page. We would love to have you join us for some crafty chat! Hope to see you there!
Thank you for stopping by the TE Blog today and that you learned something new or were inspired in some way. Stop by again this Thursday for another layered stencil project created by Taylor. See you then!
Did you know that you can subscribe to our blog and get our posts right in your inbox? Just sign up right HERE – that's all there is to it to make sure you don't miss any of our crafty inspiration!