Nov 03, 2020
Hey, crafty friends! It's Taylor here today! Who's ready to ring in a new year!? Or perhaps, more importantly, who's ready to kick 2020 to the curb!? This year has been difficult in many ways and I know I'm especially ready for a fresh start in 2021. We've got a small, curated collection of New Year's products including two versatile layering stencils that will be useful for occasions throughout the coming year. I also thought it would be fun to ring in the new year with a little "Farewell 2020" humor and Big Grumpy is here to help us with that! Here's what you need to know about this week's release:
Today's release is a curated collection of 4 new products including 2 layered stencil sets, a new addition to our On Repeat collection, and a FREE download! We're also bringing back a customer favorite: Fireworks Stamp & Stencil Combo as it's perfect to celebrate the new year!
Everything is available RIGHT NOW in the Taylored Expressions webstore!
Today and Thursday we will have videos that feature the new products along with lots of inspiration from our TE Creative Team!
Last, but certainly not least – you won't want to miss the special offer for this release (details below).
Our previously released Fireworks Stamp & Stencil Combo is perfect for celebrating the New Year on your card projects! So if you haven't grabbed yours yet, now is the time! Right now through Sunday, November 8th, you can purchase the Fireworks Stamp & Stencil Combo set for 15% off the regular retail price, while supplies last.
Click below to shop the new products in the TE webstore and then keep scrolling for all of the inspiration!
For my project, I decided to create a sophisticated New York New Year's celebration on my card front using lots of sparkle and shine with foiled elements, gold drip drops, gold foil cardstock, and shiny black embossing powder! Check out my process video below for helpful tips and tricks to create this project yourself:
I was pretty pleased with my experiment of applying the transfer gel duo with a Nuvo blending sponge. I'm an impatient crafter, and applying a lighter coat of transfer gel allowed me to move on more quickly to the next step. And BONUS: I used less transfer gel in the process and the foil still stuck perfectly to the stenciled areas.
After creating the confetti look in the background using the Party Popper layering stencils I quickly finished the rest of the card with the embossed On the Block – Happy and On Repeat – New Year. I finished it off by applying several gold drip drops to the background.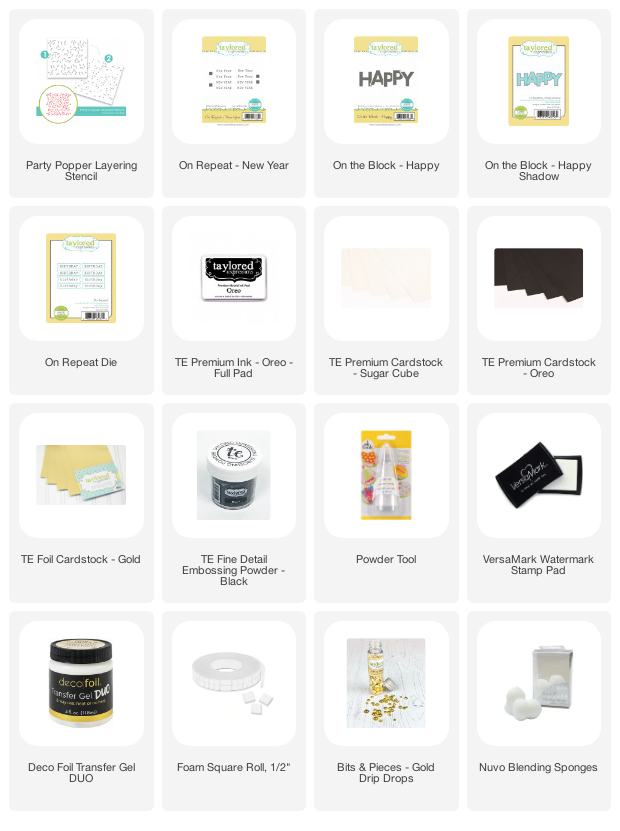 Now, let's take a closer look at all of the new products for this release along with more inspiration from the TE Creative Team:
Our On Repeat collection is an easy way to stamp and cut out lots of versions of the same word at once. On Repeat – New Year allows you stamp two versions of the words "New Year" eight times and then cut them out in one pass by aligning them with the tabs on our coordinating On Repeat die (sold separately).
Noriko Fairchild paired On Repeat – New Year with the 'hello' word that she trimmed out of the Framed Script – Hello die to create the 'hello new year' sentiment on her card. I am so in love with the background on this card that she created with the Fireworks Stamp & Stencil Combo set!
Arjita Sepaha Singh created this great shaker card and used the 'new year' words from the On Repeat – New Year set as part of the shaker filling. Pair the 'new year' words with the On the Block – Happy stamp (+ coordinating die) to complete the phrase. The background on Arjita's card is created with the new Party Popper Layered Stencil set (keep scrolling!).
Throw all the confetti onto your projects with the new Party Popper Layered Stencil set. This two stencil set combines several confetti shapes that bring on the celebration. Add glitter and sparkle or a rainbow of colors to your projects for New Year's, birthdays, and more!
Latisha Yoast created a continuous color gradation for the background of her festive card to celebrate the new year. She started with blues at the bottom and worked her way up to different shades of green using the new Party Popper Layered Stencil set. Her sentiment comes from the On the Block – Happy stamp (+ coordinating die) and On Repeat – New Year (+ coordinating On Repeat die).
Heather Nichols brought on the sparkle and shine using the Party Popper Layered Stencil set on this sophisticated monochromatic card. She stenciled the smaller confetti pieces with Sugar Cube ink over Poppy Seed cardstock and then added the larger confetti using Oreo ink with the Dark Matter Stickles Glitter Gel layered over the top. Her sentiment was created by combining the Caps Lock – Yay die with the Building Blocks – Be Bright stamp (+ coordinating Building Blocks die). This card would be perfect for a masculine birthday or graduation card!
The Right Angle Layered Stencil set includes three stencils to create a geometric design perfect for all occasions! Experiment with color, sparkle, and texture to create unique backgrounds for your projects.
Melody Rupple created the background for this new year card using a unique color combination: Confetti Cake, Sweet Basil, and Blue Corn. I love how she added Bits & Pieces – Gold Drip Drops to the intersections in the background along with gold splatters! Melody's sentiment is created by combining the Caps Lock – Happy die and On Repeat – New Year stamp (+ coordinating On Repeat die). She repeated the gold elements in the shadows behind the letters and on the gold embossing for the 'new year' word.
Jen Shults used The Right Angle Layered Stencil set to create a set of colorful thank you cards. She used the same card layout on each card but used different color combinations for the backgrounds. She blended coordinating ink colors onto the 'thanks' word (die cut with the Thanks Script & Thanks Script Backer dies) and paired them with phrases from the Building Blocks – Be Bright stamp.
Anybody else ready to boot 2020 out the door? Well, Big Grumpy is here to help us out with the FREE Big Grumpy Farewell 2020 Download. Print the download onto cardstock and then stamp either Big Grumpy or Big Grumpy – Cat over the top to add the six different sentiments to the sign. CLICK HERE to watch a video tutorial from our Big Grumpy COVID-19 Sentiments Download released last spring.
Jill Hawkins got Big Grumpy ready for a New Year's party on this card created with the Big Grumpy Stamp & Die Combo set and the free Big Grumpy Farewell 2020 Download. Big Grumpy is staying up and making sure that 2020 goes away and he'll even put up with a party hat, stars, and confetti to make that happen! Jill created the festive background on her card using the Masking Stencil – Stars set and Tag Team – Birthday stamp set.
Natasha Valkovskaya put Big Grumpy into a winter scene using the Big Grumpy – Christmas stamp set, The Light Shines stamp set, and then colored him up with Copic markers and gave him a very frosty look. Big Grumpy is willing to brave the elements to make sure that this year goes away. I have a feeling that we can all relate to the sentiment on his sign that is included in the Big Grumpy Farewell 2020 Download.
Join me live for "T Time" at 1pm Central today on the Taylored Expressions Facebook Page. I'll be sharing a closer look at the New Year's release and more! We hope to see you there – come join in on the fun!
Thank you so much for joining me today and I hope you enjoy the new products and new projects! As always, the TE Creative Team has been busy creating and you can keep up with their beautiful work by clicking their faces below to visit their blogs. Make plans to stop by the TE Blog this Thursday to see more with this new release including a video from Heather and more projects from the team!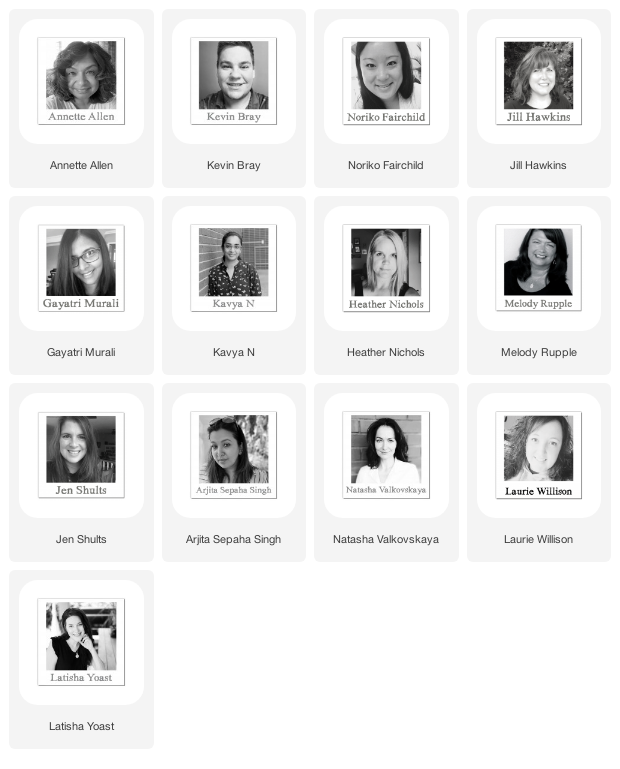 Posted by Taylor at 9:00 am
|
|
|