Nov 17, 2020
Hey, crafty friends! It's Taylor here today! Do you wanna build a snowman? I hope so because that's just what we're going to do! These adorable snowman treat capsules are the perfect craft for little hands to help with, but also super fun for adults to create too. Gift them with small treats or gifts inside for friends, coworkers, teachers, bus drivers, neighbors and more! I chose to craft mine into tiny marshmallow bombs to package up with a Snowman Soup poem and all the fixings for a warm cup of cocoa!
In addition, it's time to start thinking about getting those holiday cards ready to stick in the mail so we have three new envelope seals to dress up your holiday mail. Even if you're sending a photo card (*gasp*) consider adding a seal to add a touch of flair!
Here's a closer look at the new products that we are releasing today:
If you loved our Pumpkin Candy Capsule Kit earlier this year, you will love our cute new snowman kit for winter! The Snowman Candy Capsule Kit includes supplies to create 12 snowman capsules that you can fill with sweet treats or a small gift. Simply use hot glue or glue dots to adhere the pom poms to the red and green tops of the plastic capsules, use the die to cut out carrot noses, and add the snowman faces to the capsule using the included vinyl decals.
Seal your holiday card envelopes using our new holiday envelope seals. The seals come in three different designs: Jolly Holidays (Santa), Blessed Nativity, and Seasonal Sprig. These round adhesive seals are crisply pre-printed on thick, durable vinyl (making them scratch-resistant and weatherproof), and are ready to peel and stick. Each design is sold separately in packages of 10.
You'll also want to make sure your envelopes are all stocked up for the holiday send so check out the Buy More Save More special on both A2 envelopes and Mini Slim envelopes:
Now through Sunday, November 22nd, buy 3+ packages and save 10% on each, buy 6+ packages and save 15% on each, or buy 9+ packages and save 20% on each. Click below to shop now – it's a great time to stock up and make sure your favorite colors don't run out before the holidays!
Click below to shop the new products that are releasing today and then keep scrolling for inspiration!
Now, are you ready to build a snowman? Watch the video below!
In the video, I share all the items included in the Snowman Candy Capsule Kit and how to assemble the snowman capsules. I used my capsules as part of a Snowman Soup gift!
To decorate the gift I created a tag featuring the Snowman Soup poem. My mug is filled with a cocoa mix, chocolate kisses, and a peppermint candy cane to use as a stirring stick. Plus – the little marshmallows inside the snowman candy capsule!
I wanted to offer the tag as a free printable in case anyone else wants to create a similar gift! Just click the button below to download the free Snowman Soup Tag. Note: You must be logged into your account in the TE webstore in order to download the file.
Here's a quick list of some other things you can put in the capsules and a few other ways you might use the capsules:
White M&Ms
White Sixlets (available at Party City or online)
White Jelly Beans (Jelly Belly coconut flavor would be perfect!)
White chocolate chips
Marshmallows
Peppermints (or white dinner mints)
White crinkle paper filler
String the capsules together to create a garland
Put a magnet on the back of each capsule and magnet to the fridge or a cookie sheet. Use as an advent calendar, stuffing each capsule with cotton balls and a small gift or message nestled inside.

Here are more projects created with the Snowman Candy Capsule Kit from the TE Creative Team:
Natasha Valkovskaya put together her cute snowman capsules and cut her noses from Candy Corn cardstock. I love how she used a black pen to add detail to the carrots!
Kavya built a whole snowman with her Snowman Candy Capsule Kit! She tipped one of the capsules upside down to create the snowman body and then added the regular snowman capsule on top for the snowman's head. I love the scarf she created to complete the look! The capsules are filled to create a yummy hot cocoa treat using marshmallows, cocoa mix, and peppermint candies. Tags from the Pretty Package – Holiday Tags stamp set finish off the cute snowman perfectly!
Melody Rupple filled a whole bowl with cute snowman capsules! She filled her capsules with peppermint candies and added tags tied to the pom poms on the snowman hat with red & white twine. The tag that Melody used is from the Pretty Package die collection and she cut them from Cherry Pop and Cilantro cardstock. The sentiments are from the Pretty Package – Holiday Tags stamp set.
Join me live for "T Time" at 1pm Central today on the Taylored Expressions Facebook Page. I'll be sharing a closer look at the Snowman Candy Capsule Kit and the new envelope seals. I hope to see you there – come join in on the fun!
Thank you so much for stopping by the TE Blog today! I hope you enjoy the new products and perhaps you're feeling inspired to whip up some Snowman Soup! Make sure you check out the Snowman Candy Capsule Kit projects from a few of the members of our TE Creative Team by clicking their faces below. Make plans to stop back again this Thursday for more crafty inspiration!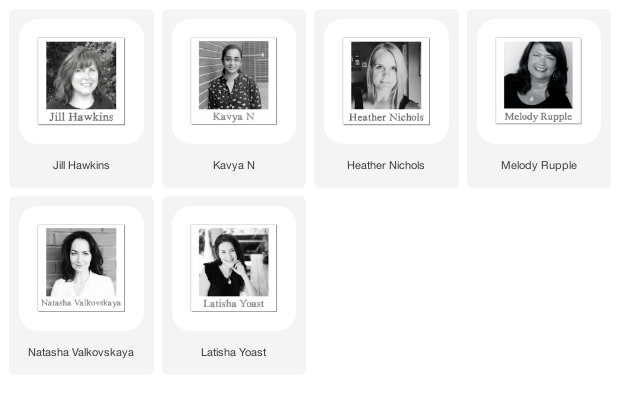 Posted by Taylor at 9:00 am
|
|
|