Nov 19, 2020
Hi everyone! It's Heather here today and I have another day of inspiration to share with you using the new Snowman Candy Capsule Kit. Have you started decorating for the holidays yet? I have loved seeing so many friends and family sharing their photos of setting up their trees and more a little early this year. I love the idea of extending the holdiday spirit as much as we can this year! Today, I have a video from Emily Leiphart with some creative ideas for holiday decor and more projects to share from the TE Creative Team.
Also, don't forget that right now is a great time to stock up on envelopes and envelope seals (did you see the three new designs for the holidays??) The more A2 and Mini Slim envelopes packages you buy, the more you save:
Now through Sunday, November 22nd, buy 3+ packages and save 10% on each, buy 6+ packages and save 15% on each, or buy 9+ packages and save 20% on each. Click below to shop now – it's a great time to stock up and make sure your favorite colors don't run out before the holidays!
Click below to shop all of the new products from this week and then keep scrolling for today's inspiration!
Our video today is from Emily Leiphart and she has some creative ideas to use the Snowman Candy Capsule Kit for holiday decor projects:
In the video, Emily shares how she assembled the snowman capsules and created quick and easy festive holiday tags complete with jingle bells to pair with them. Emily shares suggestions on using the capsules to create a wreath or a garland to include in your holiday decor.
The tags are created with the Tag Stacklets 2 die collection and Emily added strips of patterned papers to the bottom of the tags using the 6×6 Playful Patterns – Holiday paper pack. She used the Mini Caps Alpha & #s die collection to add the words 'peace', 'love', and 'joy' to the different tags.
Instead of adding words to the tags, you could add numbers to them to create a Christmas countdown or advent activity – there are so many fun possibilities!
Check out the list below for the supplies that Emily used on her project: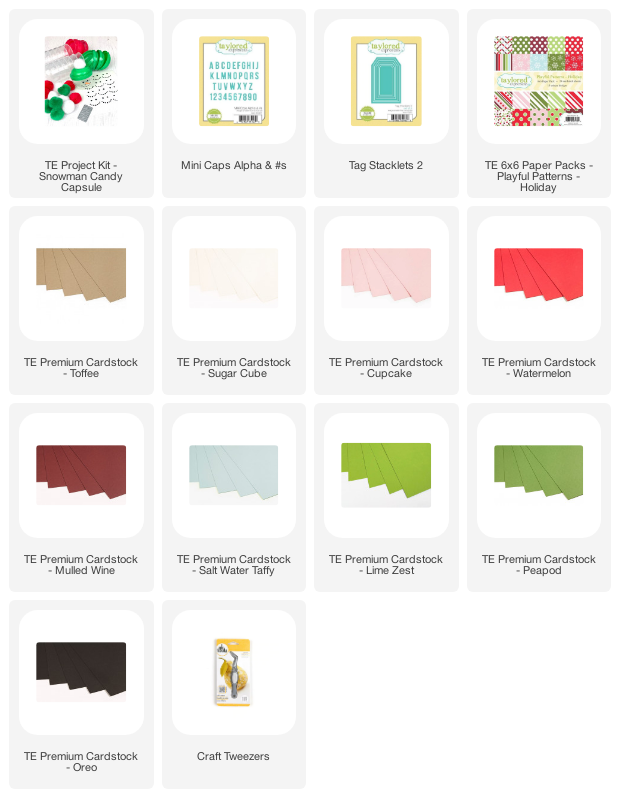 We can't get enough of the cute snowman created with the Snowman Candy Capsule Kit! Here are more projects from the TE Creative Team:
Jill Hawkins has a whole bunch of snowman treats ready to share with friends that she created with the Snowman Candy Capsule Kit. She cut out her snowman noses with Carrot felt and filled up her capsules with marshmallows. Pair the capsules with cocoa for the perfect sweet treat!
I (Heather Nichols) added tags to coordinate with the snowman capsules with the Frosty Background Cling & Clear stamp set. The tags are tied right onto the pom poms on the snowman hats for an extra bit of holiday cheer! I couldn't resist doing extra sparkle with Clear Rock Candy glitter and adding extra snow using the Bits & Pieces – Snowflakes embellishments.
Latisha Yoast filled up her snowman capsules with holiday color using a few flavors of jelly beans. When Latisha created her snowman treats, she had limited supplies on hand and she was thrilled to be able to complete this project quickly and easily!
Join Taylor live for "T Time" at 1pm Central today on the Taylored Expressions Facebook Page. Taylor always has something crafty and fun to share. We hope to see you there – come join in on the fun!
Thank you so much for stopping by this week and we hope you enjoyed all of the inspiration using the new Snowman Candy Capsule Kit. With the Thanksgiving holiday coming next week (in the United States) watch this space for more information about the Black Friday, weekend, and Cyber Monday promotions that will be coming your way! It's gonna be good. *wink!*
Did you know that you can subscribe to our blog and get our posts right in your inbox? Just sign up right HERE – that's all there is to it to make sure you don't miss any of our crafty inspiration!