Thursday, December 03, 2020
Hey, crafty friends! Today, we are taking a break from Christmas inspiration to share another project that is created with our NEW Masking Stencils – Diamonds set that is the December exclusive gift with purchase of $100 or more during the month of December in the TE webstore. Joy Baldwin created the cutest baby card and used the masking stencils to created a fun argyle patterned background.
Here's a closer look at the NEW Masking Stencils – Diamonds set:
The Masking Stencils – Diamonds set includes 2 stencils that each feature a different sized diamond shape that you can add to your projects easily without masking your cardstock using tapes or masking paper. Use Pixie Spray or purple tape to hold things in place and use the innovative alignment guides to line things up perfectly on your A2 sized projects. Use the included insert shapes for even more masking possibilities!
Watch the video below to see how Joy Baldwin created a cute baby card using the Masking Stencils – Diamonds set:
In the video, Joy shares how to create the argyle patterned background using the Masking Stencils – Diamonds set, two ink colors, and Blender Brushes. She shares how she colored the 'baby' word from the Bubble Greetings – Baby stamp set and embossed the sentiment from The Inside Scoop – Baby stamp set to include on her card.
Joy used Mint Julep and Lemon Meringue inks to blend up the background on her card and these two colors play so well together! I really love the areas of color that overlap and create new colors.
You can experiment with other color combinations to create the argyle design. Try using pink and blue inks together, try yellow and pink inks, etc. Experiment with brighter tones, pastel tones, or neutrals to create looks for different occasions.
Because Joy used yellows and greens on her baby card, it's a great gender neutral design to give for both when it's a boy, when it's a girl, or when the gender isn't known yet.
Joy used Copic markers to color the 'baby' word from the Bubble Greetings – Baby stamp set to coordinate with the background and added highlights with a white gel pen. I like how she curved the highlights to add to the bubble look of the letters!
Check out the supply list below for the supplies that Joy used in addition to the Masking Stencils – Diamonds set on her card: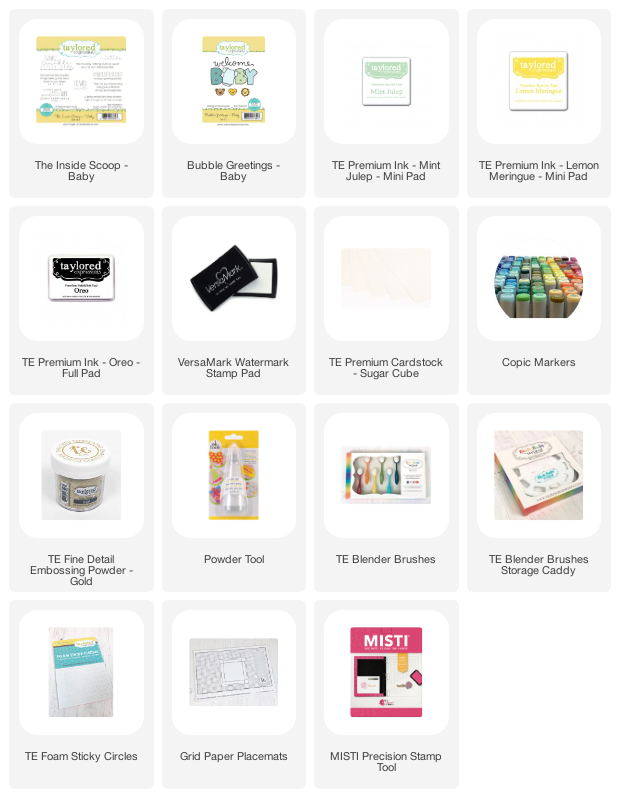 Join Taylor live for "T Time" at 1pm Central today on the Taylored Expressions Facebook Page. Taylor always has something crafty and fun to share. We hope to see you there – come join in on the fun!
Thank you so much for stopping by the TE Blog today! I have crafty inspiration coming your way for the next few days – more for Christmas and more with the Masking Stencils – Diamonds set – so check back again tomorrow! I love being able to share so much inspiration with you!
Did you know that you can subscribe to our blog and get our posts right in your inbox? Just sign up right HERE – that's all there is to it to make sure you don't miss any of our crafty inspiration!
---