Saturday, February 13, 2021
Hey, crafty friends! It's Heather here today to share something NEW at Tayored Expressions! We are excited to now carry our own exclusive line of pigment powders! If you have been crafting a while, you might be familiar with pigment powders and the shimmer and shine that they can add to your projects. I personally used these powders years ago and was excited to see that Taylor has brought them back. I can't wait to play with them!
Today, I have more information to share about the new TE Pigment Powders and a few projects created by Taylor and Susan Block when they got together to test out the new powders! Keep reading to get all of the details:
Add shimmer and sophistication to your cards and crafts with TE Pigment Powder. Stamp an image with an embossing ink pad, like Versamark (sold separately), then brush on your favorite shade of powder for a beautiful metallic sheen – no heat required! Or mix with water, paint or glue to create luminous glazes that show up on dark cardstock.
TE Pigment Powder is available in Pearl, Silver, Gold, Copper, and Pewter. Click below to check them out in the TE webstore:
You can learn more about the new TE Pigment Powders in the T-Time broadcast that was live this last Thursday. The topic of the day was different ways to use VersaMark Ink. Watch the Facebook Live broadcast below:
In the video, you can see Taylor introduce the new TE Pigment Powder at about the 25 minute mark. She shows how to use the powders with an image stamped with VersaMark ink. Taylor also shared several tips and tricks:
Taylor used the TE Pigment Powder on the background of this cute Easter card. She stamped the Pretty Posies Background stamp onto Guava cardstock with VersaMark ink and brushed on a mixture of Pearl and Gold TE Pigment Powders. The result is a shimmery image that changes as you tip the card back and forth.
The bunny from the Flip the Script – Bunny Tag Stamp & Die Combo set on this card is embossed with Diamond embossing powder over Pink Champagne ink and Taylor shares how she did that in the video above!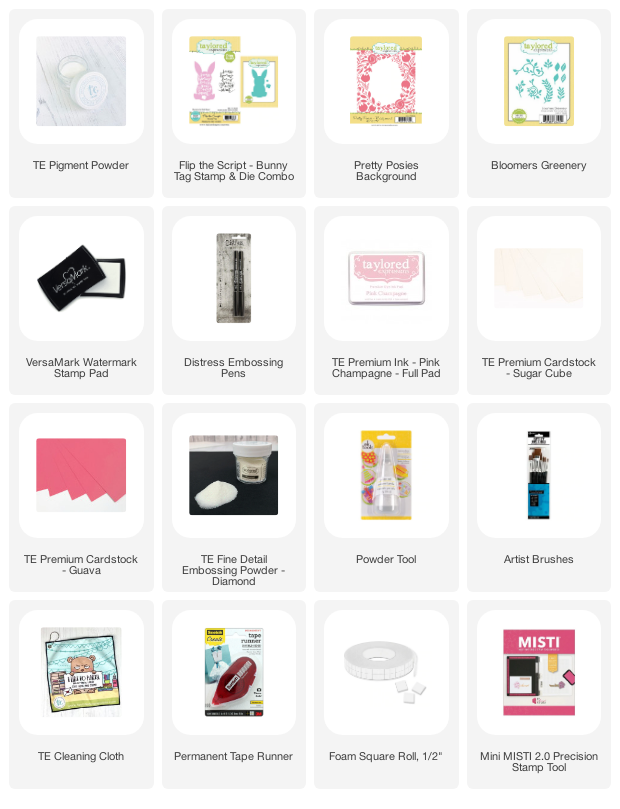 Here's another great background look with the TE Pigment Powder by Susan Block. Susan stamp the Foliage Background on Blueberry cardstock with VersaMark ink and used a brush to apply the silver TE Pigment Powder. The silver really stands out on the darker cardstock color!
The main image is from the Iconic Wishes – Sparrow Stamp & Die Combo set. Susan stamped the sparrow in Gumball ink and embossed over the top with the Diamond embossing powder. The wreath around the sparrow is created with the Bloomers Greenery die collection. Susan used one of the leafy branches from the set cut out from Toffee cardstock and arranged it into a wreath shape on the card.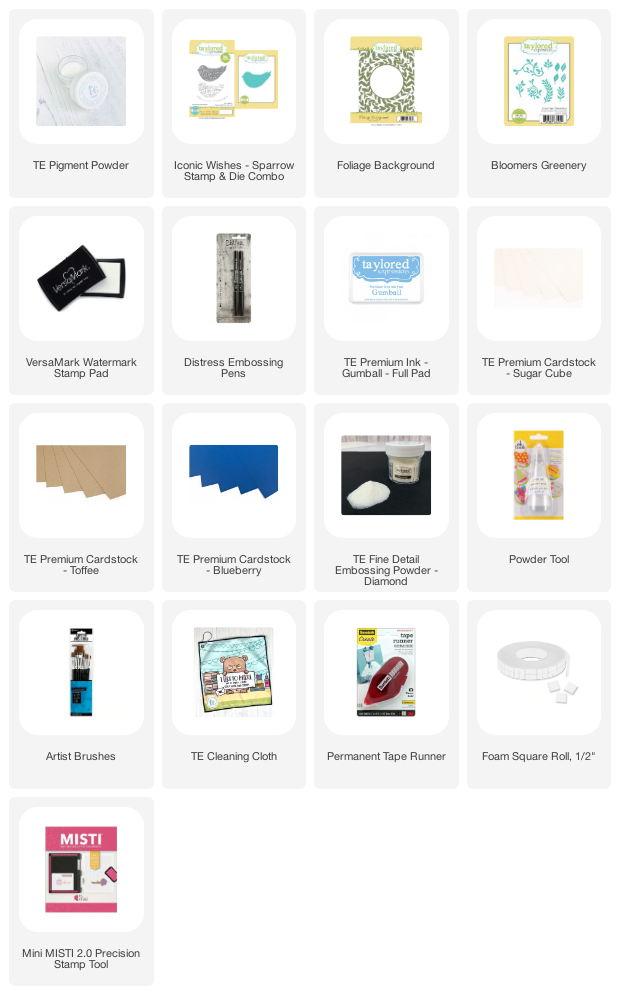 Thank you so much for stopping by the TE blog today. I hope you enjoyed the information and inspiration for our new TE Pigment Powders. We love sharing crafty inspiration with all of you! We have new inspiration coming your way this next week. – make plans to stop by and check it out!
Did you know that you can subscribe to our blog and get our posts right in your inbox? Just sign up right HERE – that's all there is to it to make sure you don't miss any of our crafty inspiration!
---