Mar 11, 2021
Hey, crafty friends! How are all of you today? I love how even though there are so many of you that I haven't met in person, I consider you all friends through this fun paper crafting hobby! Who knew that paper and glue could bring so much happiness, right?
Part of being friends is sharing all of the great inspiration that I come across and that is exactly what I am here to do on the TE blog! Today, I have a bunch of inspiration to share with you from the TE Creative using the products that were released this week in the TE webstore – including a video from Mindy Eggen!
Before I get to the inspiration, I need to remind you about the Personalized Pop-up Shop that is going on right now:
For a limited time, now through March 14th, you can select and personalize any of the four stamp options with your name! These are a wonderful tool to have especially when mass-producing cards as you can load your personalized stamp into your MISTI to quickly and easily add your mark to the back of your handmade cards. All of the designs are sized appropriately for both an A2 and Mini Slim (3.5″ x 6″) sized cards.
Here are the details for the different personalized stamp options:
Please note: Stamps will be customized to match exactly what you have typed, so please proofread carefully. Because the personalized stamps must be custom designed and manufactured, expect your order to ship in 6 weeks. Orders in the United States that include additional items will be split-shipped. International orders with additional products will be held until the personalized stamp is ready to ship.
Because the personalized stamps are custom made, all sales are final and the stamps cannot be returned for a refund.
Click below to shop the Personalized Pop-up Shop that goes through March 14th:
Click above to visit the TE webstore and shop the newly available products and then keep scrolling for more inspiration! First up is the video below from Mindy Eggen that features the Art From the Heart Background stamp. She created a fun pair of cards perfect for sending to crafty friends:
In the video, Mindy stamps the background for her cards using the Art From the Heart Background stamp. Mindy kept things simple by stamping the background with Oreo ink on Sugar Cube cardstock. She added a rainbow of sentiment strips that are embossed in white down her card front. The sentiments are from the Simple Strips – Crafty stamp and cut out with the Simple Strips – Asymmetrical die. The 'hey' word on each card is created with the Cap it Off Alpha dies with Oreo and gold glitter cardstock.
It's fun to do all the fancy stamping techniques, but it's okay to keep things simple and stamp your image with black ink on white cardstock. It creates a great neutral, but graphic background to use on your projects like Mindy did on her cards. The colorful sentiment strips really stand out nicely over the black and white background!
The crafty sentiments from the Simple Strips – Crafty stamp coordinate perfectly with the Art From the Heart Background stamp and I like how Mindy paired them with the word 'hey' on her cards – the black and gold letters grab your attention right away. This pair of cards turned out so fun and I can think of many crafty friends I could send these to!
Check out the list below for all of the supplies that Mindy used on her crafty cards: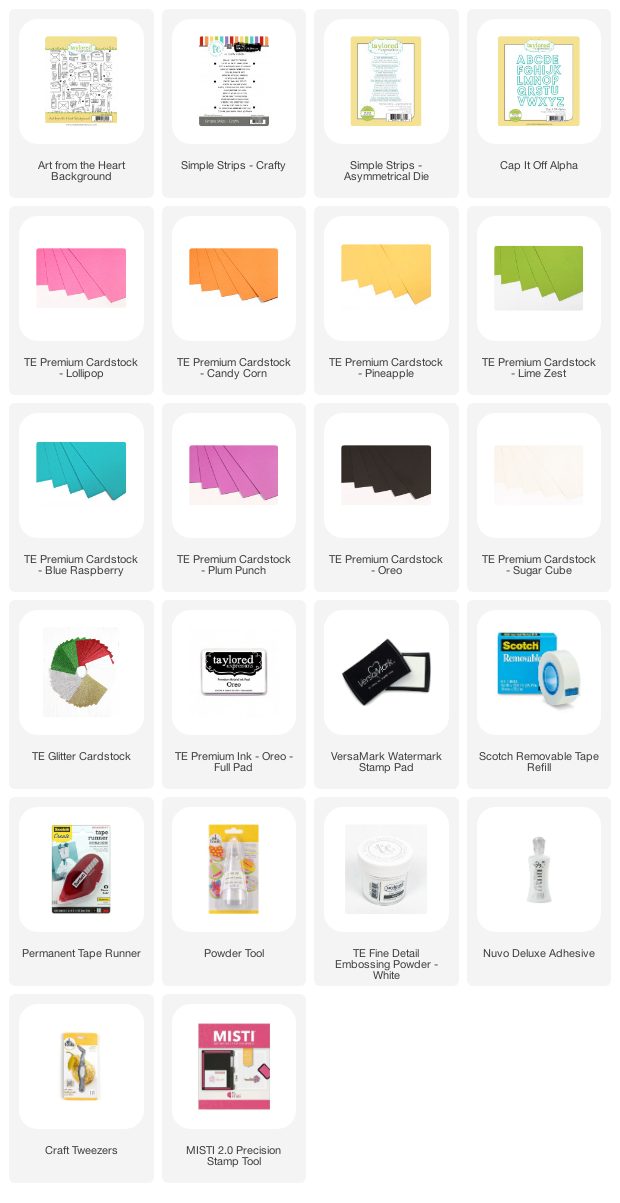 Here's more inspiration from the TE Creative Team to share featuring the new TE exclusive sets that we released for purchase this week:
This striking card was created by Kavya using the Spring Spray stamp with a sentiment created with the Big Hello stamp set. I love how Kavya colored the borders on the floral die cuts to match the Blueberry card base. The bright pink flowers, that are colored with Copic markers and colored pencils, really pop next to the dark blue! The 'hey' word is embossed in white on the Blueberry cardstock background and she added 'bonjour' embossed in white on a Blue Raspberry cardstock strip.
I love the bright and cheery colors that Annette Allen used on this card featuring the Big Thanks stamp set! She set three cardstock strips (Guava, Pineapple, and Candy Corn) behind the Floral Frame Cutting Plate die cut and used that to frame the 'thanks' word. The 'for being so amazing' phrase is added to a Pineapple cardstock strip and Annette added a few Bits & Pieces – Drip Drops to the flower centers on the frame to finish things off.
This soft and pretty Mini Slim thank you card is by Natasha Valkovskaya. I love how she stamped the butterflies from the Aflutter stamp set in an ombre blend with Cookie Monster and Confetti Cake inks going up the side of the card. I could see using this clean and simple design in so many ways – plus it would be so easy to put together at the last minute or easy to mass produce a bunch in a short amount of time! Natasha added a sentiment from the Simple Strips – Thanks stamp that is embossed in white on Oreo cardstock.
Another way to create quick and easy background for cards is using our stencil sets like Noriko Fairchild did on this card that she created with the Modern Mosaic Layered Stencil set. Noriko stepped things up on her background by foiling the last stencil layer in gold. The sentiment is embossed in white on a Cookie Monster cardstock strip that is layered over the background pattern. Stop by Noriko's blog to see how she used another sentiment strip on this inside of her card!
Melody Rupple used the Modern Mosaic Layered Stencil set for the background of this pretty birthday card. She used Gumball, Blueberry, and Granny Smith inks to create her stenciled background. Melody matched her Copic markers to color the flower sprays from the Unexpected Blessings stamp set so they coordinate with the background. The sentiments embossed in white are both from the Every Birthday stamp set. I love how the sentiments in the set work so well with a wide range of card styles!
This bright and fun birthday card was created by Emily Mydlowski. She stamped a whole bunch of balloons across the card using the Balloon Bouquet stamp and painted them with liquid watercolors. The 'happy birthday' sentiment at the top of the card is from the Every Birthday stamp set and Emily sprinkled tiny stars and glittery dots in-between the balloons to add to the festive, party feel of the card!
How fun is the rainbow background that Laurie Willison embossed the Art From the Heart Background over the top of? She used a piece of patterned paper, but you could easily create this look with markers, paint, stripe stencils, or even strips of cardstock! The 'hello' sentiment is created with the Hello Script die cut from Sugar Cube cardstock layered over a Hello Script Backer die cut from vellum.
The sentiment that Gus is pulling behind the car on this card by Jill Hawkins is SO TRUE. I feel seen. This sentiment and many more that will make you laugh is from the Handmade Humor stamp set. The image that Jill used is from the Gus & Gertie Ride On stamp set. Are you wondering where Gus is going in his car? To the craft store, of course!
Join Taylor today for "T Time" at 1pm Central on the Taylored Expressions Facebook Page. We would love to have you join us for some crafty chat! Hope to see you there!
Thank you so much for joining me this week and I hope you enjoyed all of the inspiration from the TE Exclusives that you can now purchase. Did you already have any these products or are there ones you missed out on before? Which ones are your favorite? Look forward to more crafty inspiration coming your way next week, including new products that pair perfectly with Masking Stencils! I can't wait to share!
Did you know that you can subscribe to our blog and get our posts right in your inbox? Just sign up right HERE – that's all there is to it to make sure you don't miss any of our crafty inspiration!