Sep 30, 2021
Hey, crafty friends! It's Heather here today with more inspiration to share using the new Christmas release products! Do you have a favorite project that has stood out to you from the TE Creative Team this week? Which new products caught your eye and you have either ordered or added to your crafty wish list? Do you like to craft with products that are whimsical or more elegant? Do you lean towards more traditional Christmas images or do you like holiday themes that are unexpected? There are definitely no right answers to these questions and I love that you can take so many crafty products and create projects with a number of different looks.
Today's projects that I am sharing have lean towards the more elegant side. The focus is on the nativity and the reason we celebrate the Christmas season. I know you'll be inspired!
Before I get to today's inspiration, here's a reminder about the promotions (there are 2!) happening this week:
With any purchase of new release products of $75 or more, you will receive a FREE pack of envelopes and custom Mistletoe envelope seals. The pack includes 10 envelopes (2 each of Mulled Wine, Cherry Pop, Peapod, Sugar Cube, and Toffee) and 10 exclusive envelope seals (these seals are not available to purchase). This offer is valid through 11:59PM Central Time Sunday, October 3rd, or while supplies last.
When you purchase the Create-in-Quads Mistletoe Card Class Collection (Create-in-Quads – Mistletoe Layered Stencil set, Clearly Crafty Modern Holiday Greetings stamp set, Create-in-Quads Paper Pack – Sugar Cube, and Create-in-Quads Paper Pack – Toffee ) through Sunday, October 5th, you will get a free exclusive 8-card video craft along class with Taylor and Heather!
This mini version of our Online Crafty Classes is a great way for you to put your new holiday goodies to use right away making eight (!) different cards at your own pace! Watch the videos as often as you like and learn some new card making tips and tricks while discovering inspiration for more designs!
Once you complete your purchase, you will receive an email (separate from your order confirmation email) with links to the class videos on YouTube.
Although Taylor and Heather will recommend colors for ink and cardstock, you can use anything you have to make these projects uniquely yours!
Hurry! This offer is only valid through 11:59 pm (CT) on Sunday, October 3rd, or while supplies last.
Tune in for new product inspiration: this release includes includes over 30 new products; new stamps, dies, stencils, our exciting new Create-in-Quads Layered Stencil concept that will make card mass-producing a breeze, multiple new Foil It panels, and new glitter paste to add sparkle to your holiday projects!
Our TE blog posts this week Monday, Tuesday, today, and Saturday will feature a new how-to tip, technique, or process video.
Receive FREE shipping on orders of $50 or more in the United States!
Earn a free, exclusive stamp with purchases of $100 or more. CLICK HERE for more information.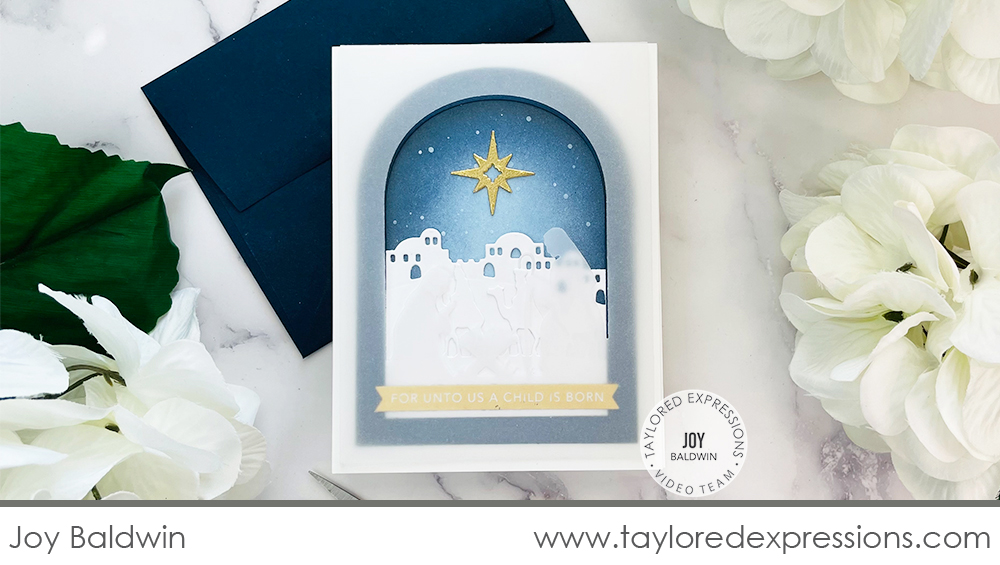 Today's video comes to you from Joy Baldwin. Joy paired the new Arched Nativity Cutting Plate die with the Follow the Star dies, that were previously released, to create this card for Christmas. Watch the video below to see how the card is created:
In the video, Joy cuts out the Arched Nativity Cutting Plate die from vellum to layer over a scene featuring a night sky, buildings, the three wiseman, and the Christmas star. The night sky is created with ink blending through one of the stencils from the Masking Stencils – Arched set and splatters of Sugar Cube ink. Joy created a frame with the Arched Stacklets dies to layer a scene cut out with the Follow the Star dies behind, layered everything together, and added a star die cut to the sky that is embossed in gold. The foiled sentiment strip is from the Simple Strips in Reverse – Christmas and is cut out with the Simple Strips die.
Here's a closer look at the new products from the release that Joy used on her card in the video:
The Arched Nativity Cutting Plate die features a silhouette of the nativity scene in an arched opening. This new cutting plate die is designed to coordinate with the previously released Follow the Star dies to build an intricate scene to celebrate the birth of Jesus. Cut out graduated arched layers using the Arched Stacklets die collection to layer with the cutting plate.
The Masking Stencils – Arched set includes 2 stencils that each feature a different arched shape that you can add to your projects easily without masking your cardstock using tapes or masking paper. Use Pixie Spray or removable tape to hold things in place and use the innovative alignment guides to line things up perfectly on your A2 sized projects. Use the included insert shapes for even more masking possibilities!
Turn everything you know about Simple Strips – Christmas on its head with our Simple Strips In Reverse – Christmas collection! The pre-printed panels come on TE Premium Cardstock and can be cut out as-is using any of the Simple Strips dies (sold separately) to leave you with crisp white sentiments on a black background, or can be topped with foil and run through a foiling machine to create crisp white sentiments on a fancy foiled background! Each panel includes alignment squares to line up with the die and cut out 18 sentiment strips with one pass through your die cut machine.
The full Christmas scene all together with the nativity scene on a translucent layer in the front and the rest of the scene layered behind is just beautiful. The vellum layer is a great interactive element that when lifted, reveals the scene with the three wisemen, Christmas star, and sentiment behind it.
With all of the coordinating products, creating an elegant card like this one is so easy! Keep your layers simple or step things up with lots of detail. It's up to you!
Check out the list below for the supples that Joy used to create this card: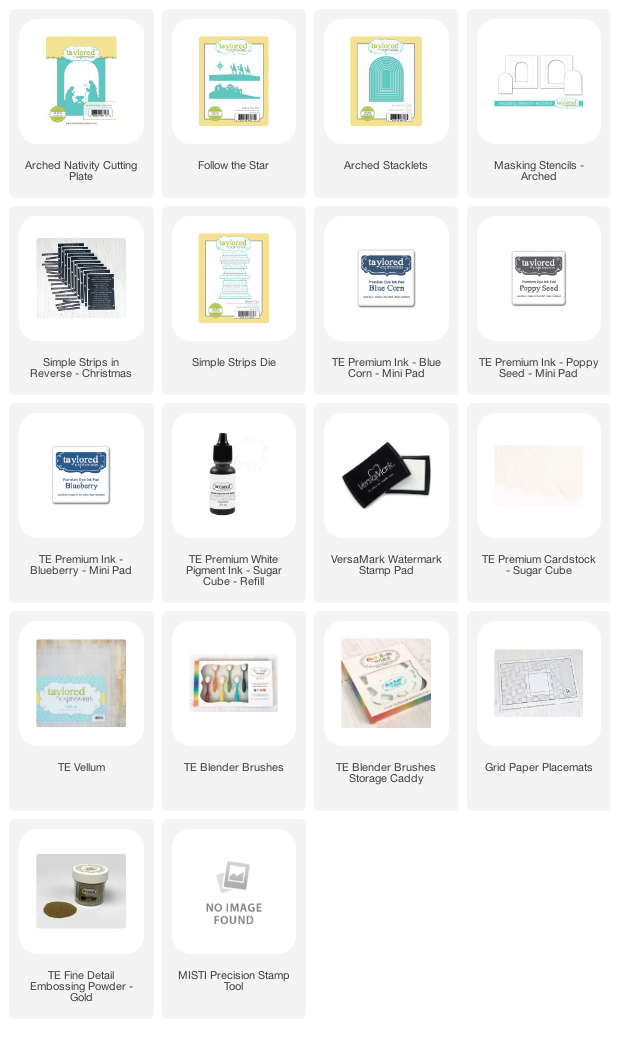 Jen Shults layered the Arched Nativity Cutting Plate die with the Arched Stacklets dies to create a layered border around the nativity scene. The night sky in the background is blended using the Masking Stencils – Arched set with Blueberry and Blue Corn inks and has stars added by splattering Sugar Cube ink refill with a water brush. This clean and simple design is a great one to mass produce for the holidays and is stepped up with the silver glitter cardstock and embossed sentiment from the new Merry & Bright stamp set.
The night sky on this card by Lori Craig was created by blending Gumball, Jelly Donut, and Blue Corn inks onto Sugar Cube cardstock and then 'lifting' the star images by stamping the Twinkle Twinkle Background stamp with Sea Salt ink. If you look closely you can see extra sparkle in the background added using Bits & Pieces – Sparkly Stars! The Arched Nativity Cutting Plate is framed with another layer cut out with an Arched Stacklets die and embossed with the Floral Vine embossing folder. The sentiment strip is from the Simple Strips In Reverse – Christmas, foiled in gold, and cut out with the Simple Strips die.
The Festive Fir die & Festive Fir stencil feature an elegant Christmas tree design and they are designed with exactly the same placement and spacing. Use them on their own or combine them together using fun color combinations and techniques (like Glitter Grab & Foil!).
Kavya used the Festive Fir stencil as part of the background on this card featuring the nativity scene from the Arched Nativity Cutting Plate die. She used green inks for the tree, Honey ink for the star, and then added blending around the outside of the tree to create the sky with Blue Corn, Blueberry, Pineapple, and Candy Corn inks. Kavya cut out the Arched Nativity Cutting Plate die from Jelly Donut cardstock, trimmed off the top portion, and added an arch cut out with the Arched Stacklets dies. I always love all of the color blending and white gel pen details that Kavya adds to her projects! The sentiment from the Modern Holiday Greetings stamp set is embossed at the bottom of the card in white.
Lori Craig created an elegant Christmas card using soft, pastel colors with the Festive Fir die. She cut out the tree from Salt Water Taffy cardstock and inset the cut outs with Granny Smith cardstock. Before die cutting the tree from the Granny Smith cardstock, she added a Sticky Sheet to the front. Once the pieces were cut out, she removed the paper backing and coated the pieces with Sugar Cube glitter. The tree panel is cut out using an Arched Stacklets die and added to a Granny Smith card base. I love the glittered detail that Lori added to the top corners of the card using the Festive Fir Stencil with Glitter Grab and Sugar Cube glitter! The sentiment strip is from the Simple Strips In Reverse – Christmas, foiled in gold, and cut out with the Simple Strips die.
Here's another card created with the Festive Fir die by Lori Craig. Instead of cutting all the way through the cardstock, Lori used the Embossing Pad Kit to impress the tree into a piece of Salt Water Taffy cardstock. I love how the tree is subtly framed by blending the Masking Stencils – Rectangles set with Salt Water Taffy ink and a frame cut out with the A2 Thin Frame Cutting Plate die. Lori sprinkled the white gems from the Tiny Diamonds – Bold set onto the tree and added a gold foiled sentiment strip from the Simple Strips In Reverse – Christmas pack.
Today, join me (Heather Nichols) live for "T Time" at 10AM Central on the Taylored Expressions Facebook Page. We hope to see you there – come join in the fun! (Don't worry, if you miss the live you can always watch the saved broadcast afterward!)
That wraps up what I have to share with you today and I hope you enjoyed all of the project from the TE Creative Team and special guest designer, Lori Craig! We have one more day day of Christmas release inspiration coming your way on Saturday, including a video from Emily Leiphart. Make plans to stop by and check it out!
Did you know that you can subscribe to our blog and get our posts right in your inbox? Just sign up right HERE – that's all there is to it to make sure you don't miss any of our crafty inspiration!