Monday, November 29, 2021
Hey, crafty friends! Happy Monday! I hope you had a wonderful weekend that included spending time with the special people in your life, taking time to create something crafty, checking things off your holiday to-do and shopping list, and maybe stocking up on some crafty supplies for yourself too! We have a few more things lined up for you for Cyber Monday that go through tomorrow, including giving back with 5% of our sales being donated to Feeding America! Check out the details below and then keep on scrolling for today's inspiration.
Today and tomorrow: You can save 30% off selected items, a last chance offering of a few of our doorbuster bundles, we are offering double crafty points on every order (Crafty Points is our rewards program at Taylored Expressions that you can learn more about HERE), you will get FREE SHIPPING in the United States on all orders $25 or more, and we are also donating 5% of all sales to Feeding America.
You can also still earn exclusive products with your orders today and tomorrow! Spend $100 or more and receive our new Cookie Monster embossing powder, spend $200 and receive the Branches & Blooms Background stamp, and spend $300 or more and receive the On Occasion stamp set + die collection.
*Orders cannot be combined to receive exclusive product.
Click below to shop our Cyber Monday sale and then keep scrolling for today's inspiration!
---
This card created by Noriko Fairchild features the exclusive Cookie Monster embossing powder. Noriko melted a mixture of the Cookie Monster embossing powder with white and silver embossing powders on a piece of cardstock. Once she had a created a smooth, thick layer, Noriko pressed the Color Me Background stamp into the embossed surface while it was still warm.
The result is an amazing impressed background texture – just check out the detail in the picture above! Noriko framed the background with Sugar Cube, Cookie Monster, and Blue Raspberry cardstock and then added the 'hello' sentiment that is trimmed out from the Framed Script – Hello die cut..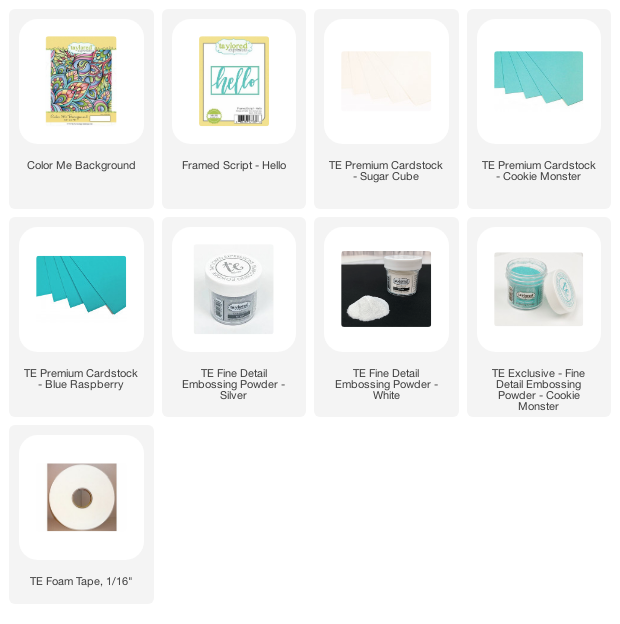 Thank you for stopping by the TE blog today and make plans to tune in tomorrow for one more day of Cyber Monday promotions, plus new apparel and tote bag offerings! See you then!
---