Apr 05, 2022
Hey, crafty friends! It's Taylor here today! If you have been around at Taylored Expressions for any amount of time, it's pretty clear that we love everything rainbow! We are excited to share a fun mini release of rainbow themed products with you this week that includes a new Mini Strips stamp, a background stamp, a new Done for You – Alcohol Ink paper pack, and several other fun items. Plus, make sure to check out the inspiration from Heather and Jill to get a rainbow of ideas for your own projects!
In addition to the new rainbow themed products, check out the promotion below on a select group of our other rainbow themed products in the TE collection:
Right now through Sunday, April 10th you can save 30% on select rainbow themed products. Check out the great selection of stamps, dies, pens, storage bags, and more – it's a great time to stock up and save on everything rainbow! CLICK HERE to shop the sale! Offer valid while supplies last.
Click below to shop for the new release products and then keep scrolling for today's inspiration!
Today's video from Heather Nichols features lots of color and rainbows! She created this card with the new Rainbows All Around and Mini Strips – Rainbow stamps plus a few other products from the TE collection. See how this card came together from start to finish in the video below:
In the video, Heather shows how to create a rainbow stripe background using the Easy Strips – 1/2″ stamp. Once the background was complete, she stamped the Rainbows All Around stamp over the top with Versamark ink and embossed it with white embossing powder. The background is cut out with the largest Stitched Frame Stacklets 1 die and Heather added the frame, the frame insert, and a Sugar Cube cardstock frame cut out with the A2 Thin Frame Cutting Plate die onto a Toffee card base. The sentiment strips from the Mini Strips – Rainbow stamp are also embossed in white on Oreo cardstock and cut out with the Mini Strips – Flags die. They are adhered to the card with foam sticky strips and there are Rainbow Enamel Dots sprinkled around the sentiments for a finishing touch.
You can choose a typical ROYGBIV color pattern for a rainbow stripe design or put together your own rainbow colors like Heather did here. She used Fruit Punch, Sweet Potato, Pineapple, Avocado, and Blue Rasberry cardstock to create the background on her card. Using a sticky sheet on a light weight paper for a base is a quick and easy way to create backgrounds with the Easy Strips dies. Make sure to check out Heather's step by step instructions in the video!
Stamping and/or embossing over the striped background gives everything a whole new look! Heather embossed the Rainbows All Around stamp in white over the stripes and I am in love with how it turned out! It makes me want to try all sorts of our backgrounds over the top of striped backgrounds like this.
The sentiments from the Mini Strips – Rainbow stamp make a statement and the white embossing on Oreo cardstock stands out perfectly on the colorful background. I also love how Heather made sure to add the Rainbow Enamel Dots on different cardstock colors than the colors of the dots.
Check out the list below for the supplies that Heather used on her card: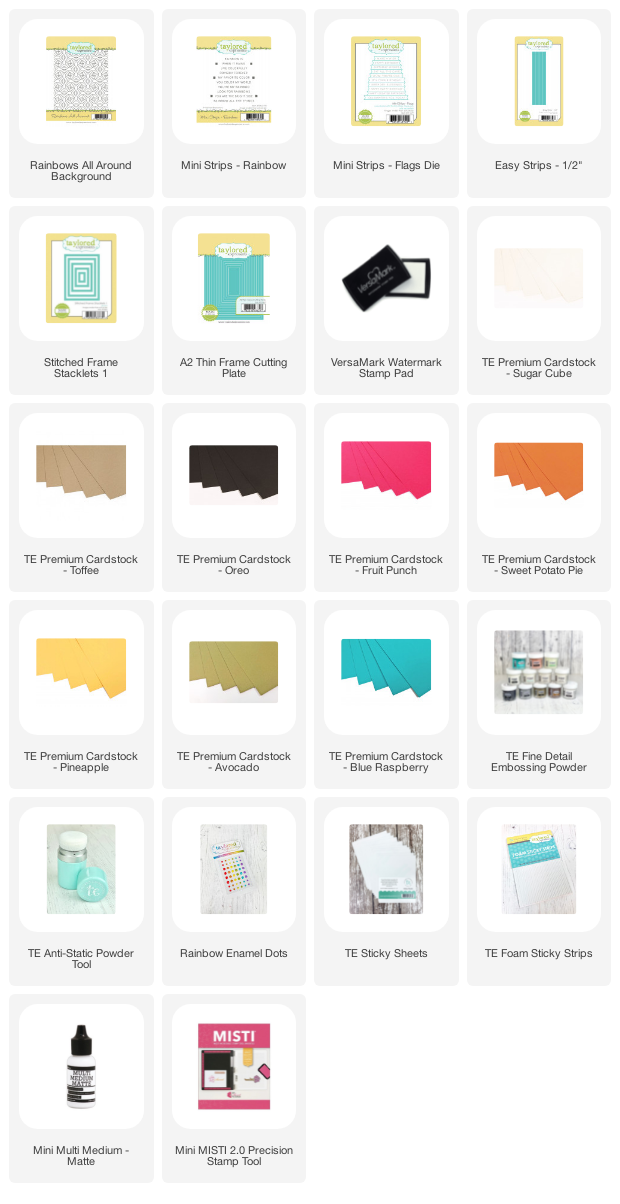 Here is a closer look at the new products in this weeks release along with colorful inspiration:
TE's Mini Strips collection is a smaller version of our very popular Simple Strips collection. The Mini Strips – Rainbow stamp coordinates with our original Mini Strips die, Mini Strips – Asymmetrical die, or Mini Strips – Flags die (sold separately) to create 10 rainbow themed sentiment strips that are perfect for all your cards and gift tags to celebrate a special occasion. Use these sayings individually or layer them together for more impact.
Jill Hawkins combined several of the sentiment strips from the new Mini Strips – Rainbow stamp on this fun card. The sentiments are embossed in white on Oreo Cardstock, cut out with the Mini Strips die, and added to Mini Strips Backer die cuts that are cut out from Lollipop, Pineapple, and Granny Smith cardstock. I love how the card has a sort of neon/80s look to it! The sentiment strips are added to a background that is embossed in white on Oreo cardstock with the Rainbows All Around stamp – more info on that stamp below!
Use our Rainbow All Around stamp to add a fun, dynamic rainbow pattern to your cards and paper crafts. The image is conveniently sized to easily cover an A2 base and it is ideal for use with any playful or rainbow themed project.
The Rainbows All Around stamp is embossed in white on watercolor cardstock on this card by Jill Hawkins. She added color to the rainbows with liquid watercolor and I love the look with the embossed design. The panel is trimmed and added to a background impressed with the Pierced Circles Cutting Plate and then Jill added a few sentiment strips from the Mini Strips – Rainbow stamp. The finishing touch on this card is a few Bits & Pieces – Cosmic Drip Drops.
We are excited to offer another set to the Done for You collection – and this time in RAINBOW! Add a fine art effect to your cards and crafts with designs from our Done for You Alcohol Ink panels! These prints are perfectly sized for your card projects. Simply stamp, stencil and add die cuts over each background to create a work of art without the mess. The Done for You Alcohol Ink Backgrounds – Series 1 includes 12 color prints on photo cover cardstock (3 each of 4 designs that measure 4 1/4″ x 5 1/2″ each).
I love how Jill Hawkins framed one of the panels from the Done For You – Alcohol Ink Series 2 set using the Diagonal Stitch Rectangle Stacklets set. She also cut out the panel with a Petite Scallop Rectangle Stacklets die and added stitching with her sewing machine for even more fun texture! The sentiments are from the Mini Strips – Rainbow stamp and the card is embellished with a few Bits & Pieces – Clear Drip Drops.
Heather Nichols discovered that the Rainbow Cutting Plate works perfectly with the shape formed by the alcohol inks on one of the panels in the Done For You – Alcohol Ink Series 2 set. She cut out the cutting plate from a few layers of Oreo cardstock, adhered the layers together to pop it up a bit, and layered the rainbow over the top of the panel. For extra sparkle, she sprinkled Snow Flurries sequins throughout the design. The sentiments are from the Mini Strips – Rainbow stamp and are cut out with the Mini Strips – Flags die.
Our Share Joy enamel pin was originally a part of our Advent Calendar Box and features a rainbow design with our 'share joy' sentiment in the cloud. It's another way to spread the message about sharing joy with the people in your life!
The Rainbow Post-it Pads are the perfect place to write down your crafty shopping list, to do list, or even use to add a message to the inside of your handmade cards so that the recipient can use the card again later! These adorable pads were also originally part of the Advent Calendar Box. The Rainbow Post-it Pads come in a set of three!
Enjoy some of your favorite TE designs as stickers you can put on your laptop, water bottle, craft desk or anywhere else you want to enjoy colorful artwork and positive vibes! Each sticker is crisply printed on thick, durable vinyl and features a matte finish that is scratch-resistant and weatherproof.
Rainbow of Possibilities Sticker measures 5 1/4″ x 5″
Rainbow Caution Sticker measures 5″ square
Stickers are sold separately.
Join me live for "T Time" at 10AM Central on the Taylored Expressions Facebook Page. I'll be sharing a closer look at the new rainbow products in this week's release. We hope to see you there – come join in the fun! (Don't worry, if you miss the live you can always watch the saved broadcast afterward!)
Thank you so much for joining me today and I hope you enjoy coloring your world with our new and previously released rainbow products! Be sure to share your creations with us on the Fans of Taylored Expressions Facebook Page – if you aren't a member of the group, come join us to see all of the crafty TE inspiration that is shared by your fellow TE fans. Stay tuned to the blog next week for details about our spring cleaning sale – see you then!
Did you know that you can subscribe to our blog and get our posts right in your inbox? Just sign up right HERE – that's all there is to it to make sure you don't miss any of our crafty inspiration!
Posted by Taylor at 9:00 am
|
|
|