Tuesday, August 30, 2022
Hey, crafty friends! It's Taylor here to introduce the new Thank You in Bloom Cardmaking Kit! The theme of this kit is thankfulness and I think you'll love how you can make thank you cards that are both quick and cute! It all starts with the large 'thank you' sentiment stamp (or Foil It option!) that you can surround with floral elements in endless color combinations. I am also excited about the option in the kit to stencil a number of floral elements and then cut the out all at once with the coordinating die! Watch the video below from Heather Nichols, join me live at 10AM on the Taylored Expressions Facebook Page, and check out all of the projects from the TE Creative Team on their blogs (links below!) to be inspired and learn more!
What else is unique about Taylored Expressions kits? In keeping with our mission to Share Joy, we encourage you to send the cards you create by including six envelopes along with six custom envelope seals to match the theme of the kit. Each kit comes packaged in a zippered pouch with a coordinating vinyl sticker making it easy to keep the supplies organized. We create a special color story for each kit with lots of inspiration from our Creative Team to get you started!
The Thank You in Bloom Cardmaking Kit retails for $64, comes in a zippered pouch with a custom sticker, and includes:
Thank You in Bloom Stamp & Stencil Combo set
Awesome Blossoms Layering Stencil
Awesome Blossoms die
small pot of Rose Gold sequins
A2 Envelope Pack (6 envelopes, 3 each of Toffee and Rose Water)
Envelope Seal Pack (6 seals)
Limited quantity available
Most items are not available to purchase individually. You will be able to purchase additional envelope seals (pack of 10) and Foil It – Thank You in Bloom panels separately from the kit.
To be notified of new kit releases, be sure to subscribe to our newsletter and follow us on Facebook and Instagram. This is our last kit until October – get ready for our Christmas release the last week of September!
Heather Nichols (the kit designer!) created three different cards with the Thank You in Bloom Cardmaking Kit. Watch the video below to see how she created the cards from start to finish:
CLICK HERE to visit the Taylored Expressions YouTube channel for more crafty videos – don't forget to LIKE and SUBSCRIBE!
Here's just a peek at some of the inspiration created by the TE Creative Team. Get a closer look at the projects created with the Thank You in Bloom Cardmaking Kit on their blogs! Just click their faces below to hop to all of the inspiration!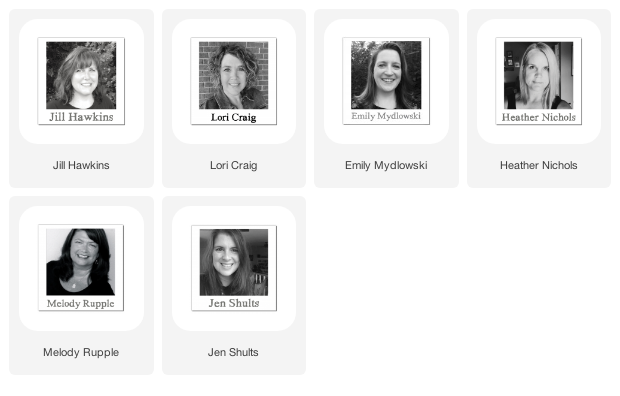 Join me live for "T Time" at 10AM Central on the Taylored Expressions Facebook Page. I'll be sharing an unboxing and closer look at the items in the Thank You in Bloom Cardmaking Kit. We hope to see you there – come join in the fun! (Don't worry, if you miss the live you can always watch the saved broadcast afterward!)
Thank you so much for stopping by today! Stop back again here on the TE blog on Thursday for more kit inspiration – including a video from Emily Leiphart!
---