Dec 20, 2017
Happy Wednesday, crafty friends! As promised, I'm taking you sailing today with designer Jean Manis. Jean is showing us how to create His and Hers cards using the same products and I can't wait to show you how she created these darling cards. Jean used our On the Water – Sailboat die to make these and she'll show you below how, with just a few choices and additions, she was able to create cards perfect for guys and gals. Check them out…
The card above is the His version.
The color choices for the two cards vary. For this one, I chose a bold, primary color scheme of red, blue, and yellow. I cut the sailboat with On the Water – Sail Boat die set from Cherry Pop, Blue Corn, Lemon Meringue, Sugar Cube, and Woodgrain Textured cardstock.
In both cases, I assembled the sailboats with Ranger Multi Medium Matte glue.
For the His card, I die cut the waves with Build a Scene – Rolling Waves from Blue Corn (His) and Salt Water Taffy (Hers).
For the His card, I stamped the sentiment with the MISTI on Lemon Meringue cardstock with Oreo ink and cut it with a die in the Banner Stacklets 1 set.
I chose the banner for its strong, geometric lines to reinforce the masculine theme.
For the His card, I added texture by dry-embossing a Sugar Cube panel with the Know the Ropes embossing folder, which reinforced the masculine theme with its lines. Since the bottom of the card design was covered by the die-cut waves, I could dry-emboss the top of the panel with the folder sidewise to create horizontal lines (rather than vertical).
For the Hers card, I used soft pastels of pink, teal, and light yellow. I cut the sailboat from Cookie Monster, Potato Chip, Sugar Cube, and Strawberry Milkshake cardstock.
For the Hers card, I applied Squeezed Lemonade ink with a Clarity Stencil Brush to Sugar Cube cardstock in a circular motion. 
I stamped the Seas the Day sentiment with Oreo ink on the circular area. The diffused, circular shape reinforces the feminine theme.
For the Hers card, I created a soft card base by applying Squeezed Lemonade and Peacock Feathers with the Clarity Stencil Brushes.
By varying color, texture, and shape, I created two cards with the same design – one for Him and one for Her!
Thanks so much, Jean, for sharing your terrific tips on how to create these nautical His/Hers cards! Have a joyful day!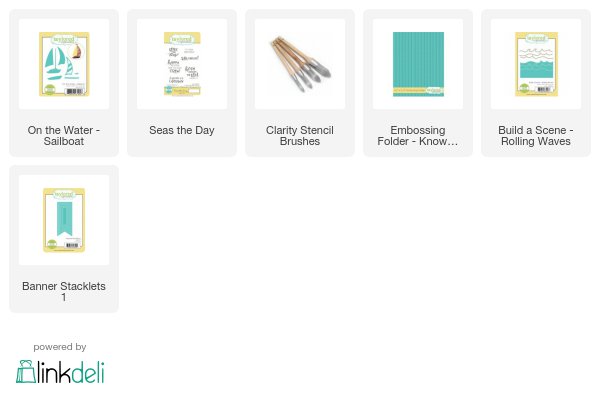 Posted by Taylor at 7:00 am
|
|
|