Dec 03, 2018
Hey there, crafty friends! It's Taylor here today, which means that it's the first day of sneak peeks for our Valentine-themed December release! Yep, that's right… I said Valentine's Day. And I said December (when did that happen!?). I know we're all gearing up for Christmas, but Valentine's Day will be following close behind so I hope you can find it in your heart (pun intended) to join us this week! There's lots of LOVE to share and prizes up for grabs too! If you're joining us for the first time this month, then there are a few things you'll want to know about release week before I get started with the beautiful projects from our talented Creative Team:
There are over 40 new products including stamps, dies, stencils, THREE new ink/cardstock colors
Each day will feature at least one how-to video
Get a chance to win it before you can buy it by commenting with your answer to my Question of the Day (located at the bottom of each sneak peek blog post)
Last but certainly not least – don't miss our double-points promotion for the December Release (details below):
The Framed Roses Bundle includes four dies perfectly coordinated to work together to create beautiful cards for Valentine's Day, wedding, anniversary, or a quick hello. The intricately designed roses create the perfect backdrop for the beautifully hand-lettered sentiments sized to fit perfectly within the opening of the cutting plate. When you purchase the Framed Roses Bundle between December 6th – December 9th, you'll earn 116 Crafty Points to apply to a future purchase! Just make sure you're signed up for an account on the TE website to start accumulating points today. And don't forget to mark your calendar for Thursday, December 6th at 9 am CT when all of these new products will be available for purchase at the TE webstore!
For my project today, I decided to take the products in the Framed Roses Bundle for a spin. I've used this 2-for-1 technique in the past with our Mandala Cutting Plate and I thought the Framed Roses Cutting Plate was the perfect opportunity to try it again! By using the cutting plate die cut as a stencil, I was able to get achieve two beautifully blended pieces with just one ink application. Check out my process video below: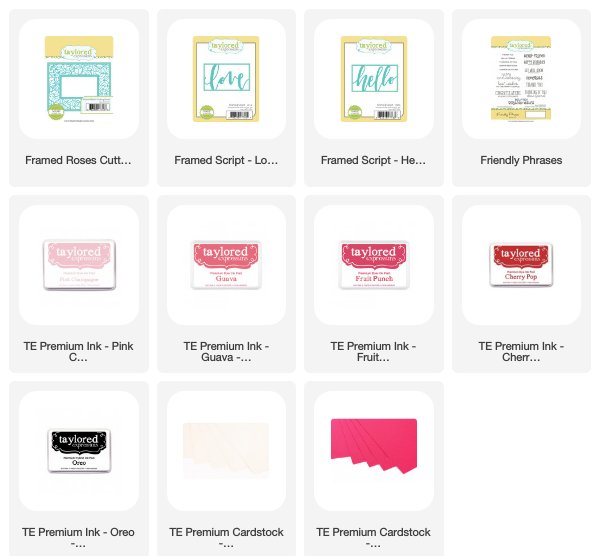 Creative Team member Angelica Conrad used similar products on her beautiful card. I love the addition of the coordinating Bloomers 9 roses on the corners of the framed script. And I'll be visiting her blog to see just what she used to make her roses shimmer and shine!
Jill Hawkins showed another unique 2-for-1 idea with the Framed Script – Hello die! After laying the striped background (which I should mention includes all 3 of our new colors!) she die cut the piece with the hello script and used both the positive and negative pieces on two different cards! So clever!
Next up in the lineup of new products, is a pretty stamp in the continuation of our "Big" series. We have Big Blooms, Big Butterfly, and I'm excited to introduce you to Big Heart! Angelica embossed the heart with white embossing powder and expertly added color to draw out the beautiful details. And she shows how the new Framed Script – Love die cut can be separated from the frame for a completely different look!
Next up, we have another beautifully detailed stamp with our Hearts in Bloom Background! Several designers created beautiful cards with this set, and I love how there are so many different looks you can achieve by simply varying the colors and the coloring medium! Gayatri created this bright, bold card with the perfect pop of black and white. Don't look past the clear glossy accents she added to all of the hearts!
Heather Nichols took a completely different approach and incorporated her signature touch of Toffee cardstock into this soft, watercolored design using the same image:
Next, we have an amazing new die called Layer It – Daisy. You can layer this giant gerbera and offset the petals for a full flower (like Melody does on her card) or leave the petals in a single layer like Heather does on her chic and simple card. Melody also uses the new Subway Tiles stencil as the perfect backdrop for the daisies. This stencil is so versatile – I have a feeling it won't be long until I've permanently stained it from overuse! *wink*
Last, but certainly not least, let me introduce you to the three new colors we're adding to our collection this month: Fruit Punch, Gumball, and Mushroom. I hope you like the new foodie names as much as the colors themselves!
That's it for today's new product features, but before I head out, I want to give you an opportunity to win it before you can buy it, by answering my question of the day!
My Question of the Day is: Fill in the acronym LOVE with 4 things/people you love. Leave your comment before Wednesday, December 5th. One comment per person. Each comment will also be entered into our Grand Prize drawing for a $50 gift certificate! Winners will be chosen at random and announced on the TE Blog on Thursday, December 6th.
Today I'm giving away the Framed Roses Cutting Plate!
Make sure you check out what the rest of the Creative Team has been up to with today's featured products and we'll see you back here tomorrow for more sneak peeks!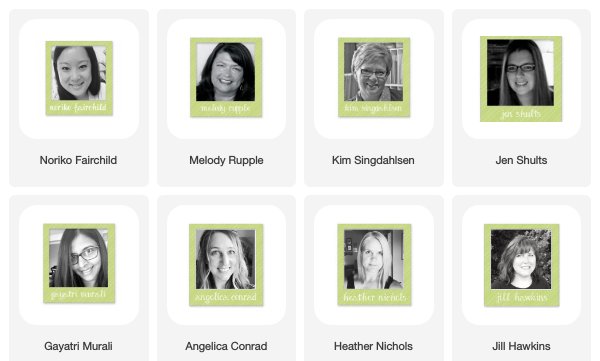 Posted by Taylor at 9:00 am
|
|
|